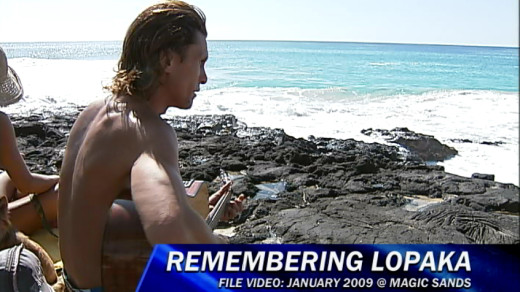 HAWAII ISLAND – As the startling news of the alleged murder of local musician Lopaka Ryder spreads across Hawaii, many folks are taking a moment to recall the man who traveled the island, sharing Hawaiian music with all who would listen.
Big Island Video News has filmed Ryder on numerous occasions. We share two videos from our archives here today.
First, an early piece filmed in January 2009. It was a day of high surf at Magic Sands and the bodyboards were out in force. Ryder offered to provide the musical backdrop. Lopaka's melodies were the perfect compliment for the scenery.
Next, a moment captured in Holualoa during the Ukulele and Farm Fest in June 2010. The first half of the video is about the festival itself, but the second half becomes a showcase of Lopaka's talent.
Aloha, Robert Keawe Lopaka Ryder.