(ABOVE VIDEO) Report on the new laws that govern Puna ever since a state of emergency was declared on September 4.
Video by David Corrigan, Voice of Sherry Bracken
PUNA, Hawaii – The approaching lava flow is bringing new laws to Puna. Now that a state of emergency has been declared by Mayor Billy Kenoi (September 4th), punishments for committing crimes will be elevated, while government itself is now exempted from many of the usual bureaucratic checks and balances.
We can thank Act 111 of the 2014 Hawai'i State Legislature, signed into law by Governor Abercrombie not too long ago (video report from June 2014 below).
Now, leaders are authorized to "suspend any law which impedes or tends to impede or is detrimental to the expeditious and efficient execution of, or in conflict with, emergency functions…"
The list of statutes that are now suspended in order to establish emergency ingress and egress is a long one. Many chapters of the Hawaii Revised Statutes are now nullified in Puna when it comes to constructing emergency roads. Those dealing with historic preservation, for example, or laws governing eminent domain, contracts, public lands, conservation or wildlife.
Thats how construction on Railroad Avenue and Government Beach Road has been able to progress so quickly. The process would have taken years in times of non-emergency.
Meanwhile, 23-year-old Ronald Altura Jr. of Kea'au has the distinction of being the first person to be charged under the enhanced sentencing laws.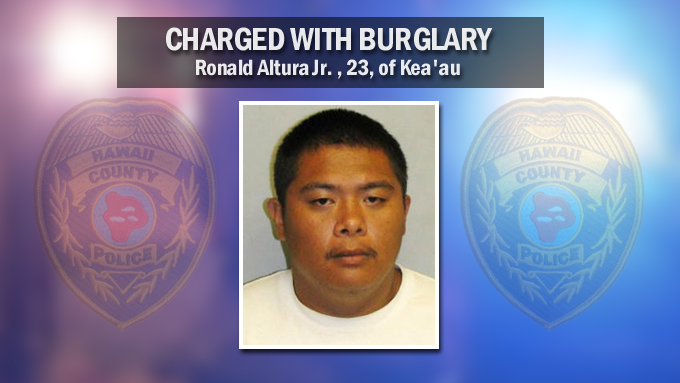 Police say Altura was involved in the alleged burglary of a home on 34th avenue in the Orchidland Estates subdivision on September 8. He was charged Thursday afternoon with burglary of a dwelling during an emergency declaration, which makes the burglary – normally a class B felony – a class A felony instead, which is punishable by up to 20 years in prison with no possibility of probation.
Another example, petty misdemeanor criminal property damage, usually punishable by up to 30 days in jail or a fine of up to $1,000, is elevated to a Class B felony, punishable by up to 10 years in prison and a fine of up to $25,000. An important note, in light of the vandalism done to the heavy machinery being used to construct those emergency roads we talked about earlier.
Other offenses, including theft, robbery and any assault against an emergency worker also face elevated penalties. We recently spoke to Civil Defense head Darryl Oliveira about the new rules now in effect.
"The Hawai'i Police Department will be vigilant in maintaining the safety and security of our community in general, and those persons suffering from this situation in particular," said Hawai'i Police Chief Harry Kubojiri in a recent joint media release. "There are enhanced sentencing options for those who commit crimes during a declared state of emergency, and we will make full use of these statutes."
"It's time for the community to come together, work together and prepare," Prosecuting Attorney Mitch Roth added. "We will not tolerate the further victimization of people who are already suffering. We will be expediting the prosecution of these cases, and we will not hesitate to prosecute to fullest extent of the law. We are committed to working together with Hawai'i County Police, Civil Defense as well as other agencies to keep our residents and visitors safe."