NEWS BRIEF
The National Weather Service reports strong to severe thunderstorms and damaging winds are possible this afternoon and tonight across the State of Hawaii.
A High Wind Warning is in effect and a Blizzard Warning begins at 6 p.m. HST for Hawaii Island summits.
DLNR is canceling all camping permits for Waimanu and closing the Waimanu trail in North Kohala today.
MEDIA
Audio message from Hawaii County Civil Defense:
PRIMARY SOURCES

The National Weather service is currently monitoring a cold front system that is expected to proceed through the island chain from the north to the south. The advancing system is forecasted to bring heavy rains and thunder showers and high winds. The onset of hazardous conditions for Hawaii Island is expected to begin late tonight and increase into the early morning hours tomorrow. The high winds are also expected to be magnified as it passes through the Saddle Road area and may present with hazardous driving conditions. Motorists are advised to be prepared for high winds, heavy rains, and ponding on roadways as well as possible unexpected road closures.

Everyone is advised to monitor local radio broadcasts for additional updates and to be prepared for possible storm conditions. Hawaii County Civil Defense on Jan. 2 at 3:15 p.m. HST

The Department of Land and Natural Resources (DLNR) Division of Forestry and Wildlife (DOFAW), in cooperation with Hawaii County Civil Defense, is canceling all camping permits for Waimanu and closing the Waimanu trail in north Kohala today. This closure continues at least through the weekend. A forecasted storm could bring high winds, rising waters and flash flooding to the Big Island. With long sustained rains, stream levels are likely to rise, which is a safety hazard for hikers crossing streams. Do not attempt to cross a flooded stream. Remain on higher ground and wait for the water to subside.

"We are cancelling all camping permits and the remote Waimanu trail until after the storm has passed and the trail can be inspected and made safe again," explained Hans Sin, DOFAW wildlife biologist and manager for Hawaii Island.

In addition, the DLNR Division of State Parks has closed the Kalalau Trail in Kauai's Na Pali Coast State Wilderness Park until further notice. State Parks staff will re-evaluate trail conditions Saturday morning before deciding when to reopen this popular trail.Department of Land and Natural Resources on Jan. 2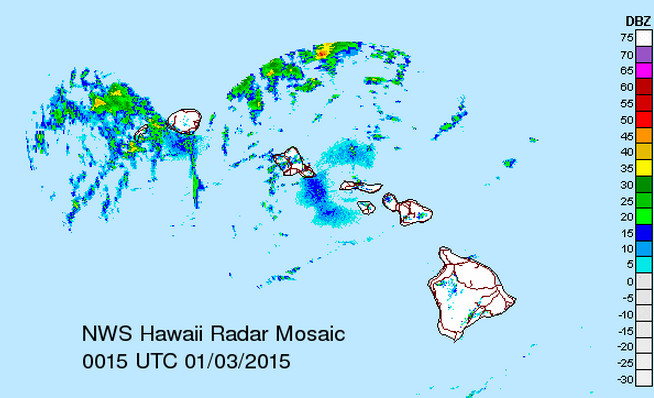 Synopsis
A strong cold front will sweep rapidly down the island chain tonight and early Saturday bringing bands of showers, locally strong Kona winds, and a chance of thunderstorms. Winds will shift to northwest and showers will diminish after the front pushes through. Cool and dry weather is expected behind the front on Sunday, with a relatively dry trade wind pattern resuming early next week.

Discussion
As one forecaster here mentioned this morning, this seems to be the proverbial calm before the storm. Low pressure near French Frigate Shoals will continue to push E and gradually deepen, dragging an active cold front with it. The front will have strong support in the mid and upper levels in the form of a digging trough that will help propel the front through the islands fairly quickly, starting near Kauai this evening and passing the Big Island early Sat. There is strong divergence aloft, and there will be strong low level convergence along the boundary, so am expecting to see an active squall line/qlcs sweep rapidly down the chain.

Since this front is following so quickly on the heels of the last one, the moisture return has not been ideal, and this will limit the amount of instability available for thunderstorms. The models are showing fairly modest cape of about 500-900 j/kg which from past events would suggest some thunderstorms along the squall line but not as extensive as they might be otherwise. Any of the more active convection could help to mix down stronger winds from aloft leading to localized damaging winds in addition to the downslope acceleration of the winds on the normal-windward sides of the islands and through the saddles and headlands which could also cause some problems.

Although showers could be intense briefly along the front, the present thinking is that the fast motion of the front should greatly limit the potential for flash flooding, although we can't completely rule it out. As the frontal band gets to the Big Island late tonight or early Saturday, expecting to see blizzard conditions there and have issued a blizzard warning for areas above 11000 feet to go along with the pile of other headlines that are currently out.

Most of the guidance clears the front past the Big Island Sat morning. Weather conditions will improve from west to east on Sat as a drier airmass builds into the state on NW winds behind the front. Dry and cool northerly flow will prevail on Sunday. Relatively dry trade wind conditions should resume on Monday and prevail through the middle of next week, as high pressure builds slowly eastward to the north of the state. A weak front approaching from the northwest may allow the trades to weaken and veer slightly by next Thursday or Friday, but no major weather changes are expected.

Aviation
Satellite loops show a front NW of Kauai moving ESE around 25 kt. Strong SW winds will continue over the area ahead of the front so airmet tango remains in effect for both strong surface winds and turbulence to the lee.ne, of the mountains. Weather will remain generally VFR ahead of the front but localized MVFR is possible, mainly for SW slopes, in prefrontal convergence lines.

A band of showery clouds along the front will bring mvfr/local IFR ceilings and vsby as it moves SW over the islands. The band is expected to be over Kauai between 03 and 06Z, over Oahu between 07 and 10Z, over Maui between 10Z and 14Z and over the Big Island between 12 and 15Z. Airmets for mtn obsc will likely be needed for all islands as the frontal band moves by. The band will probably weaken as it moves from Kauai to the Big Island.

The front is associated with a sharp trough aloft which will also be moving southeast over the main Hawaiian islands. This trough will drop the freezing level to around 11000 ft and icing will be possible in layered clouds along the front. The trough may also produce turbulence aloft.

Clouds and showers will diminish rapidly and winds will swing out of the north behind the front. As the winds shift, so will the areas of turbulence.

Marine
Most of the high resolution guidance is pointing toward localized gales near the front as it goes through, particulary in areas that are prone to acceleration in the various wind directions. Adjustments to the wind grids were made to include gales where they might be expected. The rest of the forecast philosophy remains the same.

Short to moderate period north and northwest swells will continue to dominate the surf through the weekend. A short period north northwest swell is forecast to build tonight and continue Saturday through Sunday, as a surface low moves near or just north of Kauai then lifts northeast of the state. Resulting surf on north facing shores should remain below advisory levels.

Watches/Warnings/Advisories
Wind advisory until 6 am HST Saturday for Niihau, Kauai, Oahu.

Wind advisory until 6 am HST Saturday for Big Island interior.

Wind advisory from 6 pm this evening to 6 am HST Saturday for Molokai, Lanai, Kahoolawe, Maui, Kona, south Big Island, Big Island north and east, Kohala.

High wind warning until 6 pm HST Saturday for Big Island summits.

Blizzard warning from 6 pm this evening to 6 pm HST Saturday for Big Island summits.

Gale warning until noon HST Saturday for Oahu leeward waters, Kaiwi Channel, Maui county windward waters, Maui county leeward waters, Maalaea Bay, Pailolo channel, Alenuihaha channel, Big Island windward waters, Big Island leeward waters, Big Island southeast waters.

Gale warning until 6 am HST Saturday for Kauai northwest waters, Kauai windward waters, Kauai leeward waters, Kauai channel, Oahu windward waters.National Weather Service discussion on Jan. 2 at 10:19 a.m. HST