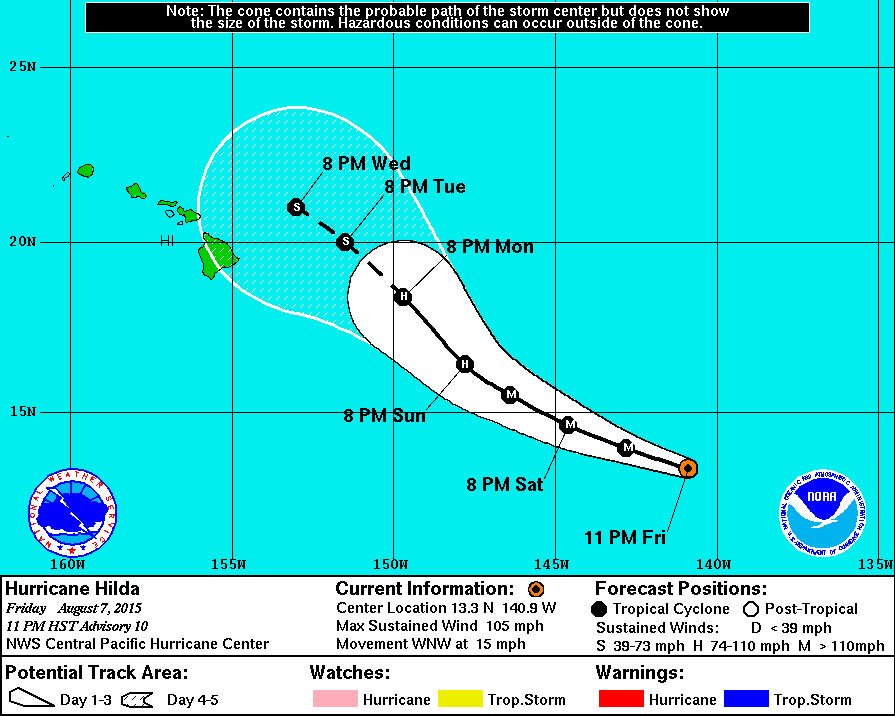 Hurricane Hilda is 1,030 miles east southeast of Hilo and moving west northwest at 15 mph. There are currently no coastal watches or warnings in effect.
Hilda is a Category 2 hurricane with maximum sustained winds of 105 mph. Additional strengthening is forecast during the next 12 to 24 hours. A weakening trend is forecast to begin on Sunday.
Hilda has been called a tiny storm. Hurricane force winds extend outward up to 15 miles from the center and tropical storm force winds extend outward up to 80 miles.
National Weather Service – 11 pm
THE RAPID INTENSIFICATION THAT HILDA EXHIBITED OVER THE PAST 24 HOURS HAS RECENTLY EASED… WITH THE EYE BECOMING CLOUD-FILLED IN CONVENTIONAL SATELLITE IMAGERY OVER THE PAST SEVERAL HOURS. LATEST SUBJECTIVE DVORAK INTENSITY ESTIMATES FROM PHFO AND SAB ARE 5.0/90 KT AND 5.5/102 KT RESPECTIVELY… WHILE ADT VALUES FROM UW-CIMSS ARE NEAR 4.5/77 KT. A BLEND OF THESE ESTIMATES YIELDS A 90 KT INITIAL INTENSITY FOR THIS ADVISORY.

THE RELATIVELY SMALL HURRICANE IS BEING STEERED WEST-NORTHWESTWARD BY A DEEP LAYER RIDGE CENTERED TO ITS NORTH… WITH AN INITIAL MOTION ESTIMATE OF 285/13 KT. HILDA IS FORECAST TO TRACK TOWARD THE WEST-NORTHWEST WITH DECREASING FORWARD SPEED OVER THE NEXT 48 HOURS… AND THEN EVEN MORE SLOWLY TOWARD THE NORTHWEST ON DAYS 3 AND 4 AS IT REACHES THE WESTERN EXTENT OF THE RIDGE. THE SLOWING IN FORWARD MOTION AND INCREASE IN LATITUDE ON DAYS 3 AND 4 WILL ALSO BE DUE TO THE CYCLONE/S INTERACTION WITH A DEVELOPING DEEP LAYER LOW ALOFT NORTH OF THE MAIN HAWAIIAN ISLANDS. AT THE END OF THE FORECAST PERIOD… A RELATIVELY WEAK HILDA IS EXPECTED TO MAKE A TURN BACK TOWARD THE WEST-NORTHWEST… AS THE SHALLOW SYSTEM IS STEERED BY THE LOW-LEVEL TRADE WINDS. THE OFFICIAL TRACK FORECAST IS ESSENTIALLY AN UPDATE OF THE PREVIOUS THROUGH DAY 3… AND IS SLIGHTLY SLOWER AND TO THE RIGHT OF THE PREVIOUS ON DAYS 4 AND 5… IN DEFERENCE TO THE CHANGES IN THE GFEX GUIDANCE.

A WINDOW FOR INTENSIFICATION CONTINUES TO EXIST FOR THE NEXT 24 HOURS OR SO… AS EASTERLY SHEAR IS FORECAST TO REMAIN LIGHT AND THE HURRICANE TRAVERSES SUFFICIENTLY WARM WATER. AS DESCRIBED ABOVE… AFTER ABOUT 48 HOURS HILDA WILL ENCOUNTER STEADILY INCREASING SHEAR AS IT ROUNDS THE RIDGE… AND BEGINS TO FEEL THE STRONG DEEP-LAYER WESTERLY FLOW ALOFT ASSOCIATED WITH THE CLOSED LOW DEVELOPING NORTH OF HAWAII. SHIPS GUIDANCE INDICATES SHEAR VALUES NEAR 20 KT ON MONDAY MORNING WILL STEADILY INCREASE TO NEAR 50 KT BY WEDNESDAY… WITH THE SYSTEM BARELY HANGING ON AS A WEAK TROPICAL LOW BY DAY 5. THEREFORE A WEAKENING TREND IS FORECAST TO COMMENCE IN 48 HOURS… WITH RAPID WEAKENING STILL EXPECTED IN THE LATTER PART OF THE FORECAST PERIOD. THE OFFICIAL INTENSITY FORECAST CLOSELY FOLLOWS THE PREVIOUS AND THE IVCN CONSENSUS… BUT PRESENTS A SLOWER WEAKENING TREND ON DAY 5 THAN SHIPS GUIDANCE.

FORECAST POSITIONS AND MAX WINDS

INIT 08/0900Z 13.3N 140.9W 90 KT 105 MPH
12H 08/1800Z 13.9N 142.8W 100 KT 115 MPH
24H 09/0600Z 14.6N 144.6W 105 KT 120 MPH
36H 09/1800Z 15.5N 146.4W 105 KT 120 MPH
48H 10/0600Z 16.4N 147.8W 95 KT 110 MPH
72H 11/0600Z 18.4N 149.7W 70 KT 80 MPH
96H 12/0600Z 20.0N 151.5W 45 KT 50 MPH
120H 13/0600Z 21.0N 153.0W 35 KT 40 MPH