5 pm Update – Hurricane Hilda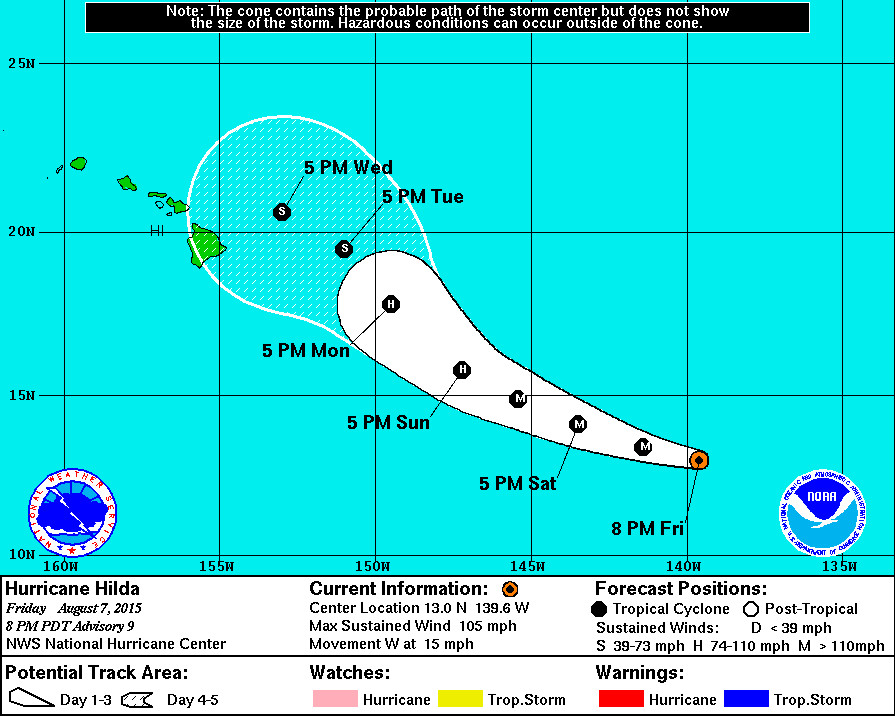 HAWAII – Hilda has strengthened into a Category 2 hurricane and is currently 1,125 miles east southeast of Hilo, Hawaii. The National Weather Service forecasts Hilda to become a major hurricane over the next 12 to 24 hours, with possible winds speeds as high as 125 mph.
Hilda is right now moving west towards the Hawaiian Islands at 15 mph.
Hawaii County Civil Defense issued its first audio message on Hilda shortly after the 5 pm update from the National Weather Service. There are currently no coastal watches or warnings in effect.
By coincidence, state leaders enacted the 2015 Hawaii Catastrophic Hurricane Plan during a small signing ceremony on Oahu today.
From the 5 pm National Weather Service discussion:
"The hurricane continues to intensify at a rapid pace. An earlier AMSR-2 microwave overpass revealed that Hilda's inner core was extremely compact. In addition, visible and infrared geostationary satellite imagery indicates that the system's eye has become better defined, and the areal extent of cold cloud-top temperatures surrounding the eye has increased over the past several hours. The current intensity estimate is raised to 90 kt, in accordance with a Dvorak estimate from TAFB. There is strong upper-level outflow associated with the cyclone, particularly over the western semicircle of the circulation.

Hilda's intensification is forecast to continue over the next 12 to 24 hours, while vertical wind shear is expected to remain weak. In about 48 hours, the hurricane is forecast to begin encountering stronger shear associated with an upper-tropospheric trough near the Hawaiian Islands. Global models predict that the shear will increase greatly beyond 72 hours. Therefore a weakening trend is forecast to commence in 48 hours, with rapid weakening likely in the latter part of the forecast period. The official intensity forecast is in good agreement with the latest SHIPS and LGEM guidance.

The initial motion estimate is slightly north of due west, or 280/13 kt. The track forecast reasoning has not changed much since the last advisory. Hilda's track should gradually bend toward the west-northwest and northwest over the next 96 hours or so, as the cyclone moves to the south of a mid-level ridge and approaches a cyclonic circulation just to the north of the Hawaiian Islands. Near the end of the forecast period, the rapidly weakening system should become a more shallow circulation, and turn more toward the west within the low- to mid-tropospheric flow. The official track forecast is in good agreement with the latest dynamical model consensus."
Hilda will be moving into the central Pacific basin very soon, so the National Weather Service says future information on this system will be issued by the Central Pacific Hurricane Center in Honolulu, Hawaii.