5 pm Update – Hurricane Hilda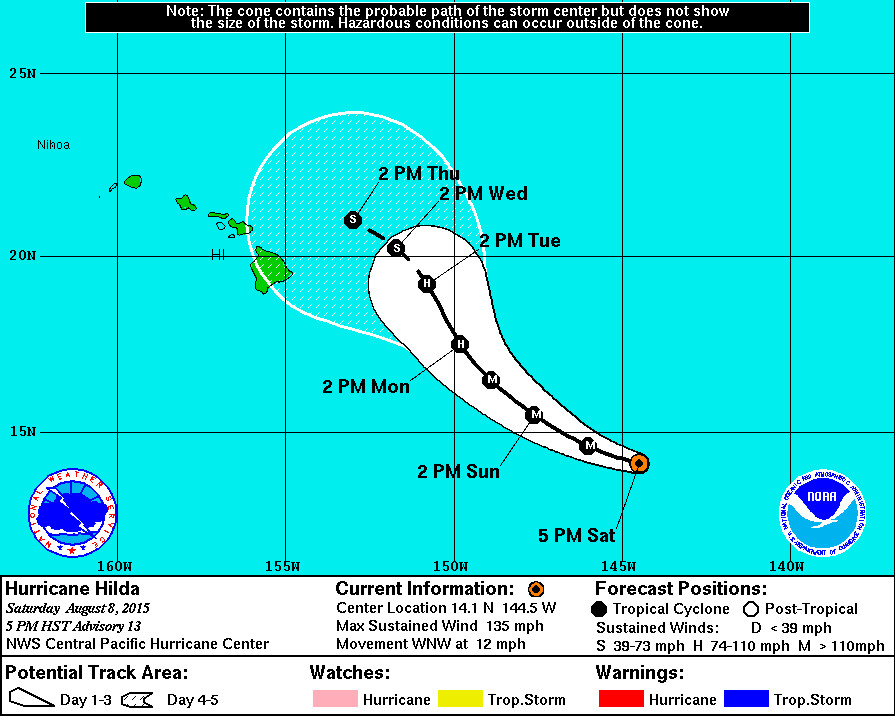 LOCATION: Hurricane Hilda is 795 miles east southeast of Hilo and now moving west northwest at 12 mph. There are currently no coastal watches or warnings in effect. The National Weather Service says Hilda is expected to gradually turn toward the northwest and slow in forward speed over the next couple of days.
STRENGTH: With maximum sustained winds of 135 mph, Hilda remains a Category 4 hurricane. Some fluctuations in intensity are possible tonight, forecasters say, followed by weakening starting on Sunday.
SIZE: Hilda has previously been called a tiny storm. Hurricane force winds extend outward up to 25 miles from the center and tropical storm force winds extend outward up to 125 miles.
National Weather Service at 5 pm
OVER THE PAST FEW HOURS…HILDA APPEARS AS THOUGH IT MAY HAVE PEAKED IN INTENSITY. ALTHOUGH DEEP COLD CONVECTIVE TOPS CONTINUE TO SURROUND THE CENTER… THE EYE HAS BECOME ILL-DEFINED AND CLOUD-FILLED IN THE CONVENTIONAL SATELLITE IMAGERY. THE SUBJECTIVE DVORAK INTENSITY ESTIMATES WERE UNANIMOUS WITH CI OF 6.0 FROM ALL THE AGENCIES… THUS 115 KT WILL BE USED FOR THE ADVISORY.

THE INITIAL MOTION IS 290/10. HILDA IS EXPECTED TO CONTINUE MOVING TOWARD THE WNW… AND GRADUALLY TURN MORE NW WITH TIME TOWARD A DEVELOPING WEAKNESS IN THE MID-LEVEL RIDGE LOCATED ABOUT 300 MILES EAST OF THE BIG ISLAND. AS HILDA APPROACHES THIS WEAKNESS… THE CYCLONE WILL SLOW ITS FORWARD SPEED CONSIDERABLY. THE TRACK FORECAST THROUGH 48 HOURS IS VERY SIMILAR TO THE PREVIOUS FORECAST… AND ADJUSTED SLIGHTLY TO THE RIGHT AFTER 48 HOURS TO BE IN BETTER AGREEMENT WITH THE CONSENSUS MODELS. LATE IN THE FORECAST PERIOD… A TURN BACK TOWARD THE WNW IS ANTICIPATED AS HILDA BEGINS TO BE INCREASINGLY UNDER THE INFLUENCE OF THE LOW LEVEL TRADE WIND FLOW.

THE CAUSE OF THE RECENT SLIGHT DEGRADATION IN SATELLITE IMAGERY IS UNCERTAIN… BUT MAY BE DUE TO AN EYEWALL REPLACEMENT CYCLE. ALTHOUGH THE CURRENT FORECAST KEEPS HILDA STEADY-STATE OVERNIGHT… THERE IS STILL A CHANCE HILDA COULD RESTRENGTHEN AS THE HURRICANE REMAINS OVER WARM SEA SURFACE TEMPERATURES NEAR 28C… AND WEAK SHEAR AS IT APPROACHES AN UPPER LEVEL RIDGE AXIS ROUGHLY ALONG LATITUDE 16N. ONCE HILDA MOVES NORTH OF THIS AXIS… THE HURRICANE WILL ENCOUNTERAN INCREASINGLY HOSTILE ENVIRONMENT WITH STRONG SHEAR THANKS TO THE VERY PERSISTENT SUBTROPICAL JET STREAM WHICH HAS BEEN IN PLACE NEAR THE MAIN HAWAIIAN ISLANDS. THIS SHOULD LEAD TO A RATHER RAPID WEAKENING AFTER 24-36 HOURS. THE FORECAST INTENSITY REFLECTS THIS… BUT IS NOT AS AGGRESSIVE WITH WEAKENING AS THE SHIPS GUIDANCE WHICH CONTINUES TO SHOW DISSIPATION IN 5 DAYS.

FORECAST POSITIONS AND MAX WINDS

INIT 09/0300Z 14.1N 144.5W 115 KT 135 MPH
12H 09/1200Z 14.6N 146.0W 115 KT 135 MPH
24H 10/0000Z 15.5N 147.6W 110 KT 125 MPH
36H 10/1200Z 16.5N 148.9W 100 KT 115 MPH
48H 11/0000Z 17.5N 149.8W 85 KT 100 MPH
72H 12/0000Z 19.2N 150.8W 65 KT 75 MPH
96H 13/0000Z 20.2N 151.7W 45 KT 50 MPH
120H 14/0000Z 21.0N 153.0W 40 KT 45 MPH