Sunday 5 pm Update – Hurricane Hilda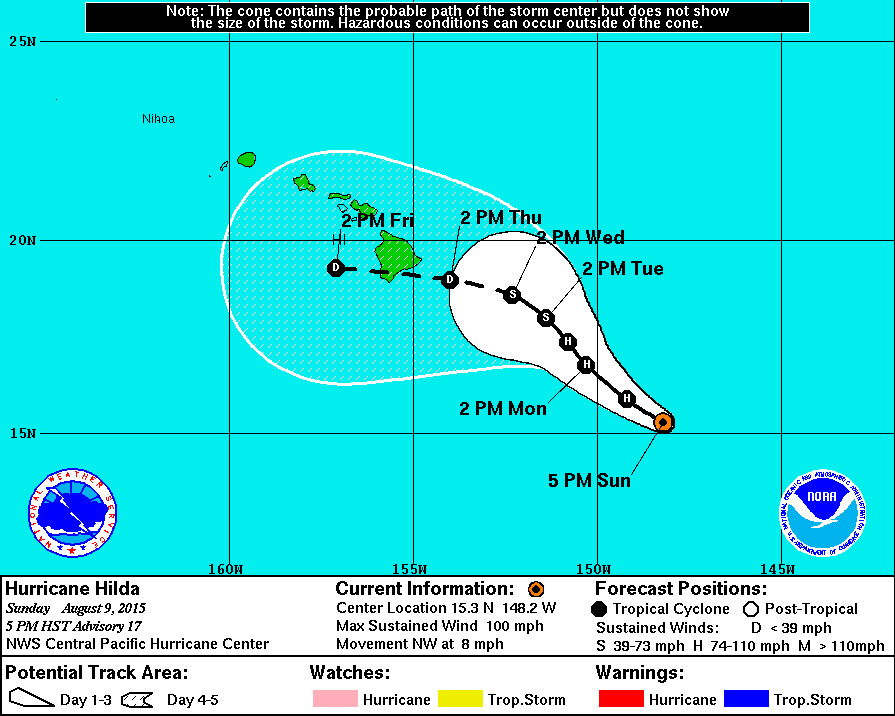 LOCATION: Hurricane Hilda is 545 miles east southeast of Hilo and is moving northwest at 8 mph. There are currently no coastal watches or warnings in effect, however a High Surf Advisory will be put in place for east facing shores starting at 6 pm this evening.
STRENGTH: Hilda is still a category two hurricane, with maximum sustained winds of 100 mph. Hilda is forecast to continue weakening.
SIZE: Hilda has previously been called a tiny storm. Hurricane force winds extend outward up to 25 miles from the center and tropical storm force winds extend outward up to 70 miles.
National Weather Service at 5 pm
SATELLITE FIXES FROM HFO… SAB AND REMAIN VERY CLOSE FOR LOCATION AND PRETTY CLOSE FOR INTENSITY FOR HURRICANE HILDA. HFO AND JTWC HAD CURRENT INTENSITIES OF 5.0… WHILE SAB HAD A 4.5. HAVE SET THE INITIAL INTENSITY AT 85 KT. THE SATELLITE SIGNATURE OF THE HURRICANE HAS CONTINUED TO WEAKEN. THE SYSTEM HAS BECOME LESS SYMMETRICAL AND THE EYE IS BARELY DISCERNIBLE. HILDA IS EXPECTED TO CONTINUE SLOWLY WEAKENING DUE TO WEAK SOUTHWEST VERTICAL WIND SHEAR AND DECREASING SEA SURFACE TEMPERATURES.

HILDA IS MOVING TOWARD THE NORTHWEST… WITH AN INITIAL MOTION OF 305/07 KT. THE HURRICANE IS BEING STEERED BY A RIDGE ALOFT EXTENDING WEST FROM AN ANTICYCLONE ALOFT FAR TO THE NORTHEAST. HILDA HAS STARTED TO TURN TOWARD THE NORTHWEST AROUND THE END OF THE RIDGE. HILDA IS EXPECTED TO START MOVING MORE SLOWLY AS THE STEERING FLOW WILL BE QUITE WEAK.

THE TRACK AND INTENSITY FORECASTS FOR HILDA CANNOT BE CONSIDERED SEPARATELY. IF HILDA WERE TO REMAIN A STRONG AND DEEP SYSTEM… ITS TRACK WOULD LIKELY TO BE INFLUENCED BY STEERING FLOW THROUGH A DEEPER LAYER OF THE ATMOSPHERE. THAT WOULD MEAN A MORE NORTHERLY TRACK. THE WEAKER AND SHALLOWER HILDA BECOMES… THE MORE ITS TRACK WILL BE INFLUENCED BY THE TRADE-WIND FLOW IN THE LOWER PART OF THE ATMOSPHERE. THAT WOULD GIVE HILDA A MORE WESTERLY TRACK.

THE MODELS ARE SHOWING GOOD AGREEMENT ON AN ACCELERATING WEAKENING TREND AS HILDA ENCOUNTERS SOUTHWEST SHEAR NEAR 35 KT DUE TO A SUBTROPICAL JET STREAM SOUTH OF A TROPICAL UPPER TROPOSPHERIC TROUGH OR TUTT. THE MODELS REMAIN IN GOOD AGREEMENT ON HILDA TAKING A MORE WESTERLY TRACK AS IT WEAKENS. I HAVE SHIFTED THE TRACK A BIT FURTHER TO THE LEFT AGAIN… CLOSE TO THE MODEL CONSENSUS… WHILE CONTINUING A STEADY WEAKENING. THIS IS CLOSE TO THE INTENSITY CONSENSUS AND TAKES HILDA DOWN TO TROPICAL STORM STRENGTH IN 48 HOURS.

U.S AIR FORCE HURRICANE HUNTERS HAVE TAKEN OFF TO BEGIN FLYING MISSIONS INTO HILDA THIS EVENING. THE DATA FROM THESE MISSIONS SHOULD HELP REFINE OUR FUTURE FORECASTS.

FORECAST POSITIONS AND MAX WINDS

INIT 10/0300Z 15.3N 148.2W 85 KT 100 MPH
12H 10/1200Z 15.9N 149.2W 80 KT 90 MPH
24H 11/0000Z 16.8N 150.3W 75 KT 85 MPH
36H 11/1200Z 17.4N 150.8W 65 KT 75 MPH
48H 12/0000Z 18.0N 151.4W 55 KT 65 MPH
72H 13/0000Z 18.6N 152.3W 35 KT 40 MPH
96H 14/0000Z 19.0N 154.0W 30 KT 35 MPH
120H 15/0000Z 19.3N 157.1W 25 KT 30 MPH