Wednesday 11 am updated Hilda track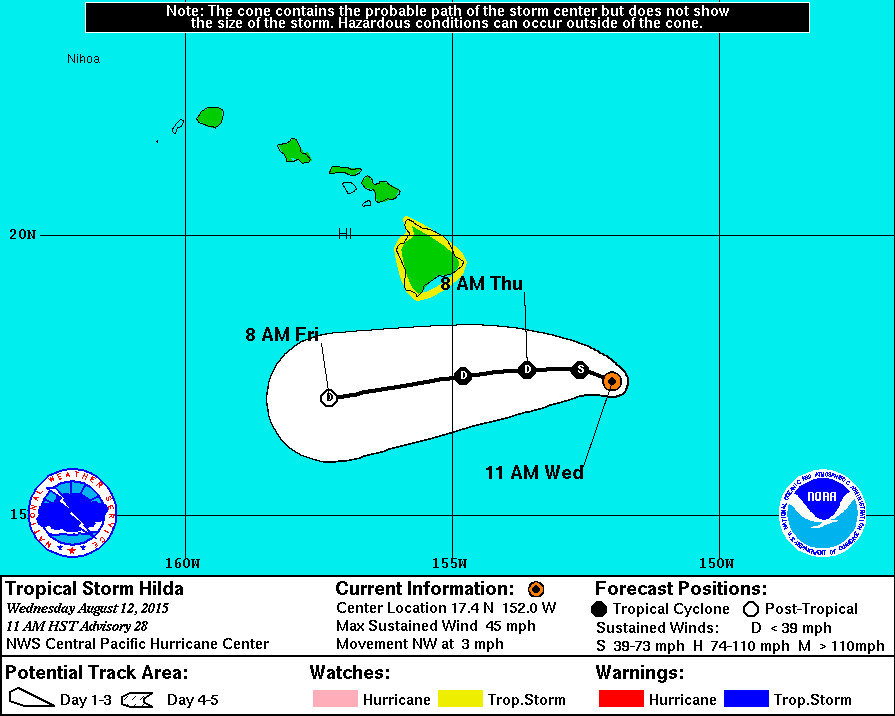 WARNINGS: A Tropical Storm Watch is still in effect for Hawaii Island. A High Surf Warning is also in effect, as well as a Flash Flood Watch this evening.
STRENGTH: Hilda is a Tropical Storm, with maximum sustained winds of 45 mph.
LOCATION: Tropical Storm Hilda is 260 miles southeast of Hilo and is moving northwest at 3 mph. Hilda is expected to turn to the west tonight with an increase in forward speed through Friday.
SIZE: Tropical storm force winds extend outward up to 70 miles. The National Weather Service says buoy 51004 recently reported sustained winds at 38 mph gusting to 47 mph
HIGH SURF: A High Surf Warning is in now effect for east facing shores. Wave heights of 12 to 18 feet are expected today through Thursday.
RAIN: A Flash Flood Watch will be in effect starting 6 pm this evening. Hilda could produce 6 to 12 inches of rainfall, with maximum values of up to 18 inches possible. These rains could result in life threatening flash floods and mud slides across portions of the Hawaiian Islands late Wednesday into the weekend.
National Weather Service 11 am
FOR ABOUT 24 HOURS… DEEP CONVECTION HAS BEEN PULSING OVER AND JUST NORTHEAST OF THE CENTER WITH A NEW BURST APPEARING TO START JUST BEFORE BULLETIN TIME. DATA FROM A U.S. AIR FORCE RESERVE WEATHER RECONNAISSANCE MISSION FOUND RISING CENTER PRESSURES… MAXIMUM FLIGHT LEVEL WINDS AT 850 MB OF 42 KT AND MAXIMUM SFMR WINDS AT 43 KT. BASED ON A BLEND OF THESE DATA THE INITIAL INTENSITY OF HILDA WILL BE HELD AT 40 KT. THE LOW LEVEL CLOUD CENTER IN SATELLITE IMAGERY HAS BECOME EXPOSED OVER THE LAST FEW HOURS. HOWEVER… CENTER FIXES BASED ON AIRCRAFT DATA WERE SOUTH-SOUTHEAST OF THE SATELLITE BASED POSITIONS. THE INITIAL POSITION FOR THIS PACKAGE HAS BEEN BASED ON THE AIRCRAFT CENTER POSITION AROUND 1800 UTC RATHER THAN THE SATELLITE-BASED CLOUD FEATURES.

HILDA CONTINUES TO SURVIVE IN THE FACE OF STRONG VERTICAL WIND SHEAR… 40 KT ON THE CIMSS 1800 UTC ANALYSIS… BUT IS WEAKENING OVER THE LONG TERM. STRONG SHEAR CONDITIONS ARE EXPECTED TO PERSIST OVER THE SYSTEM WITH OBJECTIVE AIDS SHOWING A CONTINUED WEAKENING TREND. THE GFS AND ECMWF BOTH SHOW HILDA OPENING UP TO A SURFACE TROUGH SOME TIME LATE FRIDAY. THE FORECAST CALLS FOR CONTINUED WEAKENING WITH HILDA BECOMING A TROPICAL DEPRESSION TONIGHT THEN DEGENERATING TO A REMNANT LOW FRIDAY MORNING OR POSSIBLY SOONER. THIS IS SLOWER THAN SHIPS AND THE INTENSITY CONSENSUS.

HILDA REMAINS IN A WEAK STEERING CURRENT WHICH WILL CONTINUE OVER THE SHORT TERM. AS HILDA WEAKENS AND BECOMES AN INCREASINGLY SHALLOW SYSTEM… STEERING SHOULD BECOME BASED ON THE LOW LEVEL TRADE WIND FLOW TOWARD THE WEST. THE FORECAST TRACK IS CLOSE TO THE PREVIOUS PACKAGE AND IS NORTH OF THE TRUSTED OBJECTIVE AIDS. A SLIGHT INCREASE IN FORWARD SPEED WAS USED WHICH IS IN LINE WITH THE GLOBAL MODELS.

DUE TO UNCERTAINTY IN THE SHORT TERM AND HILDA'S CLOSE PROXIMITY TO THE BIG ISLAND… TROPICAL STORM WATCH WILL REMAIN POSTED FOR THE BIG ISLAND OF HAWAII FOR NOW. A DECISION TO DROP THE WATCH MAY OCCUR LATER TODAY IF HILDA WEAKENS FURTHER OR SHOWS A PERSISTENT WESTWARD MOTION.

FORECAST POSITIONS AND MAX WINDS

INIT 12/2100Z 17.4N 152.0W 40 KT 45 MPH
12H 13/0600Z 17.6N 152.6W 35 KT 40 MPH
24H 13/1800Z 17.6N 153.6W 30 KT 35 MPH
36H 14/0600Z 17.5N 154.8W 25 KT 30 MPH
48H 14/1800Z 17.1N 157.3W 25 KT 30 MPH…POST-TROP/REMNT LOW
72H 15/1800Z…DISSIPATED