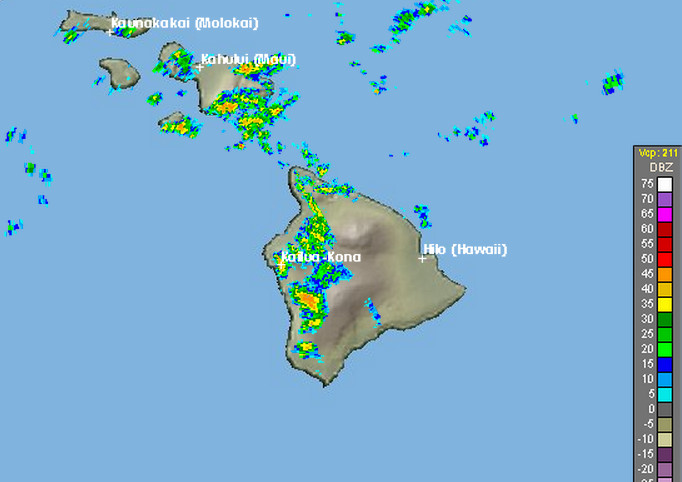 UPDATE
5:45 p.m. The Hawaii Police Department reports that intersection of Hualalai road and Guava lane is closed due to heavy flooding and run offs. Avoid the area. Take alternate routes.
HAWAII ISLAND – The Big Island is under a Flash Flood Warning, as heavy rains have closed at least two roads in the Hamakua district.
Apelehama Road near the Kalopa State Park and Kupuna Road or Old School Road in Ahualoa are both closed due to dangerous flooding conditions.
Hawaii County Civil Defense issued a message at 3:45 p.m. (audio above):
Currently heavy rains and some flooding conditions are being reported in the areas of Hamakua from Paauilo through to Waimea. All major highways are open at this time however motorists are advised to drive carefully and to be prepared for possible ponding, runoff, and other hazardous conditions. Due to dangerous flooding conditions the following roadways are closed at this time to all traffic:

– Apelehama Road near the Kalopa State Park
– Kupuna Road or Old School Road in Ahualoa

Please monitor your local radio broadcasts for additional updates.
The National Weather Service issued this alert:
FLASH FLOOD WARNING FOR… THE ISLAND OF HAWAII IN HAWAII COUNTY

* UNTIL 700 PM HST

* AT 358 PM HST…HAWAII COUNTY CIVIL DEFENSE REPORTED A BRIDGE NEAR APELANAMA ROAD AND KALOPA STATE PARK HAS BEEN CLOSED DUE TO FLOODING. KAPUNA ROAD IN AHUALOA HAS ALSO BEEN CLOSED FROM HEAVY RUNOFF. MODERATE TO HEAVY RAIN WAS ALSO OCCURRING OVER HILO… THE SLOPES OF THE NORTH AND SOUTH KONA DISTRICTS AND SOUTH KOHALA FROM WAIMEA TO WAIKOLOA. RAINFALL IS EXPECTED TO CONTINUE UNTIL AROUND SUNSET.

* OTHER LOCATIONS IN THE WARNING INCLUDE BUT ARE NOT LIMITED TO HONOKAA… KAINALIU… HONAUNAU… PAHALA… KEAAU… MOUNTAIN VIEW… PAAUILO AND THE HAWAII VOLCANOES NATIONAL PARK.
A Flash Flood Warning means flash flooding is imminent or occurring in streams, roads and low lying areas. The National Weather Service warns to move to higher ground now.