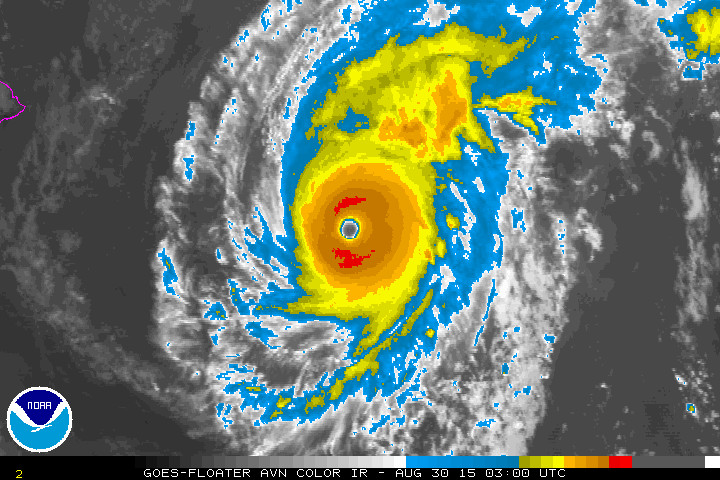 HAWAII: Reconnaissance aircraft finds Ignacio is weaker, according to the National Weather Service at 11 a.m., but its still a major hurricane for now with maximum sustained winds blowing at 115 mph. A Tropical Storm Watch remains in place for the counties of Hawaii and Maui.
The center of Ignacio will pass approximately 200 miles northeast of the Big Island on Tuesday night, if the current forecast track holds. Ignacio is also expected to weaken to a Tropical Storm by Tuesday.
---
11 a.m. UPDATE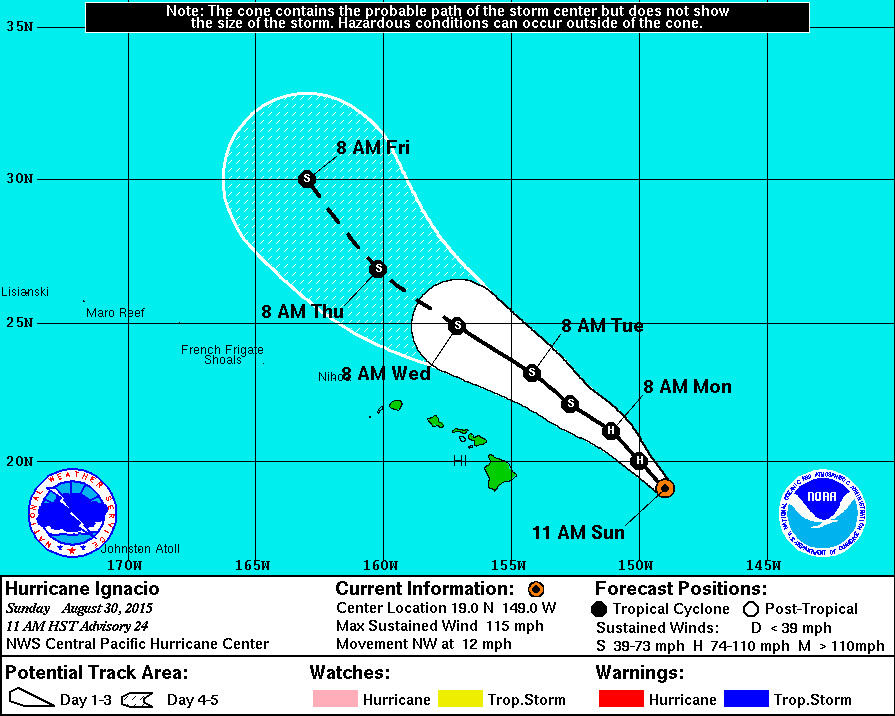 WARNINGS: A Tropical Storm Watch is still in effect for Hawaii County. A High Surf Warning is also in effect for east facing shores of the Big Island.
LOCATION: Ignacio is 400 miles east of Hilo and is moving northwest at 12 mph.
STRENGTH: Ignacio is a Category Three hurricane, with maximum sustained winds at 115 mph. Ignacio will weaken through Monday.
SIZE: Hurricane force winds (over 74 mph) extend outward up to 30 miles from the center. Tropical storm force winds extend outward up to 140 miles.
---
POTENTIAL IMPACTS
HIGH SURF: A High Surf Warning in effect until 6 p.m. HST Tuesday. Wave heights will rise to 15 to 20 feet today along east facing shores. "Expect ocean water surging and sweeping across beaches, coastal benches, and lava flows," reports the National Weather Service, "creating the potential for impacts to coastal properties an infrastructure, including roadways. Powerful longshore and rip currents will be present at most beaches. Large breaking waves and strong currents may impact harbor entrances and channels causing challenging boat handling."
WIND: Tropical storm conditions are possible on the Big Island of Hawaii Monday night.
RAIN: Storm total rainfall amounts of 1 to 3 inches with isolated maximum amounts near 5 inches – mainly in areas of higher terrain – are possible in the watch area.

---

PORT CONDITIONS UPGRADED

The Coast Guard Captain of the Port reports that based on Ignacio's current trajectory to the northwest it does not appear that the closure of commercial ports in the Hawaiian Islands will be necessary.

As a precaution, the COTP has moved the ports of Hilo and Kawaihae on the Big Island and the ports of Kaunakakai and Kahului in Maui County to Condition X-Ray (III): The READINESS condition in which winds above 34 knots (39 mph) are expected within 48 hours.

---

11 a.m. DISCUSSION

by National Weather Service

The reconnaissance aircraft found maximum flight level winds of 107 knots… A maximum sfmr wind of 94 kt… And a 961 mb surface pressure on the last pass through the eye. Thus… Have lowered the intensity of Ignacio to 100 kt for this advisory. The uw-cimss shear analysis shows Ignacio is now experiencing 15-20 kt of southwesterly shear… Which is confirmed on satellite imagery by the restricted outflow in that quadrant. Recent microwave imagery and the recon reports show that the ring of eyewall convection has opened up… And the eye has now become cloud-filled on visible imagery.

The initial motion is 325/10. Ignacio is about to get entangled with a weak but digging upper level trough over the main Hawaiian Islands which will continue to steer the tropical cyclone toward the northwest. The forecast track has been adjusted to be slightly more northward in the short term in the face of increasing southwesterlies… With a bend back toward the northwest after 24 hours as Ignacio becomes increasingly sheared. This is a little to the right of the guidance consensus through 24 hours… Then shifts to the left of the consensus guidance by 48 hours and beyond. Late in the forecast period… A stronger digging mid-latitude trough far to the northwest of Hawaii is expected to steer Ignacio more northward again.

The dynamic models show southwesterly shear will increase rapidly over Ignacio over the next 24-48 hours… And thus rapid weakening is expected. It is interesting that it has taken the ships statistical guidance this long to indicate the magnitude of shear as depicted by the dynamical models for a couple of days now. In any case… The forecast has been adjusted weaker and is now lower than most of the guidance suggests. The shear may weaken a bit temporarily during the days 4-5 time frame… But by then Ignacio will be moving over cooler water.

Forecast positions and max winds

Init 30/2100z 19.0n 149.0w 100 kt 115 mph
12h 31/0600z 20.0n 150.0w 85 kt 100 mph
24h 31/1800z 21.1n 151.1w 70 kt 80 mph
36h 01/0600z 22.1n 152.7w 55 kt 65 mph
48h 01/1800z 23.2n 154.2w 50 kt 60 mph
72h 02/1800z 24.9n 157.1w 45 kt 50 mph
96h 03/1800z 26.9n 160.2w 40 kt 45 mph
120h 04/1800z 30.0n 163.0w 40 kt 45 mph