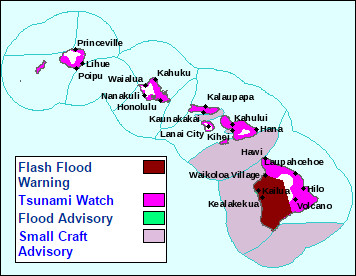 HAWAII ISLAND – As the State of Hawaii awaits an analysis of the ocean while under a Tsunami Watch, once again a large area of Kona and Ka'u are under a Flash Flood Warning.
West Hawaii is still trying to recover from the torrential rains and flooding that occurred last night. Now, the National Weather Service says at 1:50 pm HST, radar showed heavy rain over the slopes of the North and South Kona districts with rates of 1 to 3 inches per hour. "The rainfall is occurring over areas saturated by previous rainfall," forecasters say. "Normally dry drainages and stream channels will flow quickly. Runoff may result in the closing of roads in the area, especially near Waiaha, Holualoa and Honalo. Avoid unnecessary travel."
The Hawaii Police Department reports the road closure of Hualalai Road from Queen Kaahumanu Highway mauka to Hinalole Street in Kailua-Kona due to flooding, ponding and run offs. Kuakini Highway is also closed from the Oni Oni street intersection mauka to the Queen Kaahumanu. "Please take alternate routes and proceed with caution," police say.
Locations in the warning include but are not limited to Kailua-Kona, Captain Cook, Honaunau, Pahala, Kawa Flats, Naalehu, Kealakekua, Kainaliu, Waikoloa and Puuanahulu. The warning is in effect until 4:45 p.m. HST.
The Kona community has been under a Flash Flood Warning several times over the last few weeks. Kuakini Highway has been hard hit, as has Hualalai Road. On Tuesday evening, even Alii Drive was inundated, with water up to the seawall.
Hawaii Island has a lot to be concerned about at the moment. As the National Weather Service alert map shows above, the island is also under a Tsunami Watch following a magnitude 8.3 earthquake off Chile. An investigation is underway to determine if there is a tsunami threat to Hawaii.