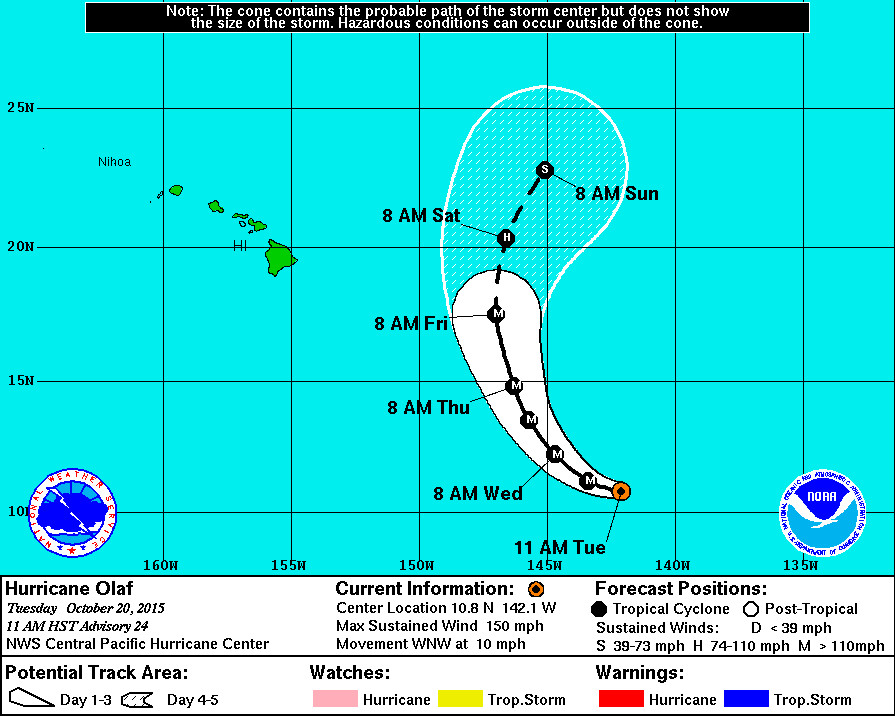 HAWAII ISLAND – The powerful, Category Four Hurricane Olaf is expected to miss Hawaii, but forecasters say it will push warning level surf over East Hawaii shores.
Hawaii Island and Maui County will likely see rising surf heights on Wednesday, and warning level surf heights of 15 to 20 feet on Thursday, according to a Hawaii Emergency Management Agency media release issued earlier today.
Olaf is 1,060 miles east southeast of Hilo, moving west northwest at 10 mph. With maximum sustained winds of 150 mph, Olaf is a powerful Category Four hurricane and could get a little stronger before it begins a gradual weakening trend on Wednesday. Forecasters predict a turn toward the northwest on Wednesday that is expected to continue into Thursday. But The Big Island – especially Puna – is likely to feel the effects in the form of "large, potentially life-threatening and damaging" surf.
The Hawaii Emergency Management Agency and its partners will continue to closely monitor the storm, and recommend the following precautions to the public as Hurricane Olaf remains in the Central Pacific:
Listen to ocean safety officials and exercise caution if entering the water as high surf messages are issued.
Read the Hawaii Boater's Hurricane and Tsunami Safety Manual for recommended precautions to protect your boat prior to a storm.
Check with local officials and the Department of Land and Natural Resources (DLNR), especially if you plan to camp next week. Parks may be closed depending on the weather forecast. Visit the DLNR website for the latest closure information.