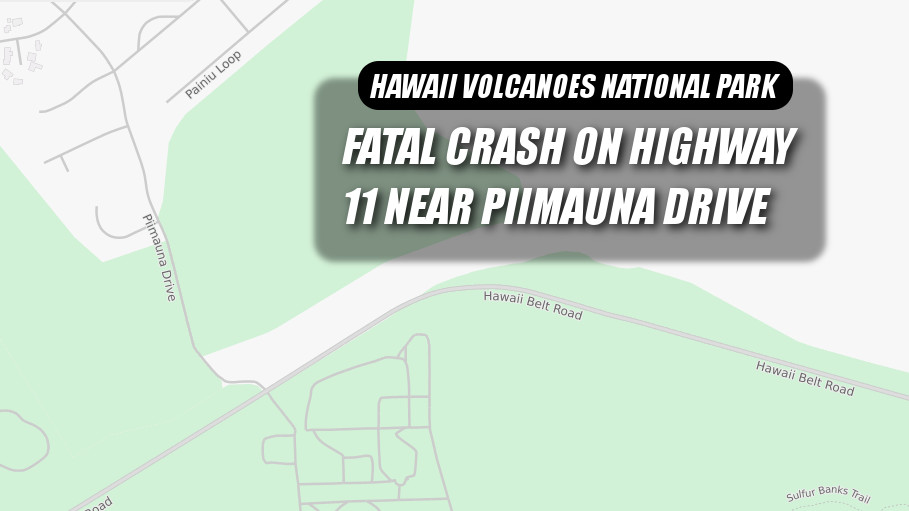 HAWAII VOLCANOES NATIONAL PARK – Park rangers are seeking witnesses to a fatal car crash that occurred on Thursday night on Highway 11 within the borders of Hawaii Volcanoes National Park.
The National Park Service says the single-vehicle accident happened shortly after 9:30 p.m. near mile marker 30 and the Pi'i Mauna Drive intersection. Investigators say a female driver traveling south on Highway 11 crashed into a cluster of large 'ōhi'a trees and was ejected from the vehicle, a 1992 Honda sedan.
According to a Hawaii County Fire dispatch, the sedan appeared to "have major damage – split in half almost." Fire crews said the "one lone occupant noted outside laid up against the vehicle with no signs of life. Possibly pinned slightly underneath." There was no fire, no sound, and no other occupants noted or found in the area.
The identification of the victim is unknown. Her body was transported to Hilo Medical Center.
The investigation into the incident continues. The National Park Service says anyone with information regarding the accident is asked to call Park Dispatch at (808) 985-6170.