HILO, Hawaii – Volunteers took on the large bamboo stand at Hilo's treasured Queen Lili`uokalani Gardens on December 12 during the last big work day of 2015.
The Friends of Lili`uokalani Gardens, Rotary Club of Hilo, Moku Aina, and the Waiakea High School Interact Club worked to thin the thick bamboo patch near the northwest corner of the public garden on Banyan Drive.
"It needs to breathe," said K.T. Cannon-Eger, president of the Friends of Lili`uokalani Gardens organization.
The tall stalks were sawed down, cut into pieces, and then hauled into piles. The felled bamboo was made available to anyone who could use it.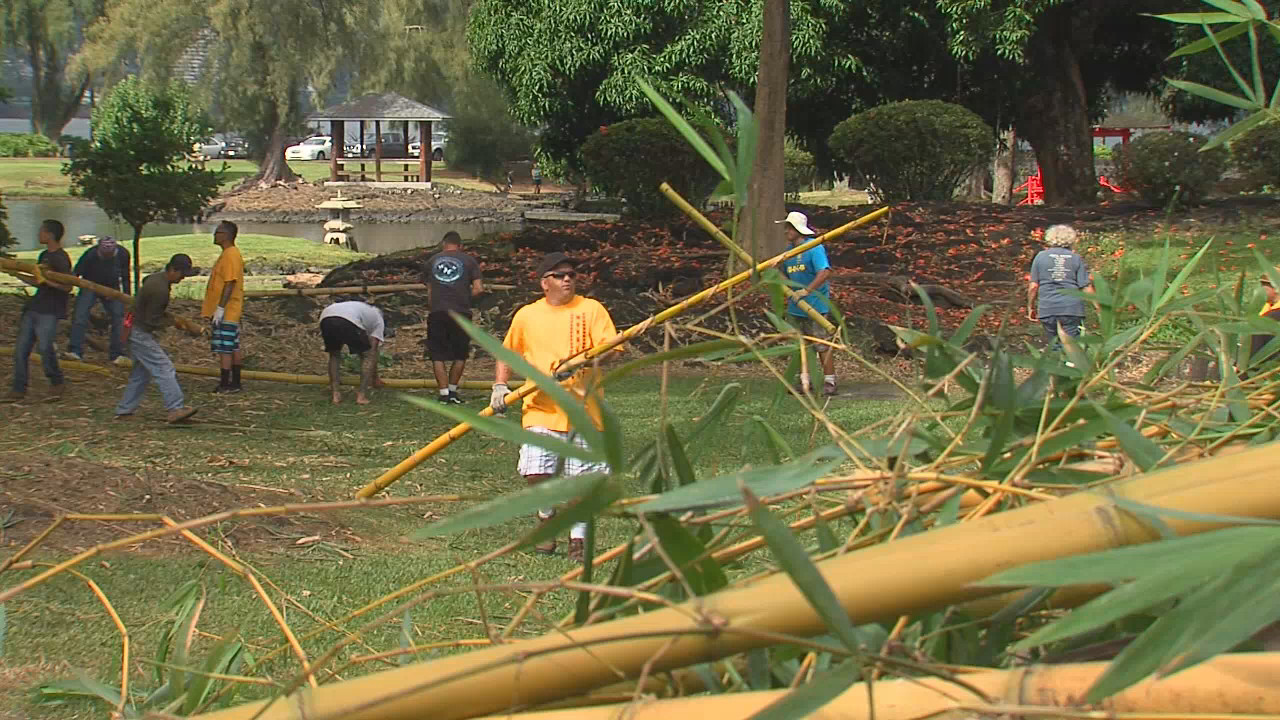 "I think its the toughest job in the park, cleaning this bamboo," added Rotary Club president Wally Wong. "But its very rewarding." The Rotary Club recently planted a black pine tree at the garden to celebrate its 95th anniversary. They were joined by the Rotary Club of Hiroshima South.
The work is also part of the preparation for the 100th birthday of the Queen Lili`uokalani Gardens in the year 2017. "It's also the centennial of Queen liliuokalni's passing," said Cannon-Eger, "and so the centennial that we are looking to celebrate will honor the Queen's life and the garden that she fostered. Right now we're helping the county get ready for the centennial, just doing some additional maintenance. Things that they haven't been able to get around to. Wherever we can help we're just ready, willing, and able to do that."
Cannon-Eger added, "we're coming up – with the help of David Tamura – with a master plan for the garden to carry it into the future. And during 2017 we hope to have a major event in the garden, or near it, every month of the year. Something to celebrate the Queen's birthday. Something in concert with Merrie Monarch. A juried art show at Wailoa Center to celebrate their fiftieth. Something with the tea house to celebrate their 20th. Something with the florists and nursery association to sponsor a master class, and then do some arrangements in the gardens. All kinds of different plans are being made."