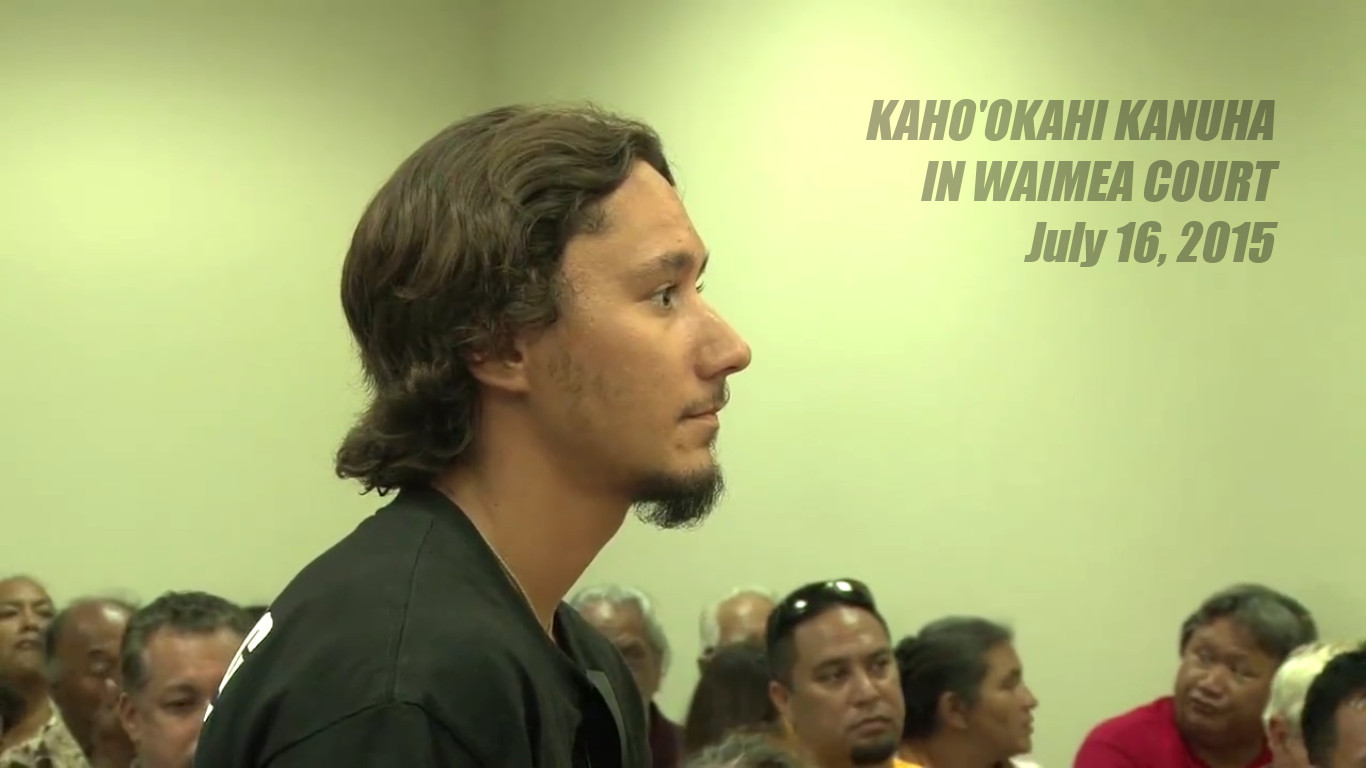 WAIMEA, Hawaii – Kaho'okahi Kanuha was found not guilty by Judge Barbare Takase at the Third-Circuit District Court in Waimea.
Kanuha was charged with obstructing Thirty Meter Telescope crews on the Mauna Kea Access Road on June 24, 2015. He was one of 12 arrested on the mountain that day. Kanuha was a leader in the effort to block construction of the TMT which was granted the right to proceed with the project by the state. The $1.4 billion observatory was set to be located on the northern plateau of the Mauna Kea summit, an area prized by astronomers for being one of the best spots in the world from which to observe the cosmos. The Hawaii Supreme Court later invalidated the telescope's conservation district use permit, remanding the project back to the start of its permit process, effectively delaying construction for years. The high court ruled that the state did not follow proper procedure when it awarded the permit.
Sources in the courtroom say Kanuha appeared pro se and defended himself in ʻōlelo Hawaiʻi. A court interpreter assisted by translating the Hawaiian language for Judge Takase.
Kanuha "chanted 17 generations of his genealogy dating back to the 1400's, which goes back to Umialiloa," said Chandell Asuncion, who was in the court and noted there "wasn't a dry eye in the room."
"He then told a story told by Kanuha in the mid 1800's of Umi going to war with a man who was cutting down the coconut grove," Asuncion said. "The story goes into detail about Umi protecting the desecration of 'Aina Mauna which is defined as Mauna Kea, Mauna Loa, Hualalai and all the land in between. He very clearly described destruction, and his traditional, kuleana to protect the sacred lands of 'Āina Mauna."
"The judge recognized that Kaho'okahi BELIEVED that on June 24, 2015 the day of the arrest he was making a choice to protect the Mauna and be arrested," Asuncion reported, "which is less harm than allowing construction.
Kanuha was first arrested on Mauna Kea on April 2, 2015. He was one of 31 to be removed from the mountain by law enforcement working to clear a path for TMT crews. Kanuha was determined from the beginning to defend himself in court using the Native Hawaiian language. (VIDEO: Hawaiian Language Confounds Court). Big Island Video News covered the story in May 2015.
His defense in ʻōlelo Hawaiʻi continued for his June 24 arrest. In this video, Kanuha asks Judge Takase for a bail refund.