HILO, Hawaii – The Department of Land and Natural Resources commissioned a study on the local tourism market focusing on the ailing Banyan Drive resort area of Hilo, and the data was presented during a community meeting on Jan. 15.
Hilo's hotel landscape was summarized on page 31 of the report:
(pg. 31)
(SOURCE: DLNR Tourism Market Study)

With a few exceptions, the hotels in Hilo fall within the "budget" category (up to $100 per night) or "standard" category ($101 to $250 per night). A recent survey of hotels in Hilo conducted for this study found that average room rates in the area range from $69 to $110. The hotel infrastructure is old, with all hotels originally built in the 1970s or earlier. While a few properties such as the Hilo Hawaiian Hotel have been recently renovated, most of the properties have not undergone substantial renovation or upgrades in recent years. As a result, the hotels in Hilo, while relatively affordable compared to other Hawaii destinations, are exhibiting signs of their age.

A review of hotel guest ratings and comments on various travel websites such as hotels.com, kayak.com, and yelp.com are consistent with the older infrastructure and "budget" category of hotels in Hilo. On yelp.com, guests rated most of the hotels in Hilo as either 1-star or 2.5-stars out of 5. Guest ratings for the same hotels on hotels.com were slightly higher, in the 3-star to 3.7-star range out of 5. Guests noted in their comments on these websites that the hotels were affordable, inexpensive and old. While some hotels were praised for being clean, guests at other hotels complained that the rooms were dirty, unkept, or run-down. It is noted that these guest ratings and comments are subjective and are not necessarily representative of all guests who stay at the hotels. Nevertheless, this information provides insight into the characteristics of the hotel market in the Hilo area.

Discussions with hotel operators in Hilo indicate that many of their guests are local Hawaii residents and mainland travelers, with international visitors representing a smaller proportion of their client base. Certain events such as the Merrie Monarch Festival, a weeklong cultural and hula festival, attracts many guests to Hilo.

It was noted previously that island-wide hotel occupancy on the Big Island averaged 62 percent in 2012. A survey of the hotels in Hilo found that hotel occupancy rates in the area ranged from approximately 60 percent to 90 percent, with a weighted average of 75 percent. While hotel occupancy has averaged 75 percent, the Naniloa Volcanoes Hotel, the largest hotel in Hilo, has been operating just 179 of its total 325 rooms. If the remaining rooms at the Naniloa were added back into the inventory, the overall occupancy rate for Hilo would likely be lower.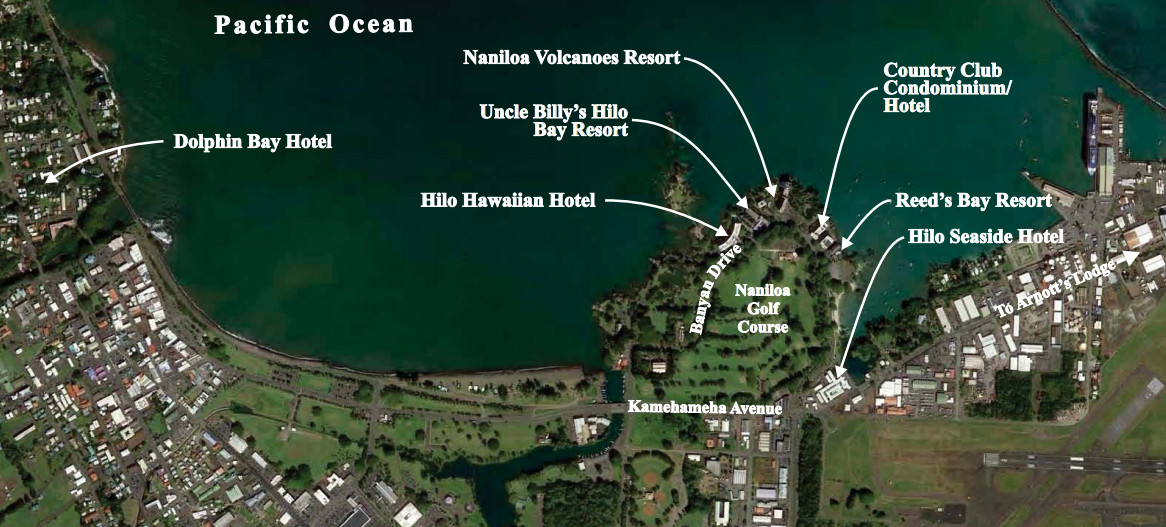 The report concludes:
CONCLUSION
(SOURCE: DLNR Tourism Market Study)

This report has presented information on tourism trends in the State and Hilo and provided analysis of the lodging market in Hilo. Based on the current hotel inventory in Hilo and forecasted visitor arrivals in the future, it is estimated that Hilo would need to capture an estimated 8 to 9 percent of visitors to the State to create new demand for hotel room inventory. The analysis presented herein suggests that there are a variety of factors contributing to Hilo's lower capture rate of visitors to Hawaii. While Hilo and the surrounding area offer visitors unique experiences and sightseeing opportunities, the tourism infrastructure is dated. A new hotel alone is not anticipated to substantially increase the proportion of statewide visitors who come to Hilo. Hotels are just one component of the visitor experience. Visitors to Hawaii have options on where to travel to within the State, with other destinations offering newer and higher quality hotels, golf courses, and other visitor amenities and attractions such as dining, entertainment, and shopping. Hilo's small-town character is valued and unique, and is not expected to change. In fact, its small-town charm is an appealing factor to those looking to experience a different kind of Hawaii. Opportunities for improving the overall tourism infrastructure in Hilo and the Banyan Drive area in particular, including the other hotels and golf course, may help to recreate a sense of place around Banyan Drive and restore Hilo as a more prominent visitor destination within the State. Other factors such as increased flight capacity and marketing efforts may also increase Hilo's capture rate of visitors. In particular, there may be marketing opportunities that leverage Hilo's unique character, differentiating it from other destinations within Hawaii. Collectively, overall improvements to the tourism infrastructure, increased flight capacity, and marketing efforts may increase the proportion of visitors to the State who travel to Hilo such that there would be sufficient demand for a new hotel. Absent other actions aimed at improving the tourism infrastructure in Hilo and attracting more visitors to the area, a new hotel alone is not anticipated to substantially increase the number of visitors to the region. (SOURCE: Tourism Market Study)