HAWAII ISLAND – Darby has weakened from a hurricane to a tropical storm. Although Darby is maintaining a westward approach towards Hawaii, weather forecasters predict it will veer north – still as a weak tropical storm – just as it nears the Big Island over the weekend.
Tropical Storm Darby is currently 1,200 miles east of Hilo, heading towards Hawaii Island at 13 mph. Winds are currently blowing at 65 mph. The National Hurricane Center says gradual weakening is forecast during the next 24 hours, followed by little change in strength through Thursday.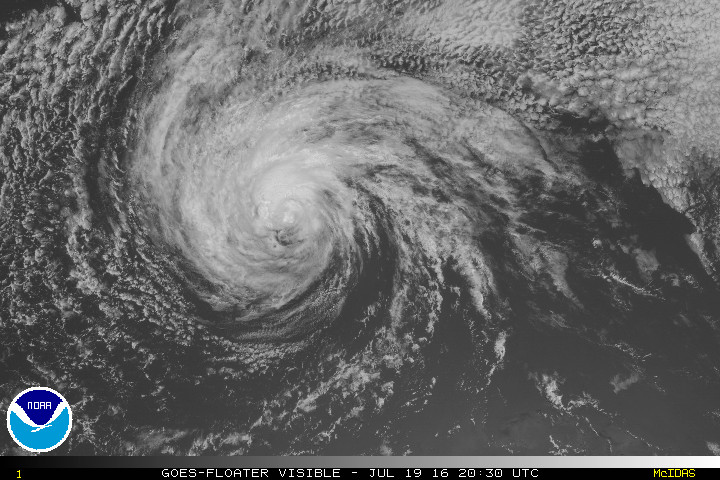 Tropical-storm-force winds extend outward from Darby up to 90 miles from the center.
"Although Darby continues to exhibit a well-defined circulation," forecasters say, "deep convection, in the form of ragged bands, continues to gradually diminish in coverage. The cyclone is forecast to move over marginal (sea surface temperatures) and into a drier, more stable air mass with increasing modest southwesterly shear during the next several days. The official forecast indicates slight weakening during the next day or so, with very little change in strength through 96 hours as Darby traverses a slightly warmer ocean. Thereafter, Darby is expected to again weaken as it gains latitude and moves into a region of strong southwesterly shear."
Since Darby looks like it might maintain tropical storm strength into the weekend, the predicted northwestward turn is an important element. It is still too early to know for certain, but forecasters expect Darby "to decrease its forward speed and gradually begin to recurve northwestward into a growing weakness caused by an amplifying mid- to upper-level trough north of the Hawaiian Islands."