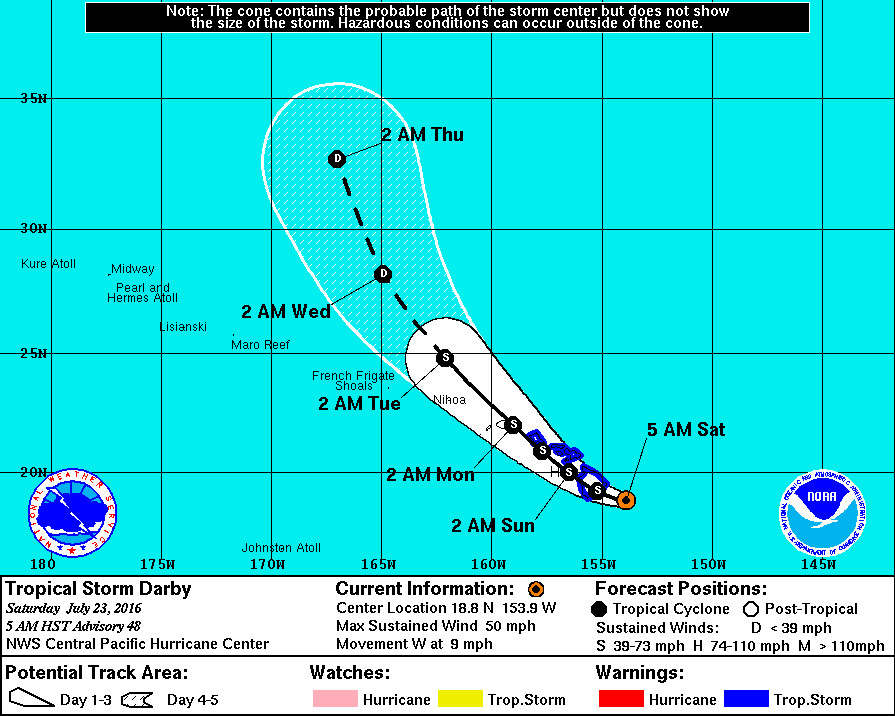 HAWAII ISLAND – Tropical Storm Darby, 100 miles southeast of Hilo and moving west at 9 mph, has weakened a little since our midnight update. The storm's maximum sustained winds are near 50 mph with higher gusts, down from the earlier 60 mph. Some weakening is forecast during the next 48 hours, but Hawaii Island will still feel tropical storm force winds and rain today.
Tropical storm-force winds extend outward up to 125 miles from the center, and some residents are beginning to see bands of heavy rain and wind after a relatively quiet night.
"Rain and wind from Tropical Storm Darby are affecting the Big Island," stated Hawaii County Civil Defense in a mesage issued this morning. "Residents are urged to stay off the road if at all possible. Should power be lost or access be blocked-ensure you have prescription medications, ice, water, oxygen, backup power and fuel if needed."
UPDATE – (7:20 a.m.) A Flood Advisory has been issued. At 7:08 am HST, radar indicated heavy rain over the windward slopes of the Big Island. The heaviest rainfall, with rates 1 to 2 inches per hour, was occurring over the Kohala mountains and the Puna slopes. Additional rain bands, associated with approaching Tropical Storm Darby, will continue through the day. Locations in the advisory includes all locations in the North Kohala, South Kohala, Hamakua, North Hilo, South Hilo and Puna districts.
A Tropical Storm Warning is in effect for Hawaii County, as well as Maui County (including the islands of Maui, Molokai, Lanai and Kahoolawe) and now Oahu.
Darby appears to be taking a southerly track across the Big Island. "Darby continues to defy predictions to gain latitude," forecasters say. "Given the continued messy satellite presentation and the lack of aircraft data for this package, it's possible that this system is a tenth of a degree or two farther south."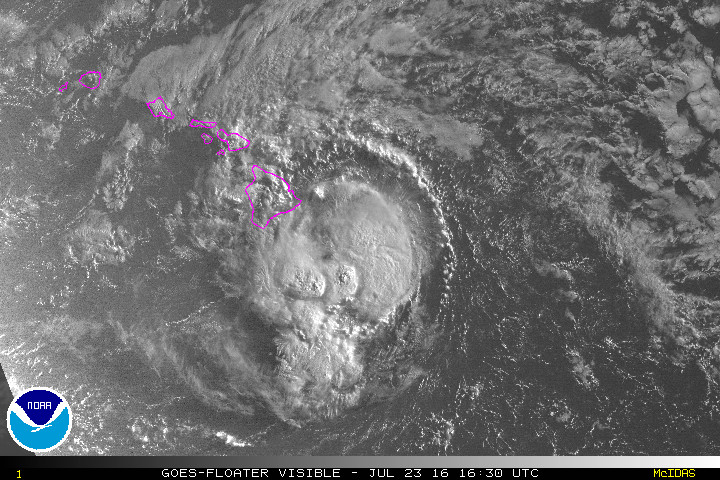 "All models continue to show Darby slowing and gradually turning northwest along various curving paths through the next five days," the Central Pacific Hurricane Center says. "Track guidance remains tightly packed but shifts slightly to the left, with all tracks crossing the Big Island. The right outlier remains GFDL, which takes Darby over Oahu after passing across leeward waters. The right outlier is the Canadian model, which takes Darby west of Kauai after its encounter with the Big Island. The forecast track was tapped to the left again though day 4 to keep pace with initial motion and to maintain the track within the guidance envelope. This track, closely following TVCN consensus, takes Darby to the Big Island in 12 hours."
Rain has begun to spread over the windward and southeast sides of the Big Island early this morning, forecasters say. Rain is expected to become heavy at times with heavier squalls and embedded thunderstorms. Heavy rain at times will then continue today and tonight, with total rainfall amounts of 10 to 15 inches. A flash flood watch is in effect.
A high surf warning also remains in effect. Wave heights up to 25 feet are forecast.
HAWAII COUNTY CLOSURES
Hawaii County officials say the Hele-On Bus service will be suspended today until further notice. Resumption of service will depend on road and weather conditions. Solid Waste Transfer Stations and Landfills are also be closed.
Hawaii County Civil Defense says Umauma Bridge on Highway 19 along the Hamakua Coast is closed with a detour through Old Mamalahoa Highway.
All camping and pavilion reservations at County and State parks have been cancelled today through Sunday.
All backcountry areas and certain roads in Hawai'i Volcanoes National Park, are closed.
County lava viewing and swimming pools are closed.
All State and County park facilities are closed until further notice.
EMERGENCY SHELTERS
"If possible and safe, shelter in place or with family and friends," civil defense says. "However, the following pet friendly emergency shelters open today at 4 pm: Waiakea High, Kalanianaole Elementary, Keaau High, Pahoa High, Honokaa High and Intermediate, Kealakehe High, Konawaena High and Ka'u High. Requirements for pets that need shelter are listed at hawaiicounty.gov. Bring bedding, food, water and any personal items you may need."
Hilo High, Laupahoehoe Community Charter School, Mountain View Elementary, Waikoloa Elementary, and Kohala High and Elementary open today but are unable to accommodate pets. Again, bring bedding, food, water and any personal items you may need.