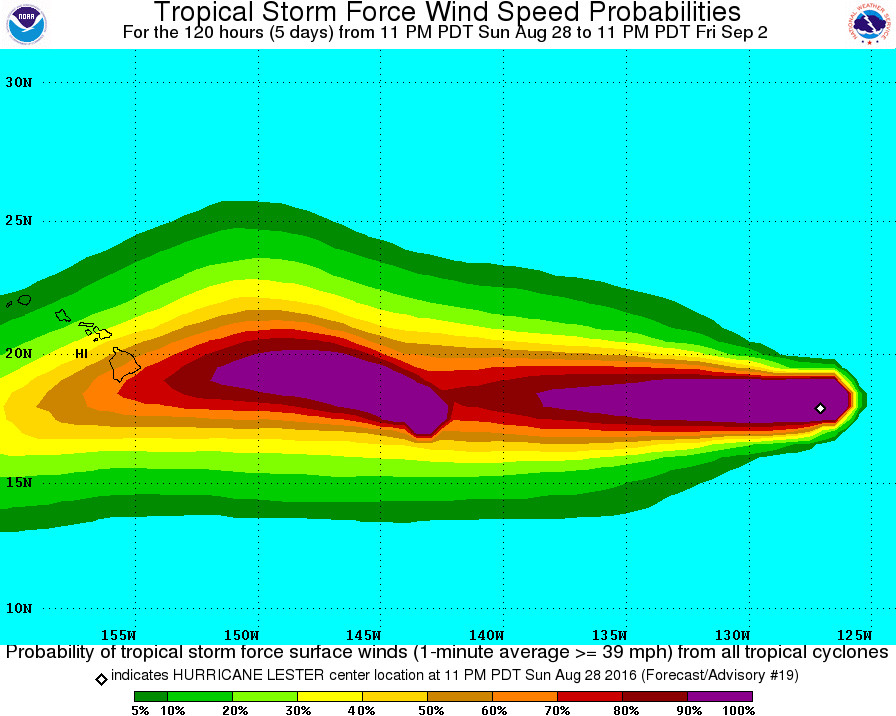 HAWAII ISLAND – Madeline has become a hurricane, 755 miles east of Hilo, while Hurricane Lester – following in Madeline's wake – has strengthened into a major hurricane. Both hurricanes continue to churn in the direction of Hawaii Island.
Hurricane Madeline is the more immediate threat to the islands, however forecasters are still saying their "confidence in the track forecast decreases by day 3," about the time Madeline nears Hawaii Island, "so it is difficult to determine what impacts Madeline could have on the Hawaiian Islands late in the forecast period."
"Madeleine has become more organized over the past 12 hours," the National Weather Service reported at 11 p.m. HST, "with an eye feature forming within the central dense overcast and becoming apparent this evening. Little or no shear deformation is noted and outflow is particularly good to the north."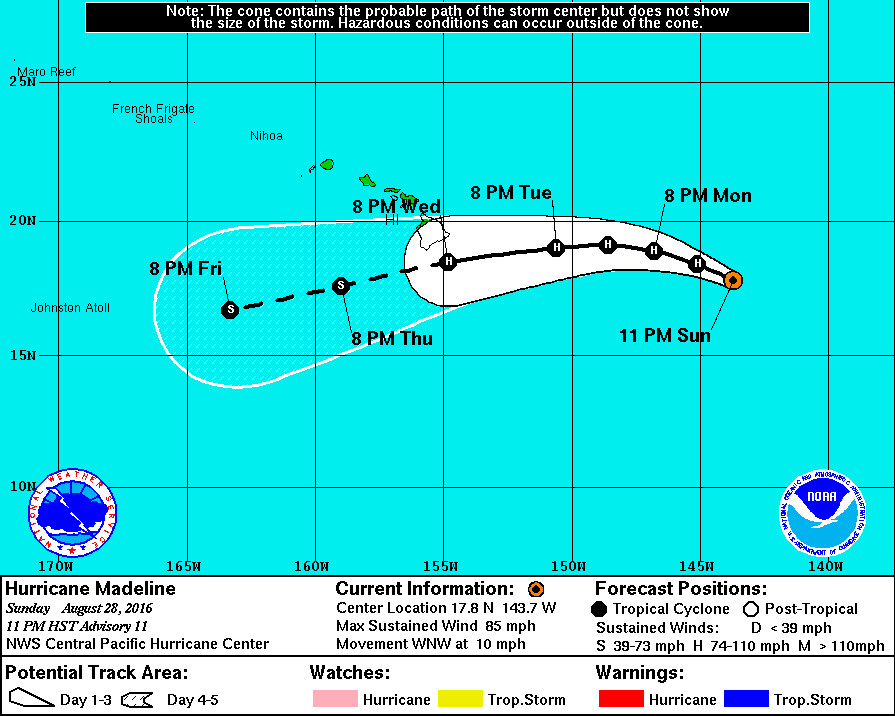 Madeline's sustained winds are near 85 mph with higher gusts, and the hurricane is expected to strengthen slightly through Monday, then begin to weaken Tuesday.
Madeline is now predicted to be a hurricane as it makes it closest approach to the Big Island, making a close pass on the south side. "Track guidance is reassuringly tightly packed through 72 hours with even GFDL," forecasters reported, "which had been the right outlier for the guidance we most commonly use, now taking Madeline south of the Big Island."
An even stronger storm is brewing one thousand miles behind Madeline.
"Lester has made a comeback," reported the National Hurricane Center at 11 p.m. HST. "A ragged eye that had formed around the time of the last advisory has cleared out and warmed significantly. The hurricane's central dense overcast has also expanded and become more axisymmetric while the cyclone has shed its outer bands."
With sustained winds of 115 mph, Lester is now the fourth major hurricane of the 2016 eastern North Pacific hurricane season.
Forecasters say the characteristics exhibited by Lester are those that typify annular hurricanes. Little change in strength is expected today, but slow weakening is expected to begin by Tuesday.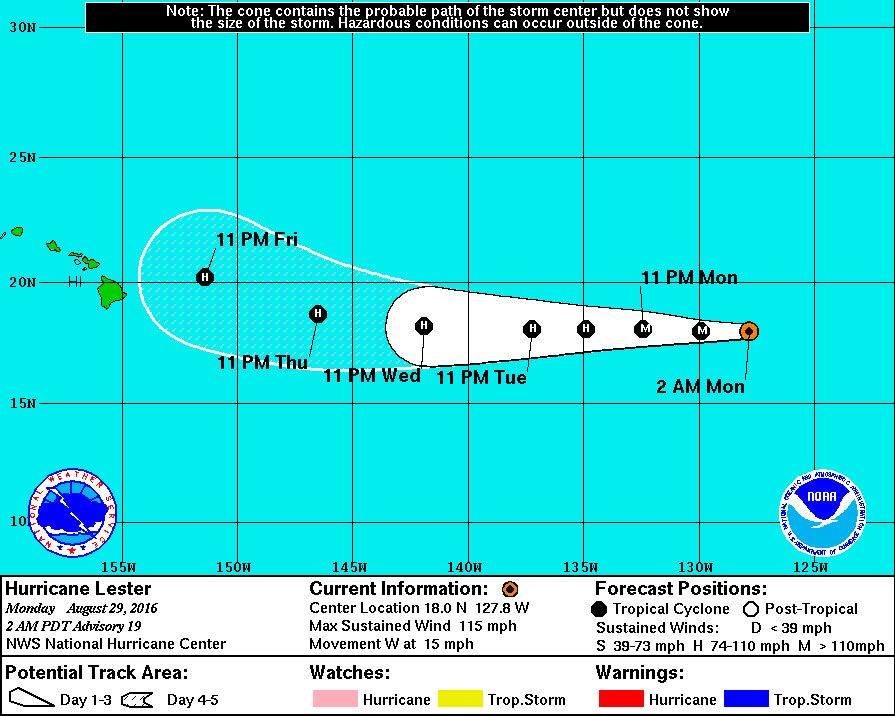 Hurricane Lester is also moving in the direction of the Hawaiian Islands. Forecasters say "a strong subtropical ridge north of Lester should continue to steer the hurricane nearly due west for the next 3 days. After that time, a probable binary interaction with Madeline should result in a west-northwestward shift in the cyclone's heading as it approaches the Hawaiian Islands."
It also looks like it will be a hurricane as it draws closer.
In general, Lester should be embedded in a light easterly shear environment during the next several days while it moves over nearly constant sea surface temperatures between 26-27 deg C. These conditions suggest that Lester could maintain its current annular characteristics for some time, even though the large-scale environment is only marginally conducive for it to do so. Lester's current intensification phase has caused the NHC intensity forecast to be increased quite a bit over the previous one. It is also above nearly all of the guidance throughout the period, especially in the short term, given the tendency of forecasts for annular hurricanes to overestimate their future filling rate.
There are no coastal watches or warnings in effect.