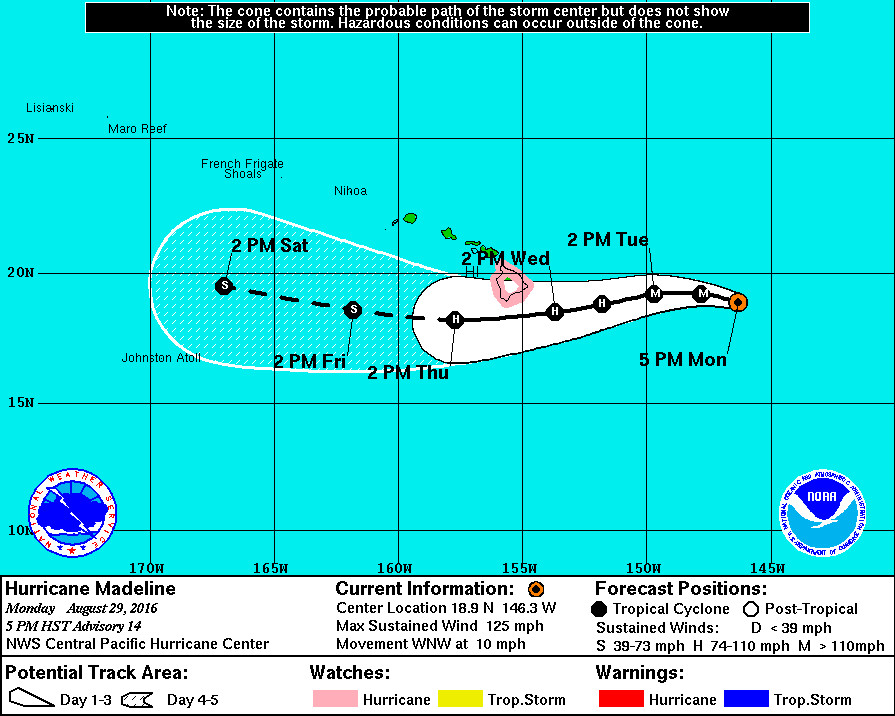 HAWAII ISLAND – The center of Hurricane Madeline will pass dangerously close to the Big Island Wednesday and Wednesday night, as a Hurricane Watch is in effect for Hawaii County.
A Hurricane Watch means that hurricane conditions are possible within the watch area. A Hurricane Watch is typically issued 48 hours before the anticipated first occurrence of tropical storm force winds.
Madeline is 575 miles east of Hilo, moving west northwest at 10 mph. A gradual turn toward the west is expected by Tuesday, with Madeline expected to move west-southwest Tuesday night into Wednesday, the National Weather Service reports.
Madeline's maximum sustained winds are near 125 mph with higher gusts, making it a category 3 hurricane on the Saffir-Simpson Hurricane Wind Scale. Little change in intensity is expected tonight, forecasters say, with gradual weakening forecast Tuesday and Wednesday.
Madeline continues on a rapid intensification trend that began yesterday evening. Current satellite images depict a strong and well- organized major hurricane, with clouds having cleared the eye a short while ago. A ring of deep convection totally encircles the newly-cleared eye, with eyewall cloud top temperatures on the order of -70 degrees Celsius.
Officials say hurricane conditions are possible over Hawaii County on Wednesday.
Depending on the exact track that Madeline takes, strong damaging winds and heavy rainfall are possible. Large and damaging surf is likely for east facing shores as well, forecasters say. Swells generated by Madeline are expected to reach the Hawaiian Islands over the next couple of days, possibly becoming damaging along some coastlines Wednesday and Thursday.
"Surf is expected to build to 10 to 18 feet on Tuesday," the National Weather Service says, "and to 15 to 25 feet on Wednesday and Wednesday night. This may cause significant wave runup or damage to coastal properties and infrastructure, including roadways. Powerful longshore and rip currents will be present at most beaches. Large breaking waves and strong currents may impact harbor entrances and channels causing challenging boat handling."
We can expect Madeline to bring heavy rains as well. A Flash Flood Watch is in effect. "Although some uncertainty remains regarding the track of Madeline," forecasters say, "deep moisture associated with the hurricane is expected to impact the Big Island by Wednesday morning, bringing the threat of heavy flooding rainfall through late Thursday. Total rain accumulations of 5 to 10 inches are possible, with isolated maximum amounts near 15 inches, especially over windward portions of the Big Island. This rainfall may lead to dangerous flash floods and mudslides. Refer to the watch for more details."
Following close behind Category Three Hurricane Madeline is Category Four Hurricane Lester, a major hurricane.
Lester is 1,525 miles east of Hilo and is gaining ground, heading west at 15 mph.
The eye of the hurricane, which is now about 20 n mi wide, has expanded and cleared out during the last several hours. Visible satellite images also indicate that mesovorticies exist within the eye. The convective pattern has been very symmetric, and the hurricane continues to have an annular appearance in satellite images… Lester is estimated to have strengthened at an impressive rate of 45 kt during the past 24 hours.
The latest forecast takes Lester close to the Hawaiian Islands in about 5 days, and a last minute swerve to the northwest is possible… perhaps thanks to Madeline.
"The distance between Madeline and east Pacific Hurricane Lester has been gradually decreasing," forecasters say, "and forecast models indicate that the two cyclones may become sufficiently close at the end of the forecast period for some interaction."