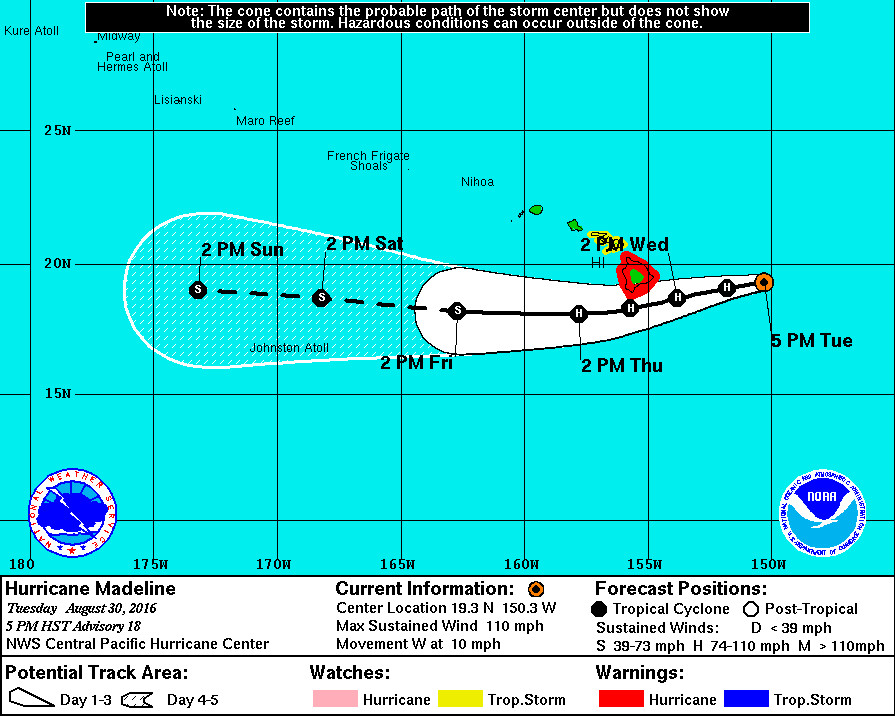 HAWAII ISLAND – A Hurricane Warning remains in effect for Hawaii County as Hurricane Madeline continues to move west towards the Big Island.
Madeline is expected to continue moving west toward Hawaii Island into the evening, followed by a turn toward the west-southwest tonight through Thursday. "On the forecast track, the center of Madeline will pass dangerously close to Hawaii County Wednesday and Wednesday night," forecasters say.
EMERGENCY PROCLAMATIONS
Governor David Ige signed an emergency proclamation in anticipation of hurricanes Madeline and Lester.
The pre-landfall emergency proclamation was signed on Tuesday, as the state prepares for possible impacts from hurricanes Madeline and Lester. "The proclamation authorizes the expenditure of state monies for quick and efficient relief of disaster-related damages, losses and suffering resulting from the storms," a state media release states.
"As always, our top priority is protecting the health, safety and overall welfare of our residents and visitors. During this time, I ask residents and visitors to closely follow emergency instructions as we prepare for the storm. I urge you to take immediate steps to protect your families, loved ones, employees and property. The state is monitoring the storms and standing by to support the counties," said Gov. Ige.
The disaster emergency relief period begins on August 30 and continues through September 9, 2016.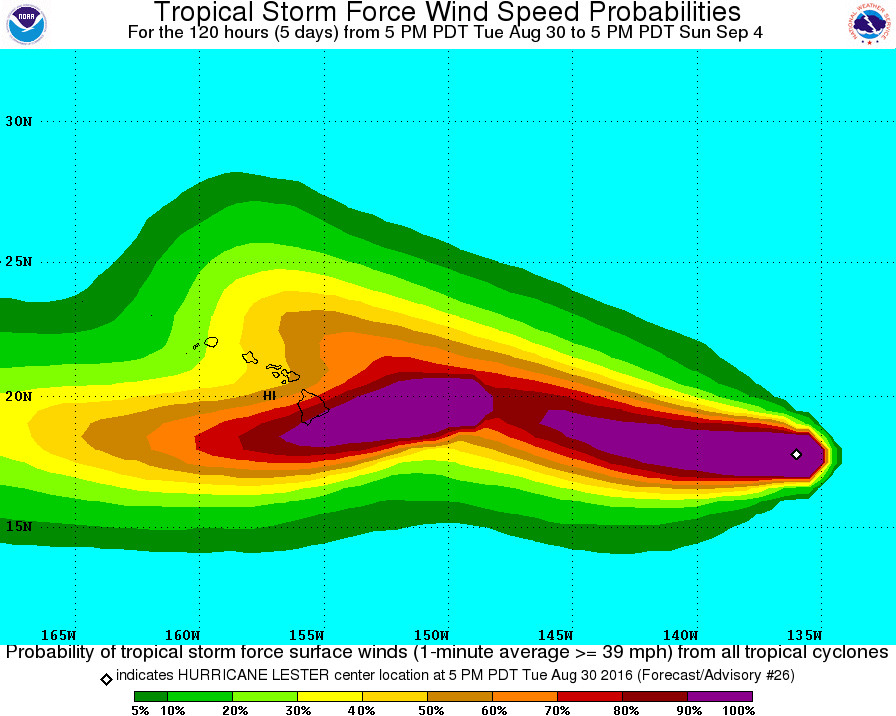 SHELTERS OPEN
County shelters opened today at 5 p.m.
"If possible and safe, shelter in place or with family and friends," Hawaii County Civil Defense said. "Otherwise, the following emergency shelters will open today at 5:00 PM: Waiakea High, Hilo High, Laupahoehoe High, Kalanianaole Elementary, Honokaa High and Intermediate, Waimea Intermediate, Waikoloa Elementary, Kohala High and Elementary, Kealakehe High, Konawaena High, Ka'u High, Mountain View Elementary, Keaau High and Pahoa High."
According to the Hawaii Island Human Society, the following shelters are pet friendly: Waiakea High, Kalanianaole El, Keaau High, pahoa High, Honokaa High, Kealakehe High, Konawaena High, and Ka'u High.
If going to a shelter,officials say bring your own bedding, food, water, medicines and any personal items you may need.
CLOSURES & CANCELLATIONS
State offices will be closed on Hawai'i Island on Wednesday, Aug. 31. The Office of the Governor says state employees on Hawai'i Island will be granted administrative leave and should not report to work on Wednesday. The exceptions are "the Departmental Disaster/Emergency Coordinators, Disaster Response Workers and Employees whose work involves continuing crucial operations/services, such as hospital workers, correctional workers, etc."
All County of Hawaii facilities, offices and services will be closed tomorrow including Hele-On Bus service, solid waste transfer stations and landfills. All State and County park facilities including lava viewing, and some camping and remote areas of Hawai'i Volcanoes National Park will also be closed tomorrow.
All public and charter schools on Hawaii Island will be closed Wednesday. All public schools will also be closed on Thursday.
All University of Hawaiʻi facilities on Hawaiʻi Island will be closed for all students and non-essential personnel starting tomorrow, Wednesday, August 31, in advance of Hurricane Madeline.
This includes:
UH Hilo
Hawaiʻi Community College
Hawaiʻi Community College—Pālamanui
ʻImiloa Astronomy Center
North Hawai'i Education and Research Center
Hale Pohaku – Onizuka Center for International Astronomy and food and lodging facilities
All UH Mānoa College of Tropical Agriculture and Human Resources (CTAHR) facilities on Hawaiʻi Island
All UH Mānoa Institute for Astronomy (IfA) facilities on Hawaiʻi Island
The U.S. Coast Guard Captain of the Port will close all Hawaii County ports – Hilo and Kawaihae – to traffic at 8 p.m. Vessels transiting within the vicinity of the Hawaiian Island harbors should seek sheltered waters until storm conditions subside and the Captain of the Port has deemed the ports safe to reopen. All ocean going commercial vessels and ocean going barges greater than 200 gross tons are expected to make preparations to leave the ports by 8 p.m.
"I am committed to reopening each port as soon as it is safe to do so," said Capt. Mike Long, the Coast Guard Captain of the Port. "Following the storm, the conditions of the ports will be evaluated and changed dependent on the port assessment."
The State Department of Land and Natural Resources Division of Forestry and Wildlife will close this evening all forest reserves, wildlife sanctuaries, natural area reserves, Na Ala Hele hiking trails, forest campgrounds and game management areas, including Keanakolu cabins, Ainapo hiking trail, Muliwai trail and Waimanu valley campground until further notice. Camping permits for this weekend are cancelled until further notice.
The DLNR Division of State Parks is closing its park campgrounds, pavilions and cabins starting tonight. All Big Island parks will remain closed tomorrow and will not re-open until conditions warrant.
Nā Leo TV facilities will be closed tomorrow, August 31st, 2016, in anticipation of storm conditions due to Hurricane Madeline.
The Sept. 1st Waimea Community Association meeting is cancelled.
The Donkey Mill Art Center will be closed tomorrow, Wednesday August 31 and Thursday September 1.
HURRICANE MADELINE
Madeline is a strong category two hurricane on the Saffir-Simpson Scale, with maximum sustained winds are near 110 mph with higher gusts. (111 mph winds would make it a category three.)
Madeline is currently 315 miles east of Hilo. Hurricane-force winds extend outward up to 25 miles (35 km) from the center and tropical-storm-force winds extend outward up to 125 miles (205 km).
Gradual weakening is forecast during the next 48 hours. However, Madeline is expected to be at hurricane strength when it passes near Hawaii County.
"We would like to remind everyone that hazards associated with
hurricanes can extend well away from the center," the National Weather Service say, "and you should not focus too closely on the exact forecast track, as small changes can lead to differences in impacts."
EFFECTS
According to the National Weather Service:
WIND: Hurricane conditions are expected to develop over Hawaii County as early as late Wednesday and continue into early Thursday. Tropical storm conditions are possible over Maui County, including the islands of Maui Molokai and Lanai, on Wednesday into early Thursday.
SURF: Swells generated by Madeline are expected to build from east to west across the Hawaiian Islands later today and tonight, possibly becoming damaging along east facing shorelines of Hawaii County and eastern portions of the Island of Maui on Wednesday into Thursday.
RAIN: Heavy rains associated with Madeline are expected to reach Hawaii County on Wednesday, and may impact other Hawaiian Islands later Wednesday through Thursday. Madeline is expected to produce total rain accumulations of 5 to 10 inches, with isolated maximum amounts near 15 inches, across the Big Island, especially over windward portions. This rainfall may lead to dangerous flash floods and mudslides. Madeline may produce up to 4 inches of rainfall across Maui County.
STORM SURGE: Depending on the track of Madeline, the combination of storm surge and tides could cause normally dry areas near the coast to become flooded. The water could reach 1 to 3 feet above ground if peak surge were to coincide with high tide. The surge would be accompanied by large damaging surf and can vary over short distances.
HURRICANE LESTER
Hurricane Lester, following behind Madeline 1,225 east of Hilo, suddenly re-intensified to a Category Four hurricane.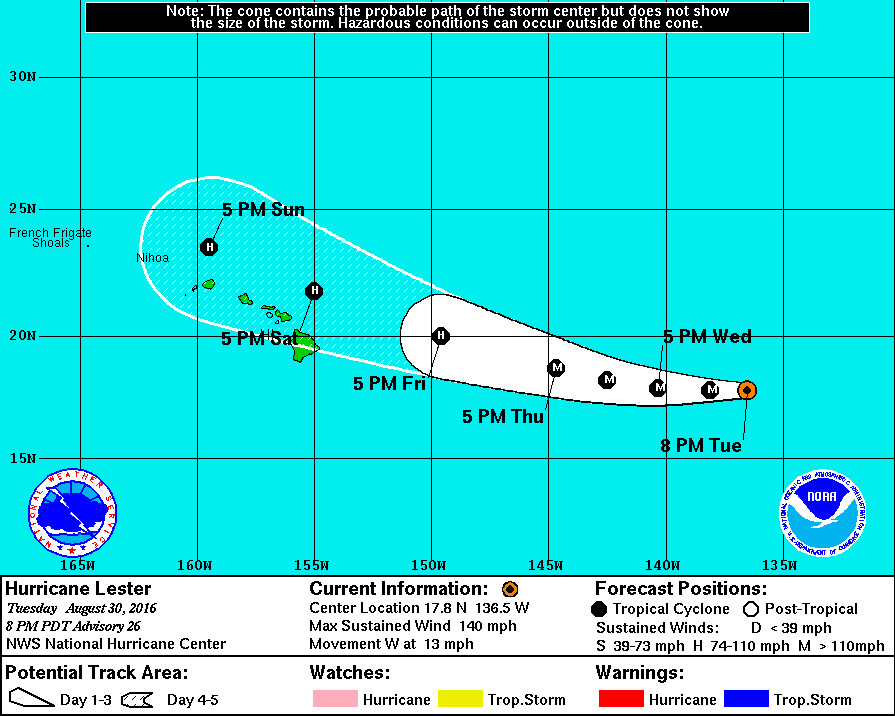 Lester has shown a sudden reintensification this evening as a symmetric eyewall with very cold cloud tops is encircling a 25 nm diameter warm eye. Subjective Dvorak classifications from SAB and TAFB are at 6.5 and 6.0 current intensity numbers, respectively, while the CIMSS Advanced Dvorak Technique is at 6.3. A blend of these gives 120 kt maximum winds at the initial time, up considerably from the previous advisory.

Lester is anticipated to experience quite low vertical shear for the next few days, though the lukewarm SSTs and 40-50 percent humidity air are only marginally conducive for maintaining high intensities. The current convective structure and its environment suggest that Lester may be evolving into an annular hurricane, which tends to weaken only slowly over time. The NHC intensity forecast is closest to the HWRF and DSHP models, and is above that from the previous advisory due to the higher initial intensity.

Lester is moving toward the west-southwest at about 11 kt. A large subtropical ridge to its north is providing the westward steering and low shear environment. The tightly packed model guidance indicate that the system should turn slightly toward the west or west-northwest during the next two days at about the same rate of forward speed. The NHC track forecast is based upon the TVCN multi-model consensus technique and is very close to that from the previous advisory.

No new information is available about Lester's initial wind radii, so that is unchanged from the previous advisory. The NHC wind radii forecast is based upon the RVCN consensus technique and nearly the same as that from the last advisory.