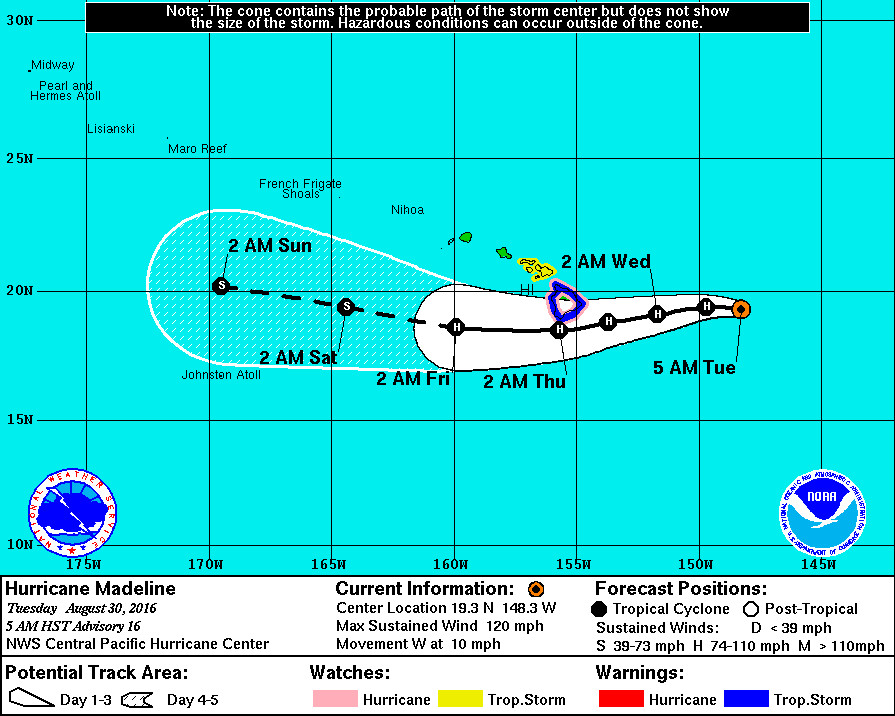 HAWAII ISLAND – A Tropical Storm Warning has been issued for Hawaii County as Hurricane Madeline is now 445 miles east of Hilo. A Hurricane Watch remains in effect for the island, as well.
A Tropical Storm Warning means that tropical storm conditions are expected within the warning area and is typically issued 36 hours before the anticipated first occurrence of tropical storm force winds. A Hurricane Watch means that hurricane conditions are possible within the watch area, and is typically issued 48 hours before the anticipated first occurrence of tropical storm force winds.
Tropical storm conditions are expected and hurricane conditions are possible over Hawaii County on Wednesday. High surf generated by Madeline is expected to reach the Hawaiian Islands over the next couple of days, possibly becoming damaging along some coastlines Wednesday and Thursday.
Heavy rains associated with Madeline may reach Hawaii County on Wednesday, with isolated maximum amounts near 15 inches, across the Big Island, especially over windward portions. This rainfall may lead to dangerous flash floods and mudslides. A Flash Flood Watch will be in effect.
Madeline is currently moving west near 10 mph, and forcasters say this motion is expected to become west southwesterly later today through early Thursday. "On the forecast track, the center of Madeline will pass dangerously close to the Big Island Wednesday and Wednesday night," the National Weather Service says.
Like before, there are a few models that take Madeline over southern portions of the Big Island, notably GFDL and ECMWF. However other models, notably GFS, take Madeline noticeably farther south of the Big Island. Small cosmetic changes were made to the forecast track at 48, 96 and 120 hours to keep it aligned with TVCN consensus, which has handled this system superbly so far and lies firmly within the guidance envelope.
Maximum sustained winds are near 120 mph (195 km/h) with higher gusts, making Madeline a category 3 hurricane on the Saffir-Simpson Hurricane Wind Scale. Madeline reached peak intensity last evening but is now beginning what is expected to be a gradual weakening trend through day 5, forecasters say.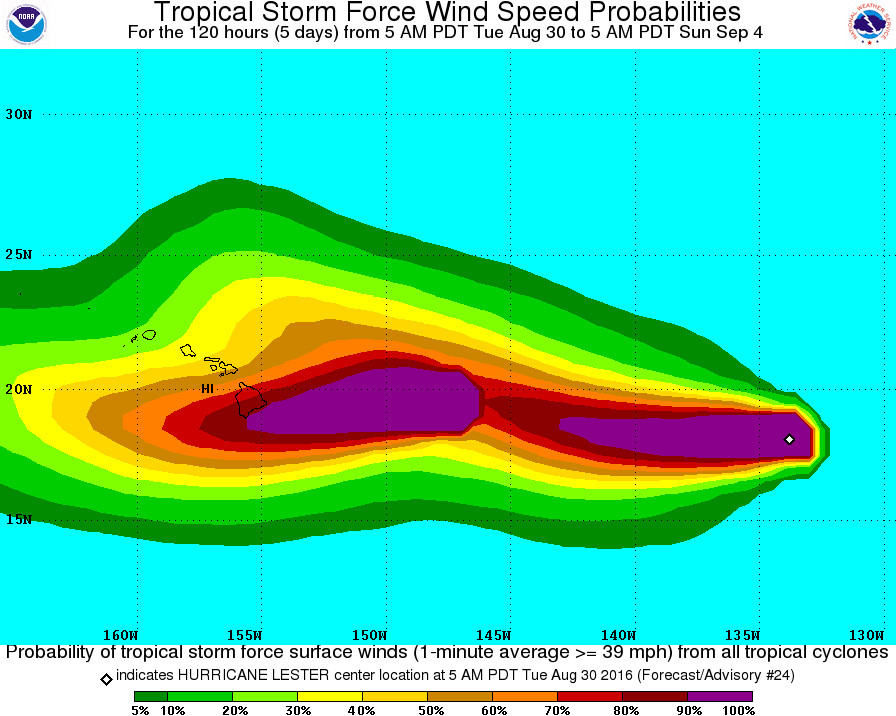 All guidance shows weakening at various rates. The global models, especially ECMWF, want to keep Madeline a hurricane through the entire forecast period. In contrast, SHIPS reduces Madeline to a tropical storm by 48 hours, due mainly to low SST potential and 20 kt of vertical shear depicted after 24 hours. Our forecast weakens Madeline to a tropical storm after day 3 along a trend slightly stronger than TCVN consensus. Most importantly, we keep this system at hurricane strength as it passes just south of the Big Island of Hawaii between 36 and 48 hours.
"For those under a warning," the National Weather Service says, "your preparations to protect life and property should be rushed to completion. In a tropical cyclone, conditions can change quickly. Evacuate if directed to do so by local officials, or if your home is vulnerable to high winds or flooding. Cancel any beach activities until further notice. Persons living near the shore should be prepared to evacuate quickly should building surf threaten."
Hawaii County Civil Defense is also urging resident to be StormReady.
Build or restock your emergency preparedness kit. Include a flashlight with fresh batteries, cash, first aid supplies, and any medication or supplies specific to you or your family members.
Plan how to communicate with family members. Create an evacuation plan for your household.
Bring in or secure outdoor furniture and other items that could blow away.
Keep your vehicle fueled and cell phone charged.
To help preserve water availability through the storm, the Department of Water Supply asks customers to minimize non-essential use of water, such as irrigation, at this time.
It is important to note that behind Madeline is Hurricane Lester, 1,355 miles east of Hilo. Lester is just as strong as Madeline right now (category three) and will approach Hawaii this weekend. However, it is predicted to take a slight turn to the west-northwest "due to possible binary interaction with Madeline" in 3-5 days.