HILO, Hawaii – Following an extensive $30 million Dollar renovation, the historic Grand Naniloa hotel has become the first Doubletree by Hilton on the Big Island.
The hotel's 320 fully-refurbished guest rooms and suites "provide upscale, contemporary lodging for vacationers exploring the charms of Hilo and nearby attractions", states a DoubleTree news release.
"Hilo Bay is filled with scenic destinations and is home to some of the most exciting, natural geology in the world," said Dianna Vaughan, senior vice president and global head, DoubleTree by Hilton. "As our first hotel on the Big Island of Hawaii, this stunning property is sure to deliver the 'wow' its guests are traveling to find, while also providing the warm Chocolate Chip Cookie welcome and award-winning service that our guests expect when staying at any DoubleTree by Hilton around the world."
Along with the expected cookie, Hilton HHonors members will earn an additional 5,000 Points for a three-night minimum stay from opening day through March 15, 2017, when booking directly with Hilton, the company says.
The extensive renovations have added a "local design experience centered around respecting the cultural tradition of hula, and the spirit of Hilo's famed Merrie Monarch Festival," DoubeTree says. That includes $4-million worth of hula art which is displayed in the guest rooms and common areas provided by Kim Taylor Reece, one of the most famous hula photographers in the world. Reece is the artistic curator for the hotel. There will also be rotating exhibits that highlight aspects of Hilo's history and Hawaiian culture in the new hotel lobby.
It's a remarkable turnaround for the once troubled property on Banyan Drive.
It's also good timing. A number of celebrities recently occupied some of the 320 refurbished rooms in the rebranded resort. Jack Black and "The Rock" Dwayne Johnson were a few of the actors on the island for the filming of the new Jumanji movie.
"For years, our property has been a marquee destination for guests traveling to the volcanoes or for business. Now, thanks to our extensive renovations and inclusion under the DoubleTree by Hilton brand banner, we are undoubtedly the finest upscale hotel option anywhere on this side of the Island of Hawaii," said Phyllis Branco, general manager, The Grand Naniloa Hotel Hilo – a DoubleTree by Hilton.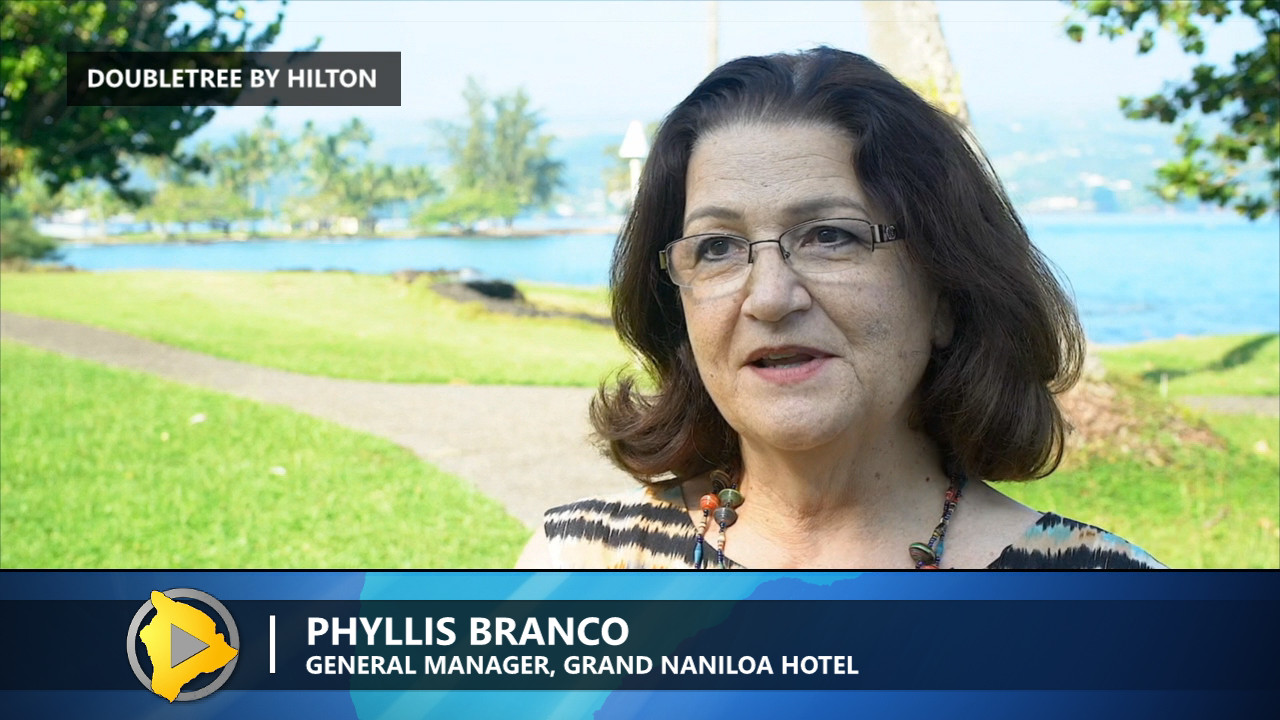 The property is owned by WHR, LLC and managed by Aqua-Aston Hospitality.