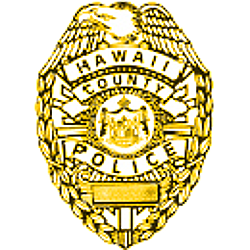 Hawaii County Police Department
on April 2, 2017
Hawaiʻi Island Police have located one of the two women wanted for questioning in connection with an officer-involved shooting that occurred on Wednesday (March 29) in the Puna District. Late Friday afternoon (March 31), police located Larissa Naleikailama Padamada in the Kaʻu district. She was taken into custody without incident and released the following evening (April 1). Police ask the public for their continued assistance in locating Jerrilyn Ann Rego who is also said to possibly be in the Kaʻu district.
Rego is described as 5-foot-2, 120 pounds, with a slim build, black hair, brown eyes with a lightly tanned complexion. She has numerous tattoos including a "tribal" tattoo on her upper right arm, "Chelbie" on her outer right forearm, and "Rego" on the right side of her neck.
On Wednesday evening (March 29), at around 10 p.m., police responded to a request for assistance at a convenience store parking lot in Kurtistown. Upon arriving, the officer observed a man and woman involved in a struggle near a vehicle. The vehicle then struck the man who dropped toward the ground and disappeared from the officer's view. In the process of fleeing, the suspect's vehicle also struck the officer's vehicle. In response to the imminent danger, the officer fired two shots toward the suspect's vehicle which was later located abandoned in the Glenwood area. The victim that was struck by the suspect vehicle, a 54-year-old male from Kea'au, was taken to the Hilo Medical Center where he was treated and later released.
The officer who fired his weapon has just less than two years of law enforcement experience.
Police have initiated a second degree assault investigation, as well as several traffic related violations.
As is standard practice in any police shooting, the Police Department's Area I Criminal Investigation Section will conduct a criminal investigation into the shooting and the Office of Professional Standards will conduct an administrative investigation.
Police ask that anyone with information about this incident or knows the whereabouts of Rego or Padamada contact Detective Dean Uyetake of the Area I Criminal Investigation Section at (808) 961-2379 or dean.uyetake@hawaiicounty.gov. Tipsters who prefer to remain anonymous may call the island-wide Crime Stoppers number at 961-8300 and may be eligible for a reward of up to $1,000.00. Crime Stoppers is a volunteer program run by ordinary citizens who want to keep their community safe. Crime Stoppers does not record calls or subscribe to any Caller ID service. All Crime Stoppers information is kept confidential.