HILO, Hawaii – Although the Hawaii County Council and Mayor Harry Kim appear to be aligning somewhat on the county's approach to compost, councilmembers are still reserving their right to hire their own lawyer on the matter, if needed.
The back and forth between the council and the administration over the sudden termination of a contract with Hawaiian Earth Recycling, LLC has been simmering since February. The council – which voted to approve the project when Billy Kenoi was mayor – was caught off guard by Kim's decision and disagreed with his reasoning.
The council also disagreed with Corporation Counsel Joseph Kamelamela, diverging after an executive session two weeks ago.
The Corporation Counsel – appointed by the mayor and approved by the council – represents both the legislative and executive branches of the county government. However, conflicts can and do arise. When they do, the council can opt to find its own representation in regards to a particular issue.
Hilo councilman Aaron Chung crafted this resolution, which was waived by the Finance Committee and taken up by the full council on Wednesday: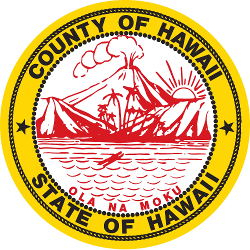 Hawaii County Council
on April 5, 2017
Res. 134-17
AUTHORIZES THE EMPLOYMENT OF SPECIAL COUNSEL TO PROVIDE THE HAWAIʻI COUNTY COUNCIL OBJECTIVE, COMPREHENSIVE LEGAL SERVICES REGARDING THE CANCELLATION OF THE SERVICE AGREEMENT BETWEEN THE COUNTY OF HAWAIʻI AND HAWAIIAN EARTH RECYCLING, LLC
Authorizes the employment of special counsel, at a cost of no more than $185 per hour, not to exceed $50,000, for a period not to exceed six months.
After Chung's resolution was submitted and noticed, but before the meeting was held, Kim's office announced the county reached an agreement with Hawaiian Earth Recycling, and that they will now work with the contractor "towards resolving their present contract differences," including finding a new location for the planned "in-vessel" composting, the East Hawaii Organics Facility.
Still, the council voted 9-0 in favor of authorizing the employment, in case they decide they need it at some point in the future.