UPDATE (May 15) – One person died in this crash, according to Hawaii County Fire.
On arrival, responders found police on scene of the two-car motor vehicle accident. One vehicle, a Toyota pickup, was engulfed in flames. After fire crews extinguished the car fire, they found an unidentified male inside, without signs of life. No other patients/occupants were at scene, fire crews say.
UPDATE (May 15) – Police issued a media release at 9 a.m. on Monday morning.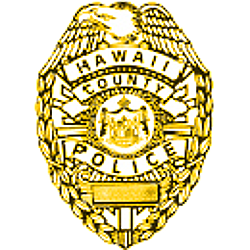 Hawaii County Police Department
on May 15, 2017
An adult male died following a 2 vehicle crash Sunday night (May 14) in Keaʻau.
His name is being withheld pending positive identification and notification of his family.
Responding to an 8:41 p.m. call, police determined that a 2003 Mazda sedan was traveling South on Highway 130 at the Shower Drive/Pōhaku Drive intersection when it rear-ended a 1990 Toyota pickup.
The driver of the pickup was taken to Hilo Medical Center and was pronounced dead at 1:58 a.m.
An autopsy has been ordered to determine the exact cause of death.
The driver of the sedan, 26-year-old Keempe Drequito of Keaʻau, fled the scene on foot and was located a short time later and arrested on suspicion of negligent homicide, reckless driving, accident involving death or serious injury and driving under the influence of intoxicants.
He is being held at the Hilo Police Cellblock while Traffic Enforcement Unit officers continue the investigation.
Police ask anyone who witnessed the crash to call Officer Erhard Autrata at 961-8118. Tipsters who prefer to remain anonymous may call the island-wide Crime Stoppers at 961-8300.
This is the 12th traffic fatality this year compared with 10 at this time last year.
(BIVN) – A traffic accident closed Puna's main highway on Sunday evening.
At 9:25 p.m., the Hawaii County Police Department reported Highway 130 was closed due to an accident near Shower Drive.
"Traffic is being detoured using Shower and Kaloli," Civil Defense stated in an alert issued shortly afterwards. "The closure is estimated to last for about 3 hours."