(BIVN) – Coastal flooding on Hawaii Island will be possible over the next few days, the National Weather Service, as the King Tides roll in for the month of June.
The is a greater possibility of impacts along south facing shores where surf will be elevated. The greatest potential for coastal, forecasters say.
"Flooding impacts will be during the mid to late afternoon hours through Saturday, when highest tides are expected," the National Weather Service reported Thursday in a special weather statement. "Visit
tidesandcurrents.noaa.gov for more specific information about forecast tides and water levels in your area."
The National Weather Service says impacts may include "flooding of beaches that are normally dry, salt water inundation of typically vulnerable low-lying roads, docks, boat ramps and other coastal infrastructure. The potential for coastal flooding will diminish from Sunday into next week as the peak daily tides diminish."
Hawaii County Civil Defense issued a message on Thursday morning, saying that "ocean front residents, beach-goers, and boat owners are advised to be on the alert for high surf, strong current, and coastal flooding."
"As a precaution, consider postponing ocean activities until these hazards are over. As always, precautionary measures should be taken before the onset of night fall," the civil defense message stated.
Emergency officials say special caution should be taken to the coastal areas in and around Kapoho during the high tide periods.
There are no closures of roads or beaches at this time, but the county says motorists should be aware that closures may occur without notice.
PacIOOS has posted the Six-Day High Sea Level Forecast for Hilo. The graph below was grabbed at 9:50 a.m. on June 22, 2017.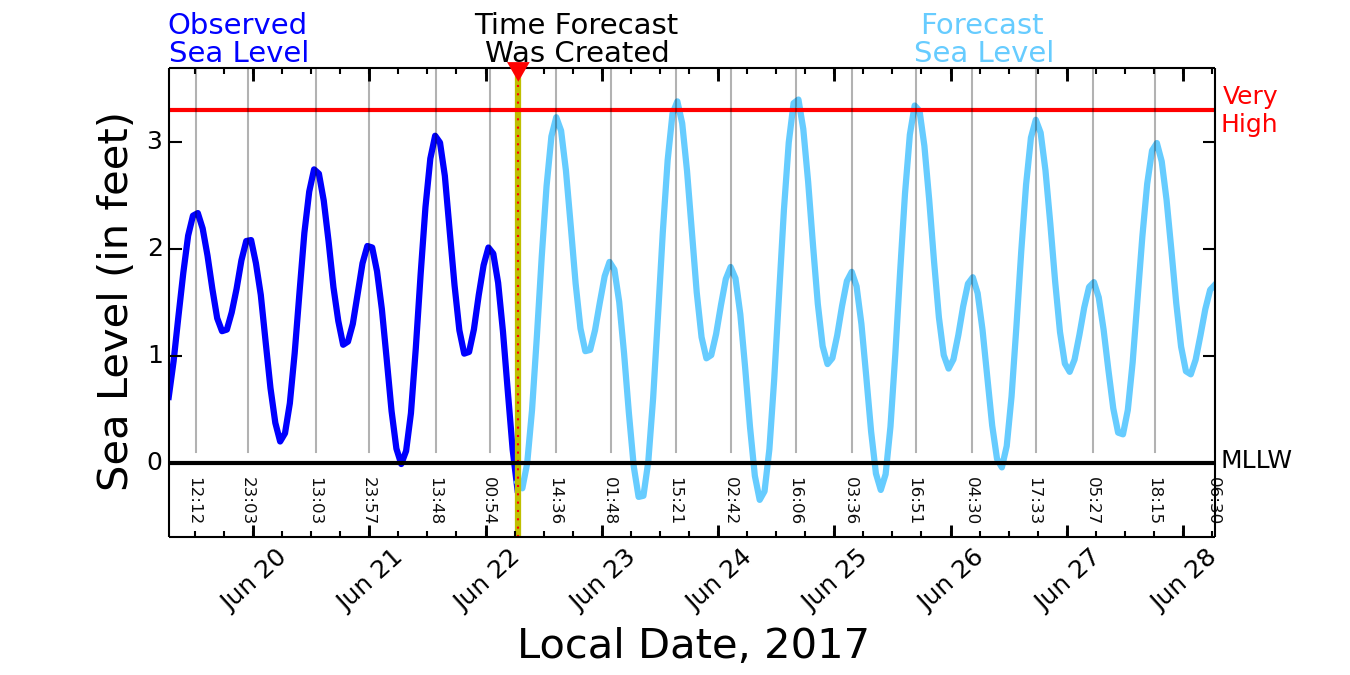 According to PacIOOS, "The Dark Blue Curve displays the Observed Sea Level at Hilo Harbor for the previous 3 days. The measurement is relative to Mean Lower Low Water (MLLW, a typical NOAA datum). The Cyan Curve displays the Forecast Sea Level at Hilo Harbor for the next 6 days. The forecast is also relative to MLLW, and includes tides plus multi-day sea level variations. The forecast is updated every 4 hours. The Red Line indicates the sea level height (3.3 ft.) that is exceeded by 2 percent of the observed daily Higher High Waters (HHW) based on a 19-year historical record (excluding tsunamis). When this sea level height is exceeded, flooding of the lowest lying lands begins."
The Hawaiian Islands braced for a King Tides episode in May, however impacts on Hawaii Island were not damaging.