(BIVN) – Hurricane Fernanda is gaining strength 2,360 miles east southeast of Hilo, and is maintaining a course for the Central North Pacific.
"It is too early to know what effects, if any, Hurricane Fernanda will have on our island or state," a Hawaii County Civil Defense message stated at 3 p.m. Friday. "You are assured, this system will be monitored. Should any threat develop, you will be informed."
Fernanda, presently a Category Four hurricane, is still expected to strengthen over the weekend before starting to weaken early next week.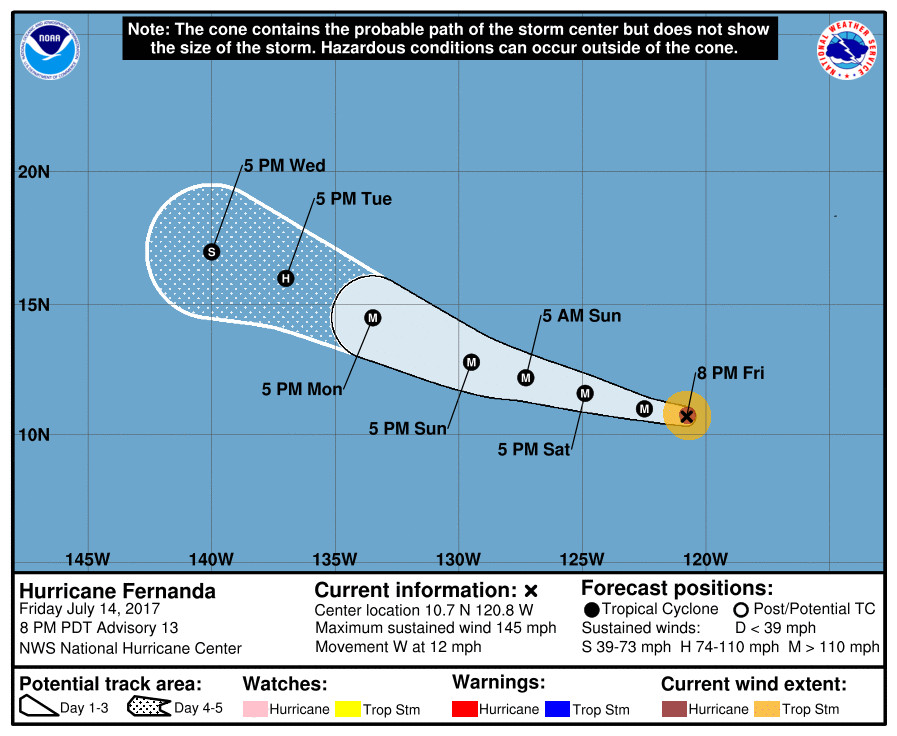 From the 5pm HST National Weather Service discussion:
Fernanda continues to have a very impressive appearance in satellite imagery, with a 10 n mi wide eye well embedded in a symmetric central dense overcast. The hurricane also has good outflow in all directions and outer convective bands in all quadrants except the northwest. Subjective satellite intensity estimates from TAFB and SAB are now 127 kt, and recent estimates from the CIMSS Advanced Dvorak Technique are now 120 kt. Based mainly on these data, the initial intensity is increased to 125 kt.

The initial motion is now 270/10. The track forecast philosophy remains the same as earlier, as a mid-level subtropical ridge to the north of Fernanda should induce a generally west-northwestward track for the next several days. Some decrease in forward speed is likely late in the forecast period when the tropical cyclone nears a weakness in the ridge. The new track forecast is almost identical to the previous forecast and lies near the various consensus models.

Recent microwave imagery indicates rainbands about 30-40 n mi from the center that are likely the start of an outer eyewall and an eyewall replacement cycle that will end the current intensification. The new intensity forecast allows for 6-12 h more strengthening before this happens. From 12-48 h, Fernanda should remain in a low shear environment over very warm sea surface temperatures. The intensity forecast calls for a slow weakening during this time as a reflection of the guidance. However, fluctuations in intensity caused by eyewall cycles are likely to occur, and it would not be surprising if a second round of strengthening occurs if a cycle can finish before Fernanda leaves the very warm water. After 48 h, the hurricane will move over decreasing sea surface temperatures, and this should result in a steady weakening. Overall, the new intensity forecast lies at or above the upper edge of the intensity guidance.

FORECAST POSITIONS AND MAX WINDS

INIT 15/0300Z 10.7N 120.8W 125 KT 145 MPH
12H 15/1200Z 11.0N 122.5W 135 KT 155 MPH
24H 16/0000Z 11.6N 124.9W 130 KT 150 MPH
36H 16/1200Z 12.2N 127.3W 130 KT 150 MPH
48H 17/0000Z 12.8N 129.5W 125 KT 145 MPH
72H 18/0000Z 14.5N 133.5W 105 KT 120 MPH
96H 19/0000Z 16.0N 137.0W 80 KT 90 MPH
120H 20/0000Z 17.0N 140.0W 60 KT 70 MPH