(BIVN) – Project officials working on the recently completed Saddle Road East Side project say they did their best to prevent the spread Rapid ʻŌhiʻa Death on Hawaii Island.
"Right out of the gate, we find out we have this Rapid ʻŌhiʻa Death fungus," on Hawaii Island, said Mike Will, the project manager for the Central Federal Lands Highway Division, during the dedication ceremony for the new stretch of road on Tuesday. "I don't know anything about it," Will said, "I just hear the words 'rapid' and death'. That's not a good start."
The invasive Rapid ʻŌhiʻa Death fungal disease, Ceratocystis fimbriata, has killed hundreds of thousands of 'ōhi'a trees on the Big Island. It is a huge threat to the island ecosystem. A September 30 map posted by the University of Hawaii shows the disease has finally spread to North Kohala. It has not yet been seen on the other islands.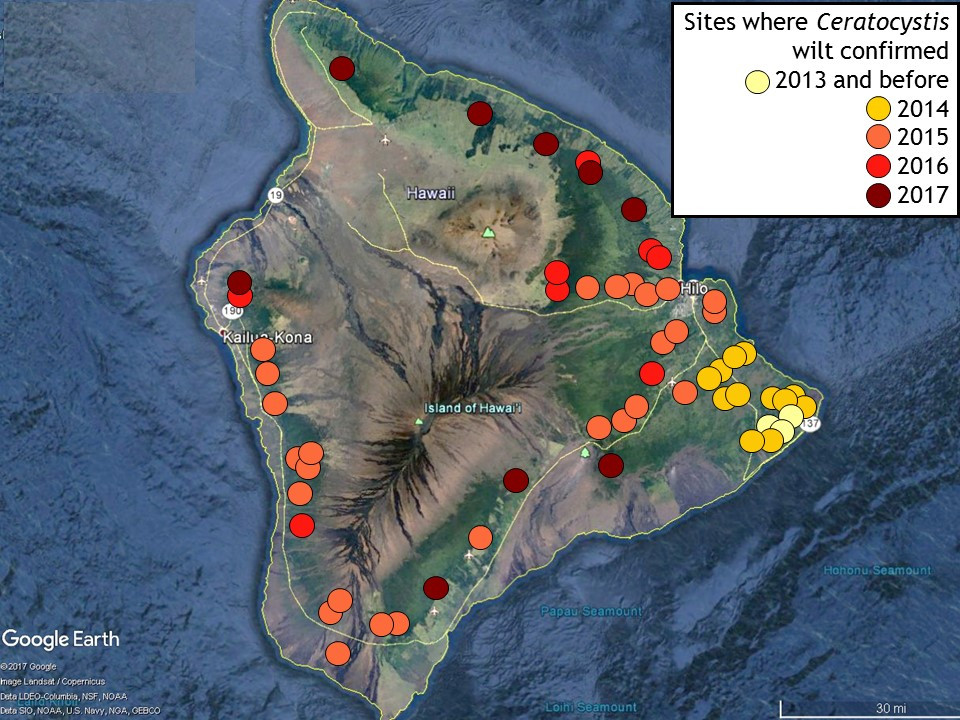 The Rapid ʻŌhiʻa Death fungus is believed to be spread on frass from infected trees. Officials working on the disease have asked island residents: Don't move ʻōhiʻa wood or ʻōhiʻa parts, and avoid injuring ʻōhiʻa. The Hawaii State Department of Agriculture has also instituted a quarantine rule to help keep ROD from reaching the other islands.
The $57 million Saddle Road East Side project encompassed a total of nearly six miles of highway, reconstructing approximately three miles of the existing Daniel K. Inouye Highway, according to state officials. The project was a long-awaited upgrade from the older, twisting roadway to modern design standards. But to make way for the new road – which now features 8-foot shoulder lanes, a straighter alignment and a climbing lane – a lot of forest trees, including 'ōhi'a, had to be removed.
Early on during the Saddle Road East Side project, residents were alarmed at the fallen ʻōhiʻa trees, igniting fears that the road project would speed up the spread the disease. But state officials say they were on top of it.
Under the white tent during Tuesday's celebration of the new road, Governor David Ige praised the project managers for "ensuring that we did not spread the disease from east to west."
"We coordinated, collaborated with national experts," said project manager Mike Will. "We identified a method that made everybody comfortable."
Will said they treated all the timber as if it had Rapid ʻŌhiʻa Death. "We downed the timber, we carefully isolated it within the same location, so we weren't transporting it up and down the road, if – potentially – it did exist. Then, we started to treat it by mulching, and we were concerned about the fungus going airborne. So we used sprayers to suppress the fungus from going airborne, and then we were able to stockpile."
The ʻōhiʻa stockpile eventually started to degrade and turn into compost, Will said. "We took heat guns to those things and we were getting up to 150 degrees." Will said they were told the fungus could not survive at those temperatures.
They took the mulch and used it as topping to help mitigate erosion, Will said. "When all was said and done, we were able to build a road we could be proud of."
The east side phase of the highway that opened Tuesday makes for a total of nearly 48 miles of road that has been improved to modern standards at a total approximate cost of $316.5 million, officials say, of which the U.S. Army contributed more than $100 million. Saddle Road was initially built as a one-lane road by the U.S. Army in 1942 to connect military training facilities. It is now the Big Island's primary cross island route for residents, too.