(BIVN) – A chaotic scene unfolded at the Hawaii Board of Land and Natural Resources meeting in Honolulu on Friday, resulting in three arrests.
The events were connected to the ongoing dispute over the Thirty Meter Telescope planned for Mauna Kea. Before the meeting, representatives of the Hawaiʻi Unity and Liberation Institute, or HULI, said they planned to gather at the meeting to "take action to hold the Board of Land and Natural Resources accountable for its decision authorizing construction of the Thirty Meter Telescope atop Maunakea and demand the immediate resignation of BLNR Hawaiian cultural advisor Sam B. Gon."
In September, the land board voted 5 to 2 in favor of approving a Conservation District Use Permit to build the Thirty-Meter Telescope on Mauna Kea.
HULI formed in May 2017, and is "committed to providing non-violent direct action training and assistance in Hawaiʻi as well as Action Art assistance." Those involved in HULI are also opposed to the TMT being built on Mauna Kea.
"The Hawaiian community can no longer allow non-Hawaiian settlers to have authority over our sacred sites," said Kaleikoa Kaʻeo, Professor of Hawaiian language and Hawaiian Studies at UH Maui College, in the HULI media release.
Opponents of the TMT project took particular offense to the vote of land board member Samuel "'Ohu" Gon III, who twice has voted in favor of the TMT project. When pressed to explain the reasoning for his vote over social media, Gon responded that he has been instructed not to make any statements until given the green light.
"As a non-Hawaiian sitting in the cultural expert seat, Sam B. Gon has shown that he cannot effectively or ethically represent our interests as Kanaka. Sam B. Gonʻs decisions are causing harm to our mauna and to the Hawaiian people," said HULI member, Kahoʻokahi Kanuha, before Friday's BLNR meeting.
"His actions speak louder than words, this is the second time that he voted to approve the permit, " said Walter Ritte, part of the HULI group. Ritte was present for Friday's events at the BLNR and filmed the situation as it unfolded.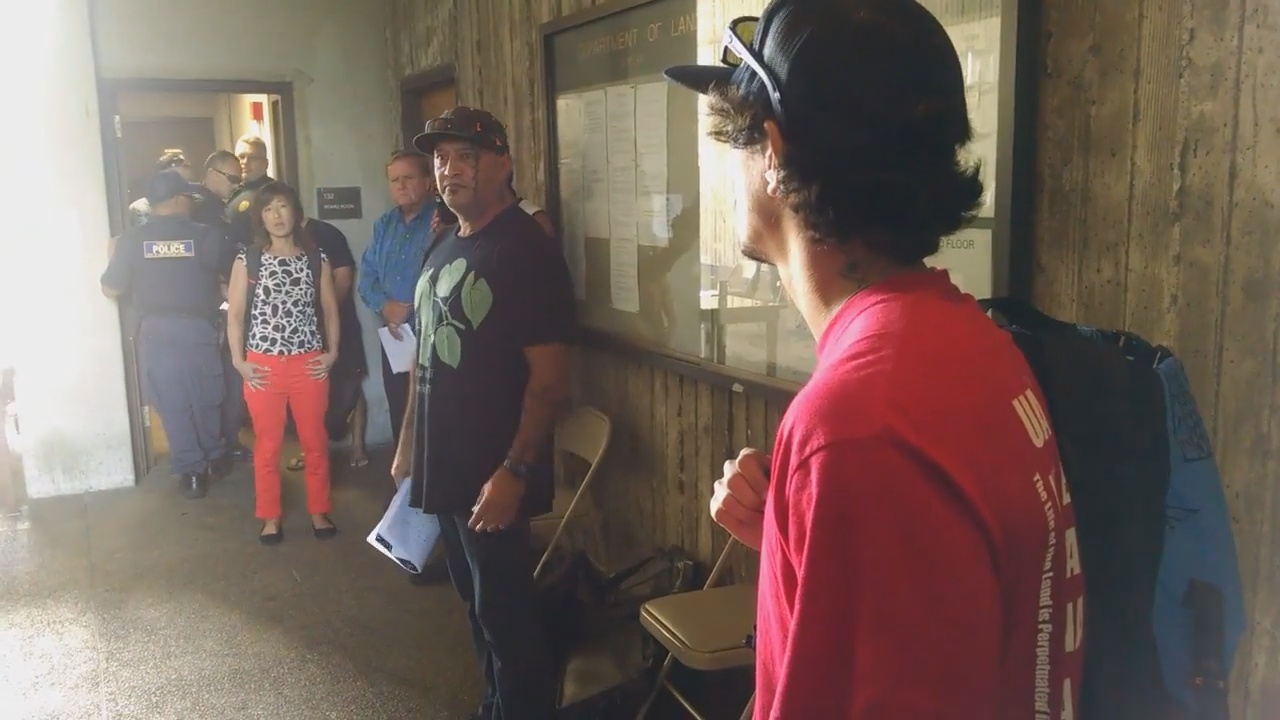 As the BLNR convened its morning meeting, Kaʻeo interrupted. The HULI spokesperson addressed the board with a raised voice, first in Hawaiian, then in English, airing his grievances with the board's TMT decision and Gon's membership on the board. The board recessed and DLNR DOCARE officers told everyone to clear the room. Kaʻeo and a few others refused to leave the meeting and engaged in passive resistance.
DLNR DOCARE officers arrested 3 people and were assisted by HPD in transport and booking of the individuals, DLNR officials later reported.
Video posted to social media by Ritte and others show those arrested were Kaʻeo, Kanuha, and Andre Perez. The three were also arrested together on Mauna Kea in June 2015.
In its media release prior to Friday's action, HULI said it intended to "demonstrate to the community and to the illegitimate State of Hawaiʻi that these types of irresponsible decisions that impact Hawaiians will be confronted and people will be held accountable."