(BIVN) – Hawaiʻi Police detectives have charged a 39-year-old Moses Libero with attempted murder for a stabbing incident that occurred in Hawaiian Ocean View Estates on Friday, January 26.
Hawaii Police issued this media release on Monday: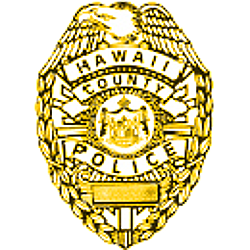 Hawaiʻi County Police Department
on January 29, 2018
On Friday, at approximately 11:50 a.m., Kau Patrol Officers responded to a property located in the 92-1600 block of Kona Drive in the Hawaiian Ocean View Estates subdivision for a report of an assault in progress. Upon their arrival, police determined that a 31-year-old male victim and 39-year-old Moses Libero, both of Hawaiian Ocean View Estates, were involved in a confrontation in which the male victim sustained stab wounds on his neck, chest, and forearm. The victim was transported to the Kona Community Hospital in critical condition and later transported to the Queens Medical Center on Oahu, where he remains, for further treatment.
Officers arrested Libero for Attempted Murder in the Second Degree and he was transported to the Kealakehe Police Station pending further investigation by detectives with the Area II Criminal Investigation Section.
On Sunday, (January 28), at 9:00 a.m., Libero was charged with Attempted Murder in the Second Degree. His bail was set at $250,000 and he remains in police custody at the Kealakehe Police Station pending his initial court appearance at Kona District Court this morning, (January 29).
Police ask anyone with information about this case to contact Detective David Matsushima, via email at David.Matsushima@hawaiicounty.gov, or at (808)326-4646 ext. 224.