(BIVN) – Friends and business associates are mourning the loss of a fellow lava enthusiast tonight, following a deadly incident on the active lava fields of Kalapana.
Sean King – who spent long hours hiking and photographing the lava flow – was memorialized on social media Thursday evening, following the shocking news of his death.
The Hawaii County Fire Department explained the bizarre situation in a dispatch that was issued after 6 p.m. The department said the initial call came in at 8:15 a.m., reporting that four people who had hiked out onto the active lava field were "trapped in a noxious steam cloud."
The group was part of a tour. While on the hike, it rained, the fire department said, which created a noxious steam cloud that quickly surrounded them, affecting their vision and breathing.
According to Hawaii County Fire crews:
The guide succumbed to the noxious effects of the cloud, while the other three (3) people escaped. The first unit on scene was Chopper 1 and they located the three (3) people in a safe location. Chopper 1 found the tour guide unresponsive in another location. He was air lifted to an awaiting ambulance crew. After physical examination, it was determined that the victim was deceased. Chopper 1 and Chopper 2 airlifted the three (3) other people to safety; they sustained minor injuries and denied any further EMS services.
UPDATE: (8 p.m.) Lava tour guide John Tarson knew Sean well, and said he was a man who lived for adventure in life. "It's an absolute shame," Tarson reflected Thursday evening. "There's definitely a little less bright light in Puna today."
Tarson said Sean was a certified tour guide who knew what he was doing on the lava field. "He just started heavily investing into his stargazing business and was planning on going full on into it," Tarson said. One of the last photos shared by King on his Facebook page was an image of Wednesday's lunar eclipse.
UPDATE (3:15 p.m.) – Hawaii County Police issued a media release on the incident: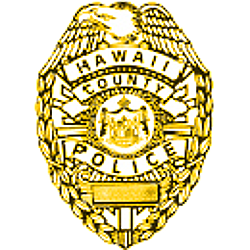 Hawai'i County Police Department
on February 2, 2018
Hawaiʻi Island police are investigating the death of a tour guide in Puna.
At 8:16 a.m., Thursday morning, (February 1), police and fire department personnel responded to the Kalapana lava viewing area for a report of a man who had collapsed in the lava field while leading a hiking tour.
Investigators determined that just before 4:00 a.m., the group was approximately two miles inland from the 24.5-mile marker of the emergency road. Heavy steam clouds caused by the rain engulfed the group when the victim collapsed and went unconscious. Due to limited visibility and poor cell phone reception, the remainder of the group, who were not familiar with the area, hiked for several hours before they were able to call for help.
The fire department's helicopter located the victim's body about 290 meters outside of the Volcanoes National Park boundary and on State land. The victim was taken to the Hilo Medical Center where the official pronouncement of death was made at 12:28 p.m.
The three visitors on the tour, a 22-year-old woman from South Carolina, a 23-year-old man from New Jersey, and a 22-year-old man from New York, were treated by medics for non-life-threatening injuries.
The victim was identified as 51-year-old Sean King of Pāhoa. No foul play is suspected and an autopsy is being ordered to determine the exact cause of death. Detectives with the Criminal Investigation Section are investigating this as an unattended death.
Anyone who may have information about this incident is asked to call the Police Department's non-emergency line at (808) 935-3311 or Detective Bobbie-Jo Sagon of the Area I Criminal Investigation Section at (808) 961-2375 or Bobbie-Jo.Sagon@hawaiicounty.gov.