(BIVN) – One person is dead and another injured after swimming in the waters off South Point Landing today.
The Hawaii County Fire Department says they were alerted to swimmers in distress just before 2 p.m. on Monday afternoon. When rescue crews arrived, they found a woman in her twenties had made it to shore, but she had lost sight of the 20-year old male she was swimming with. She had minor scrapes to her legs, fire officials say.
A good Samaritan on a boat was able to assist with the location of the victim, the fire department said. The County helicopter and HFD rescue personnel located the body of the man, and then dove in to recover the victim.
The identity of the man has not been released. The scene was turned over to police.
UPDATE (2:30 p.m. on Feb. 6, 2018) – Hawaii County Police issued this media release on Tuesday: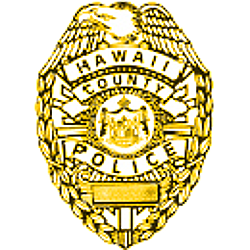 Hawai'i County Police Department
on February 6, 2018
Hawaiʻi Island Police are investigating the death of a 23-year old male Peruvian National who died in the waters off of South Point Landing.
Hawaiʻi Island Police received an E-911 call concerning two distressed swimmers off of South Point Landing at about 2:09 PM on February 5, 2018 (Monday). When emergency responders arrived, an HFD Rescue Diver was deployed and the 23-year old male was pulled from the water. The male was later taken to the Kona Community Hospital where he was pronounced dead at 7:25 PM. Police have opened a coroner's inquest investigation.
Police investigating the matter determined that a 20-year old female friend of the victim had been swept under a current while jumping off of South Point Landing, from an area commonly referred to as "South Point Cliff Jump". The male jumped in the water to assist her and the two began to have difficulties getting to shore. The female was able to get to an area where she could get out of the water. The male was not able to make it to shore.
The male and female are both visitors from Peru. The name of the male is being withheld pending notification of the next of kin.
The South Point area is a popular spot listed in several social media and tourist web pages; however, the area is not safe for jumping or diving into the water. Police are cautioning the public as warning signs are posted prohibiting jumping or diving into the water.