(BIVN) – County Environmental Management Commissioner Rick Bennett gave the Hawai'i County Council a presentation on February 20 at the West Hawaii Civic Center. His power point had some suggestions for Water Resource Management.
"One of the greatest problems with toilet waste is we have so much water to it," Bennett said. "And it gets combined, then the aggregate must be managed as black water, because black water is potentially dangerous."
Bennett used future development in Kailua-Kona to illustrate the need to hold the conversation, turning to a slide that shows the coastal lands slated for major development.
"I have a friend who works for the QLT – Queen Liliuokalani Trust – and she is aware of their development plans," Bennett said, "and she has told me that if they come to their maximum fruition, we're looking at something between 4,000 to 6,000 homes in the next twenty to thirty years. To my knowledge, there is no integrated planning about how fresh water and wastewater and public open space is going to be managed in this proposal. I think it needs needs to happen sooner rather than later, because retrofitting all of this new development will be far more costly than prospectively designing it for water reuse and water conservation."
One map of the Kona shoreline was particularly concerning.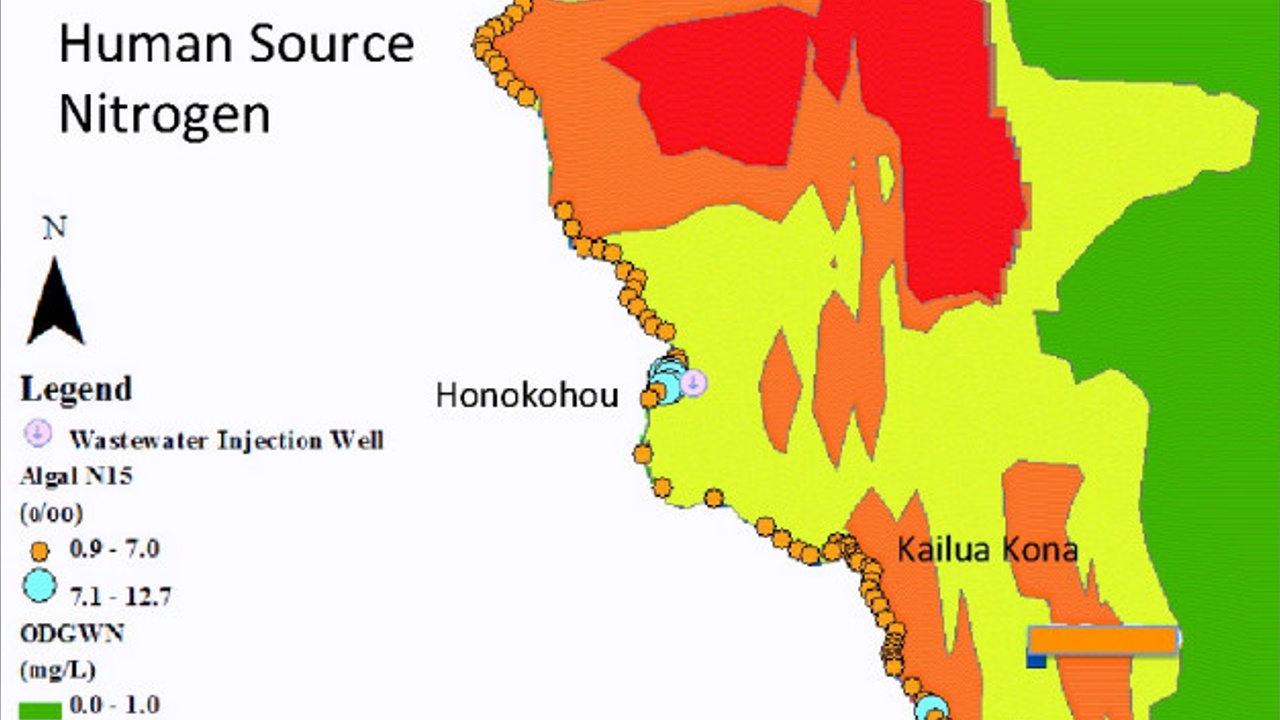 "This slide is from the Department of Health's report to the legislature about cesspools in Hawaii, and it particularly looks at the question of nitrogen," Bennett said. "From my point of view, the risk to groundwater and the risk to the ocean water is not pathogens, its nitrogen."
"Nitrogen, and the other nutrient phosphorus – which moves at a much slower rate because of its chemistry – represents the greatest threat to our drinking water," Bennett said, pointing to his slide. "The inland maps here show nitrogen concentrations in groundwater, but I want to draw your attention to the brown circles and the blue circles. This is a measure of something called the heavy isotope of nitrogen, and the heavier it is the more likely that it comes from human sources. And there's pretty good consensus that the nitrogen that's moving into the ocean is anthropogenic, which means it comes from human activity."
"The largest source of nitrogen in our environment comes from urine. Not the feces, urine. Humans excrete urea, which is converted to ammonia, which is converted to nitrate, which is fertilizer. And it flows readily with water, it's very very soluble. The the blue circles, up at Honokohau and down towards Kahalu'u, represent fairly high readings of that heavy isotope. Clearly suggesting that we are adding nitrogen to nearshore water. Why is this a concern? Because nitrogen is one of several threats to the coral ecosystem, along with other things including warming temperatures. And so the best way to deal with this nitrogen is to feed it to plants. Things like grass," Bennett said.
Bennett said there is a great opportunity right next door to the civic center, showing this slide: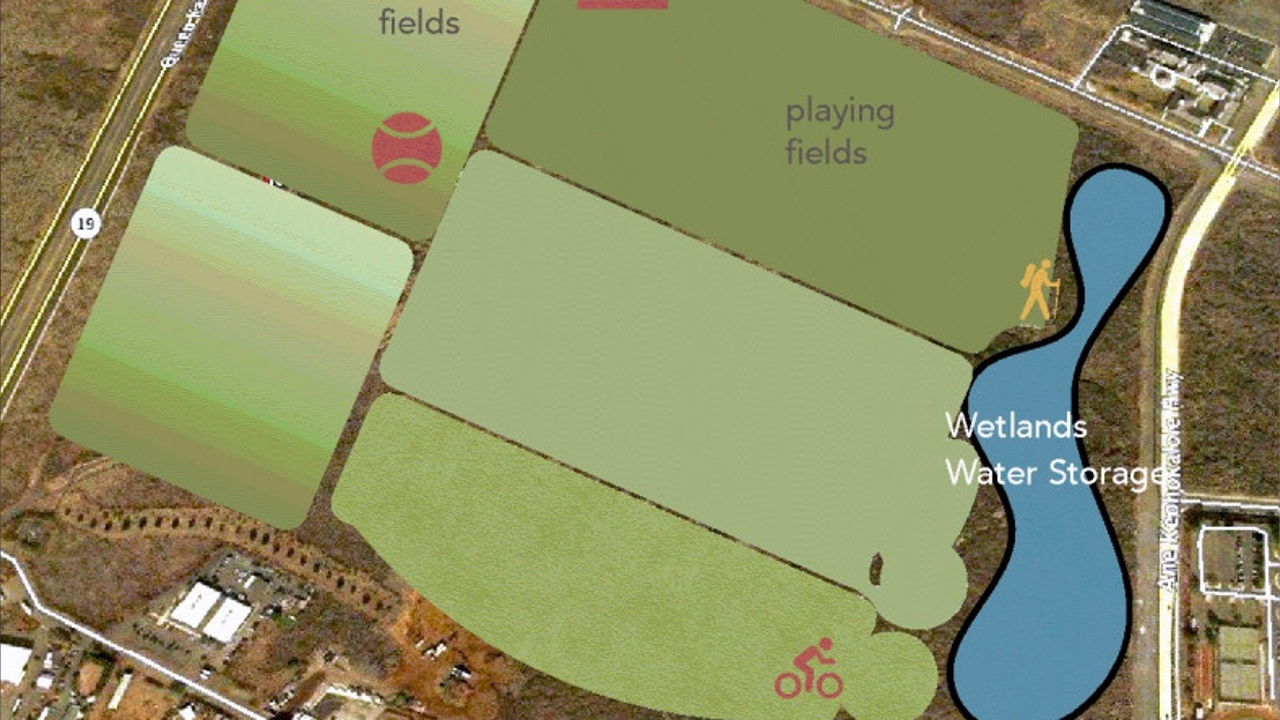 "Creating a park, a grassland, just right out here to the south – in that 100 some acres of a'a – and irrigate it. Make it open public space, park lands, playing fields, and irrigate it. And in the top of this drawing you see a
wetland," Bennett added. "Its scenic, it's planted, it attracts birds, it's attractive, too."
"We are planning to develop the Regional Park at Kealakehe, where some of the green space and wetlands could be constructed – or will be constructed," commented councilwoman Karen Eoff after the presentation, "but that takes parks as well as Public Works and then the problem of Environment Management, who is in charge of the plant, yet
Department of Water Supply has to play a role in the distribution of the water. I think that's still something that the two departments need to get together on."