(BIVN) – Hawai'i County Civil Defense issued a new message on the ongoing lava intrusion into the lower East Rift Zone, calling attention to residents in three specific areas of Puna.
"The Hawaiian Volcanoes Observatory reports continuous low magnitude earthquake activity along the east rift zone in lower Puna which includes Leilani Estates, Nanawale Estates, to the coastal area of Kapoho," emergency officials stated (USGS earthquake map below). "Due to this activity Hawaiian Volcanoes Observatory indicates an eruption is possible. Because it is not possible to predict where an eruption could occur, the areas that could be affected are Nanawale Estates, Leilani Estates or Kapoho."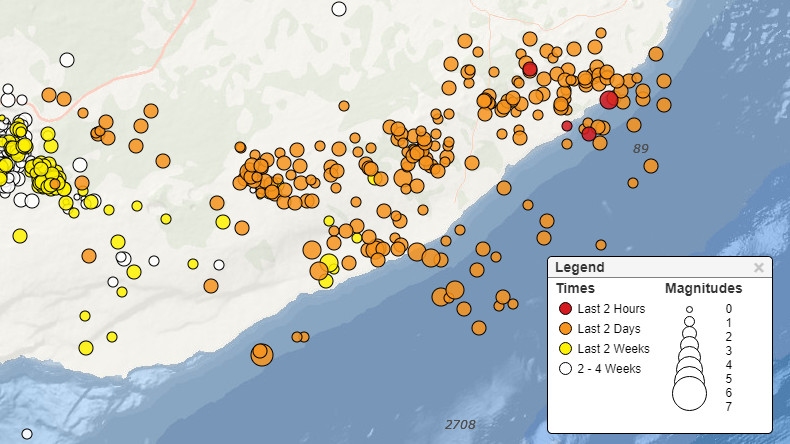 "Should an eruption occur, residents along the East Rift Zone may have little warning. Residents in that area should be prepared to evacuate," said Civil Defense Administrator Talmadge Magno in an earlier media release. "All agencies have been alerted about the possibility of an eruption. The risk areas and possible hazards are being identified, and shelters have been identified."
"An outbreak of lava in a new location along the East Rift Zone is possible but not certain," USGS scientists stated this morning.
Due to the possibility of an eruption, civil defense issued the following:
Prepare and review your emergency plans in case you need to evacuate.
Stay informed by listening to local radio stations for Civil Defense updates or call Civil Defense at 935-0031.
The Kua O Ka Lā New Century Public Charter School was closed today as a precautionary measure due to the earthquake activity. The county-run lava viewing area in Kalapana is also closed.
Officials say the Hawaiian Volcano Observatory and Hawai'i County Civil Defense will continue to monitor the situation, and will inform residents of any conditions that affect safety.