(BIVN) – As new fissures appear on the lower East Rift Zone and cracks appear to be widening on Highway 130, the state Department of Transportation is now working with the County of Hawai'i to prepare an alternative route in Puna should the highway be cut off.
Hawai'i County Civil Defense says two new fissures have emerged south of Malama Street emitting lava and gas. Since the onset of this eruption, a total of 12 fissures have emerged, and 35 structures have been destroyed.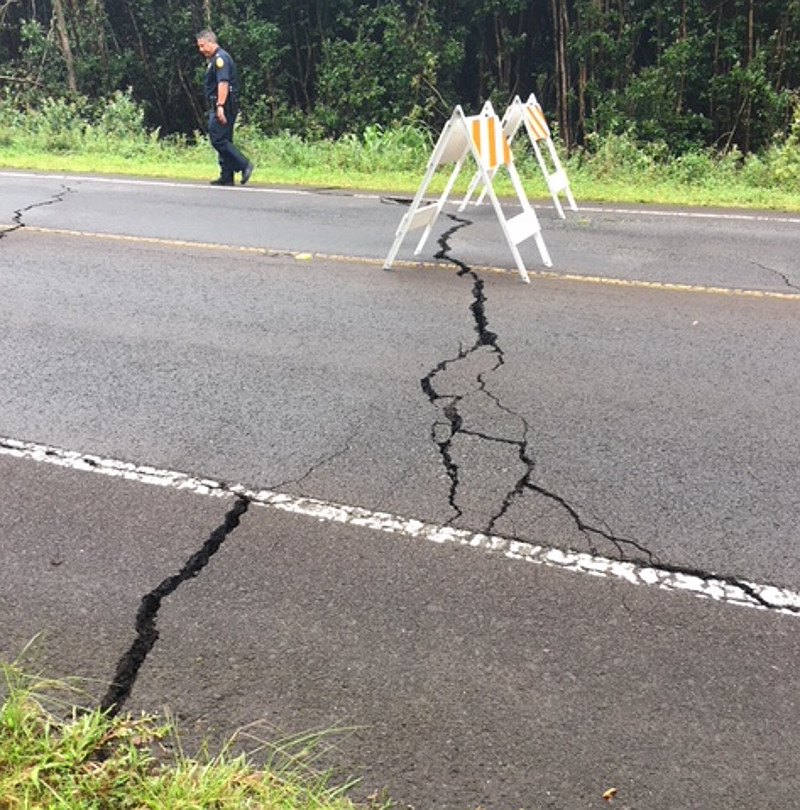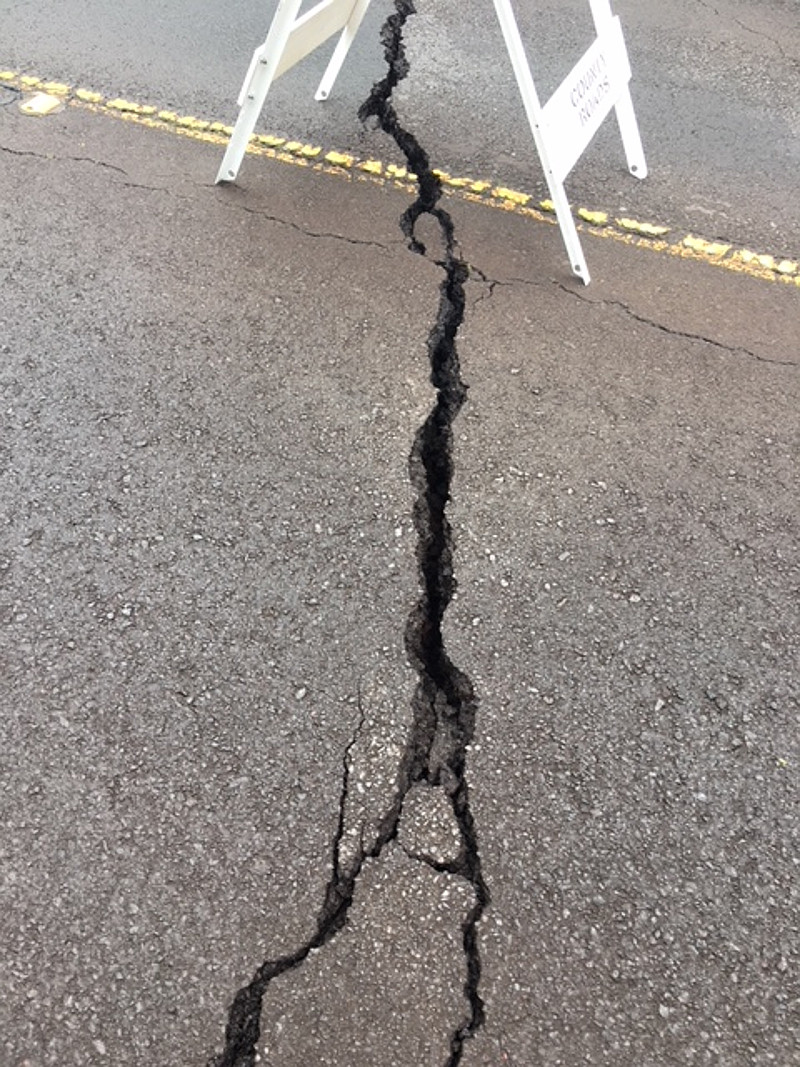 Highway 130 is closed between Highway 132 (Pahoa-Kapoho/Kapoho Road) and Old Kalapana Road until further notice due to road cracking that could be related to potential fissures in the vicinity of Leilani Estates, the state says.
Hawaii DOT said:
The observed cracking on Highway 130 is located at mile markers 14.4 and 14.6 and has widened over the weekend. The current northern end of the detour route making use of Highway 137 (Kalapana-Kapoho/Kaimu Kapoho Road) and Highway 132 is close to the cracking. To ensure access to the Kalapana and Kaimu areas in the event the cracking on Highway 130 progresses, HDOT is working with the county to prepare the unpaved portion of Highway 137 that extends north of Highway 132 to Makuu Drive in Hawaiian Paradise Park.
"The state is committed to taking the preemptive and protective actions necessary for the safety and welfare of Puna residents during this eruption of Kilauea," said Gov. David Ige. "I will continue to direct our state agencies to support the County of Hawaii as they work to provide access, information, and shelter to the thousands of residents in Leilani Estates and the surrounding areas."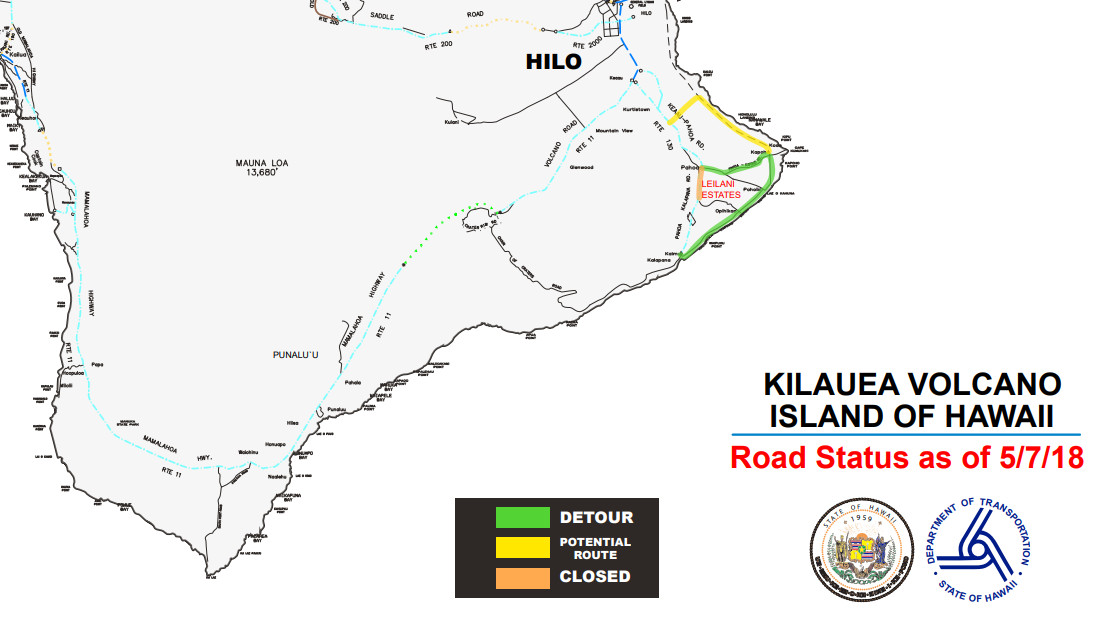 The state is also advising Puna residents to contact their insurance companies:
The Department of Commerce and Consumer Affairs Insurance Division advises Leilani Estates and surrounding area residents to contact their insurance companies for coverage questions and applicable policy provisions. Those impacted by the mandatory evacuations, fire, smoke or noxious fumes may be able to start a claim.

"If policyholders are unsure of what coverages they have, they should reach out to their insurance company as soon as possible," said Insurance Commissioner Gordon Ito. "We don't want residents to have lingering questions about their policies and not take advantage of a benefit that they may not be aware of. They should work with their agent to understand what is covered, and what is not."

Consumers should inform their insurer of any damages or that they may be unable to access their home or business. The policy may require a notification to the insurer within a certain timeframe. Don't be afraid to ask questions and keep detailed notes of any conversations

Pahoa and Puna residents who still have questions or concerns after contacting their insurance company can reach out to the Insurance Division using the toll-free Hawaii Island number, (808) 974-4000 x62790#.
Here are the other updates provided by civil defense:
Conditions permitting, Leilani Estates residents will be allowed to check on their property from 7 AM to 6 PM each day until further notice. Follow the instructions of the authorities on scene. Be prepared to evacuate at a moment's notice.

Highway 130 is closed between Malama Street and Kamaili Road.

Pohoiki Road is closed from 132 to Hinalo Street.

A community meeting will be held tonight at Pāhoa High School Cafeteria at 5:30 PM. Event information and the status of services will be shared. Na Leo TV will broadcast the meeting live.

Civil Defense has established a community information center at Sacred Hearts Church in Pāhoa, Monday to Friday from 9 AM to 3 PM.

Hawai'i Electric Light is working to try to keep power online. Treat all downed lines as live. Under no circumstances are you to approach or touch downed lines.

The Department of Water Supply is working to establish a temporary bypass waterline to restore water service to the areas of Pohoiki, Vacationland, and Kapoho.

A water truck for public use is located near the Vacationland mailboxes.

No access is allowed at this time for residents of Lanipuna Gardens due to dangerous volcanic gases.

Please, the residents of Leilani need our help. This is not the time for sightseeing. You can help tremendously by staying out of the area.

The Hawai'i County Police Department and the Prosecutor's Office have established a policy of zero tolerance towards looting or vandalism. Under Emergency Provisions, any looting or vandalism will be treated as a felony.

Puna Geothermal Venture reports no activity at this time and the facility is secured. Precautionary measures are being taken to remove flammable materials offsite.