UPDATE (6 p.m.) – Hawaii County Civil Defense reports that a lava flow has crossed Kahukai Street in Leilani Estates and is moving east. Fissures 7 and 21 are feeding a lava pond, which produced the flow.
Officials say Mohala Street is no longer accessible due to the flow that has crossed Kahukai Street.
Kaupili Street has not been cut off by the current flow, civil defense says, adding that residents should stay out of the area.
(BIVN) – Here is the latest on the ongoing eruption at the lower East Rift Zone of Kilauea, as well as the volcano summit, courtesy the USGS Hawaiian Volcano Observatory.
Moderate-level eruption of lava continues from multiple points along the active fissure system, scientists say.
USGS scientists wrote at 4:55 p.m. HST:
From Fissure 22 continues to erupt lava that is flowing southeast to the coast where lava is entering the ocean. Fountains at Fissures 6 and 13 feed lava into a channel that also reaches the coast, making a second ocean entry.

Fissure 7 and 21 are feeding a lava flow that has advanced northeastward crossing Kahukai St. at about 3:30 pm this afternoon and continuing to the northeast at a slow pace.

Fissure 17 is barely active.

HVO field crews are on site tracking the lava flows and spattering from multiple fissures as conditions allow and reporting information to Hawaii County Civil Defense.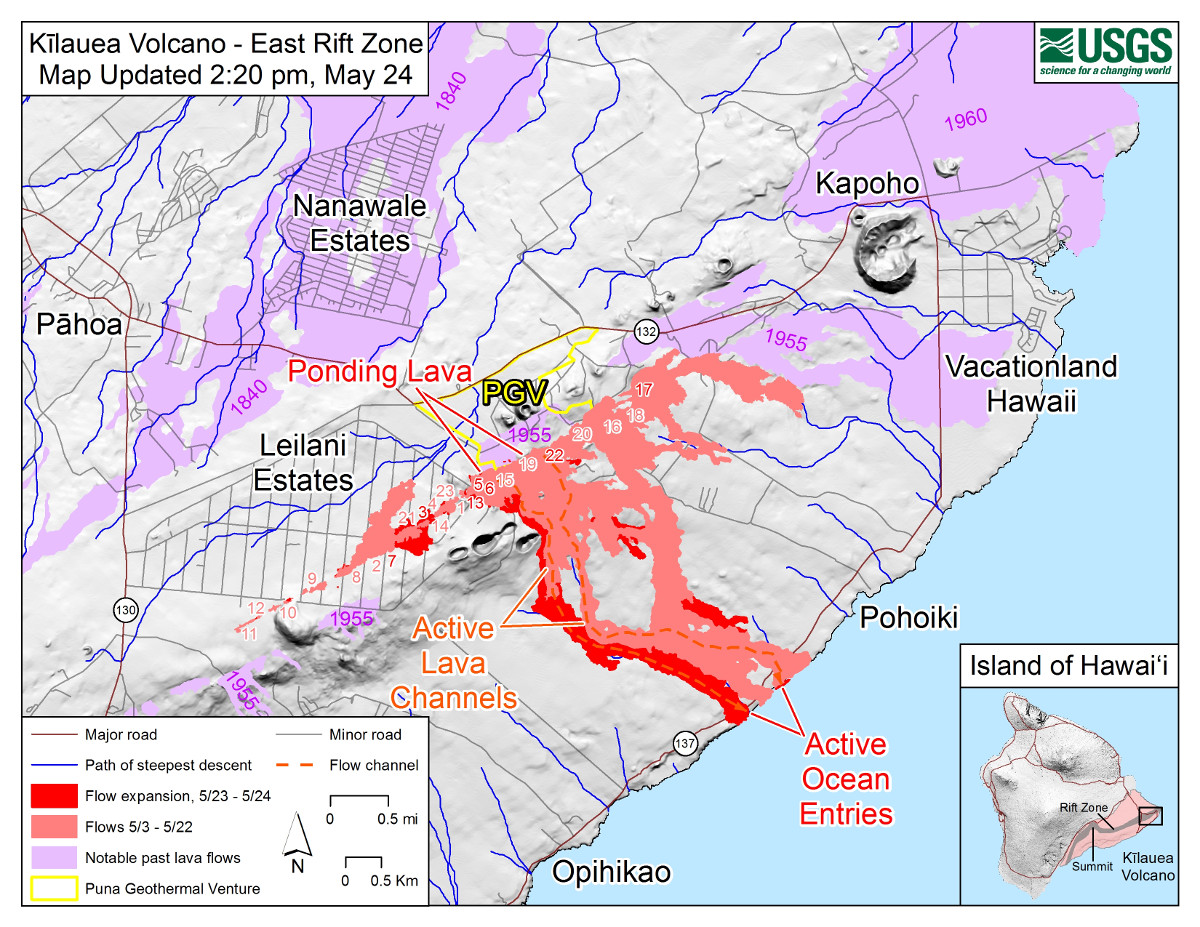 At the summit, scientists say multiple small eruptions of ash occurred over the past day, all ejecting ash to under 10,000 ft above sea level.
One of the largest ash eruptions occurred about 4:17 p.m., sending ash as high as 12,000 feet above sea level. Additional explosions are possible at any time. USGS wrote:
Seismic levels, which abruptly decreased after the recent explosive eruptions, are again slowly increasing. As of 2:30 pm, there have been 90 autolocated earthquakes at the summit in the last 6 hours. Thirteen of these were M>3 in the caldera area. The largest was a magnitude-4.0 located just north of Halema`uma`u crater.

At this time, based on HVO web cameras, a robust plume of gas and steam is billowing out of the Overlook vent and drifting generally southwest.

At any time, activity may again become more explosive, increasing the intensity of ash production and producing ballistic projectiles very near the vent. Communities downwind should be prepared for ashfall as long as this activity continues.