UPDATE (10:20 a.m.) – "HVO reports new fissure 24 between Kupono & Nohea St. Leilani Estates," Civil Defense says. "No threat to structures. Lava on PGV property overnight. No wells impacted. Team working to prevent threats from developing. No hydrogen sulfide detected. Public will be kept informed of situation."
The Hawaii Department of Transportation had this update on Highway 130:
The Hawaii Department of Transportation (HDOT) is lowering the speed limit on Highway 130 (Keaau-Pahoa Road) in the vicinity of mile markers 14.4 and 14.6 to 25 mph. The lowered speed limit is necessary for the safety of the Kalapana and Pahoa residents as they drive over the steel plates installed over the cracks caused by the volcanic activity in the area.

The 25-mph speed limit will be posted Sunday, May 27, 2018.

HDOT and the Hawaii National Guard continue to monitor the area for heat and sulfur dioxide levels. Cameras have also been installed on Highway 130 and Highway 11, which suffered damage due to seismic activity on May 16, 2018. Highway 130 is currently the only accessible route for the residents of lower Puna following the closure of Highway 137 on May 19, 2018.

HDOT is working with the National Parks Service, federal, state, and county agencies to prepare Chain of Craters Road as an evacuation route should Highway 130 be cut off by the Kilauea eruption. Plans are in the works to provide emergency access across the 2016-2017 lava flow while taking measures to prevent adverse impacts to park cultural and natural resources within Hawaii Volcanoes National Park. Aerial surveys and ground penetrating radar over the solidified 2016-2017 lava flow do not show major safety issues preventing the development of Chain of Craters as a future evacuation route.
(BIVN) – Lava crossed into Puna Geothermal Venture property overnight, as the eruption on the lower East Rift Zone of Kilauea continues. "County, State and Federal agencies continue to monitor Hydrogen Sulfide levels and no Hydrogen Sulfide has been detected," civil defense stated on Sunday morning.
USGS Hawaiian Volcano Observatory field crew reported at 4:17 a.m. that the lava flow fed by Fissure 21 continues a slow advance eastward on PGV property, but has not moved significantly closer to Kapoho Rd. Fountain heights at Fissure 21 have declined overnight, scientists said.
USGS HVO also reported early Sunday morning that Fissure 7 activity increased overnight, producing a large spatter rampart over 100 feet tall from fountains reaching 150-200 feet into the night sky (USGS photo below). The fountains feed a perched pāhoehoe flow 20-40 feet thick. The flow had turned south toward the coast last night.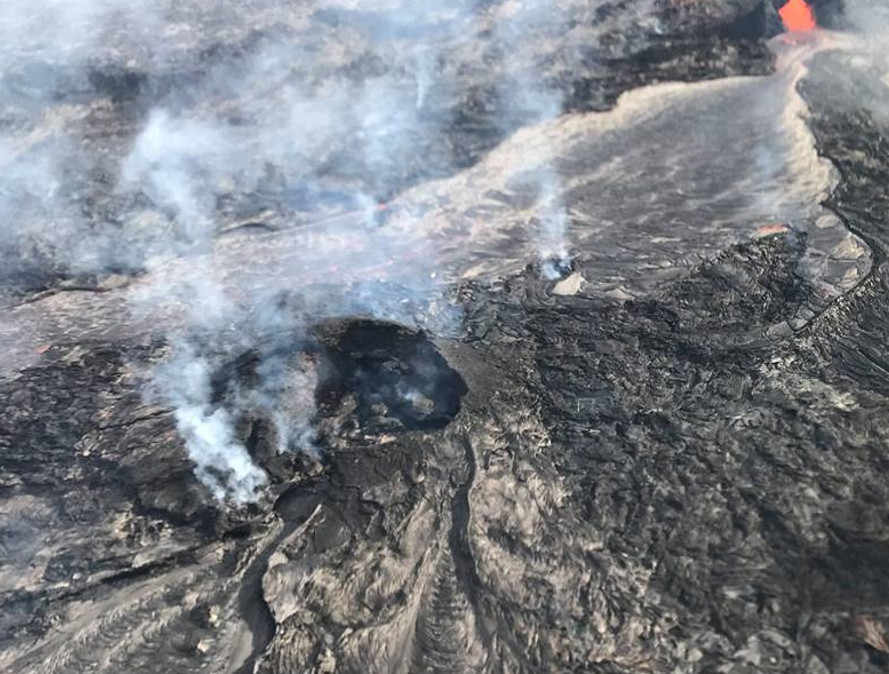 (ABOVE PHOTO by USGS) A helicopter overflight at 5 p.m. HST on Saturday, May 26. At the time, lava from fissure 7 was cascading into the Pawaii crater, adjacent to the western margin of the fissure 6 flow that feeds one of the ocean entries. Fissure 6 was inactive overnight, USGS reported.
Fissures 22 and 13 continue to feed lava flows extending south to the lava ocean entry, USGS says. Signals recorded on stations in the LERZ indicate that the lava ocean entry remained active overnight.
Just after midnight, Hawaiian Volcano Observatory field crew reported "finding large (up to 1 yard wide, 1 yard offset) cracks in Kupono St, 360 yards north of Malama St, near Fissure 9. No effusive activity from Fissure 9 observed."
Fissure 8 (USGS photo below) had three vents active overnight that were spattering and flaming, and have doubled in size over the past 24 hours.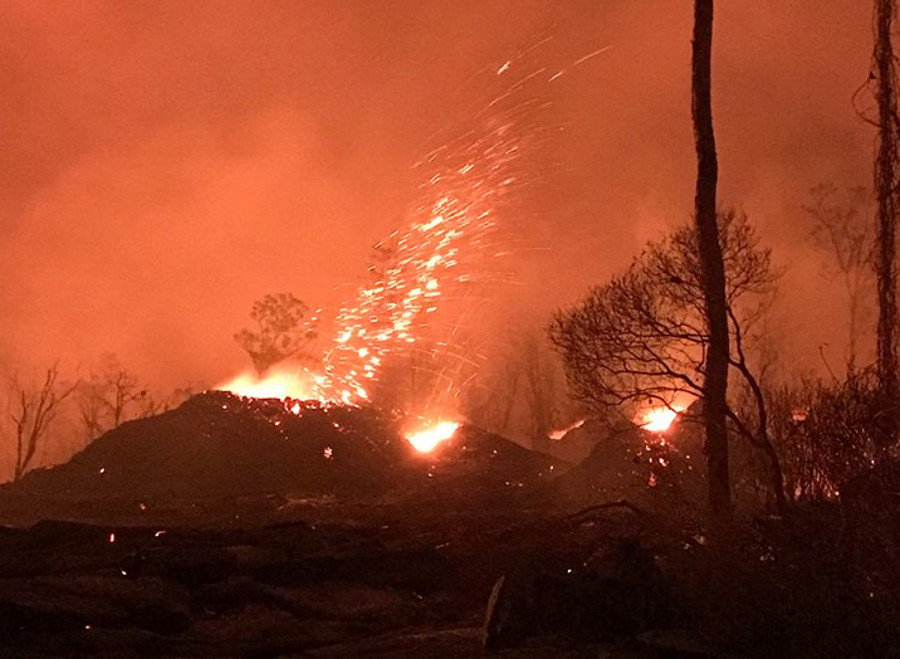 Sunday morning, volcanic gases and vog emissions may increase in areas down wind of the vents in the southwest rift zone, civil defense warned. Areas along Kamaili Road are experiencing elevated levels of sulfur dioxide.
Due to the volcanic activity, civil defense says the following policies are in effect:
Take action to limit further exposure to volcanic gases and be prepared to leave the area with little to no notice.
Residents close to the active eruption must remain alert to changes in the flow direction, and are advised to prepare to voluntarily evacuate should your location become threatened.
Stay alert for warnings from Civil Defense officials.
Ash continued to erupt intermittently from the Overlook crater at the Kīlauea summit overnight. "Observations from the ground and by UAV during the past week have documented retreat of the Overlook crater wall due to collapse of the steep enclosing walls and rim," USGS reported. "Trade winds took the ash clouds primarily to the southwest. Trade winds are expected to diminish Sunday evening and communities around the summit area could see ashfall. Earthquakes in the summit region continue as the summit area subsides and adjusts to the withdrawal of magma."
"Additional explosive events that could produce minor amounts of ashfall downwind are possible at any time," USGS says. "Volcanic gas emissions at the summit remain high."