Lava Enters Kapoho Bay
"A local videographer filmed a lava ocean entry at Kapoho Bay starting around 10:30 p.m. HST on June 3," the USGS Hawaiian Volcano Observatory reported early this morning. The scientists were relying on seismicity to determine when the lava entered the ocean, since the lava flow in the Kapoho area is out of range of visual/UAS observations. As of 2:23 a.m. HST, they were unaware that the lava had apparently been entering the bay. "The entry was not associated with a sesimic signal. The 6 a.m. overflight will confirm the entry and it's characteristics," USGS added.
The moment was captured by Db Photo at Primary Focus and shared on Facebook.
UPDATE (9:30 a.m.) – As of a 6:30 a.m. overflight, the USGS Hawaiian Volcano Observatory says "lava has built a delta a few hundred yards into Kapoho Bay; flow front is about 0.5 miles wide; laze plume blowing onshore but dissipating quickly; small breakout above Kapoho cone cinder pit."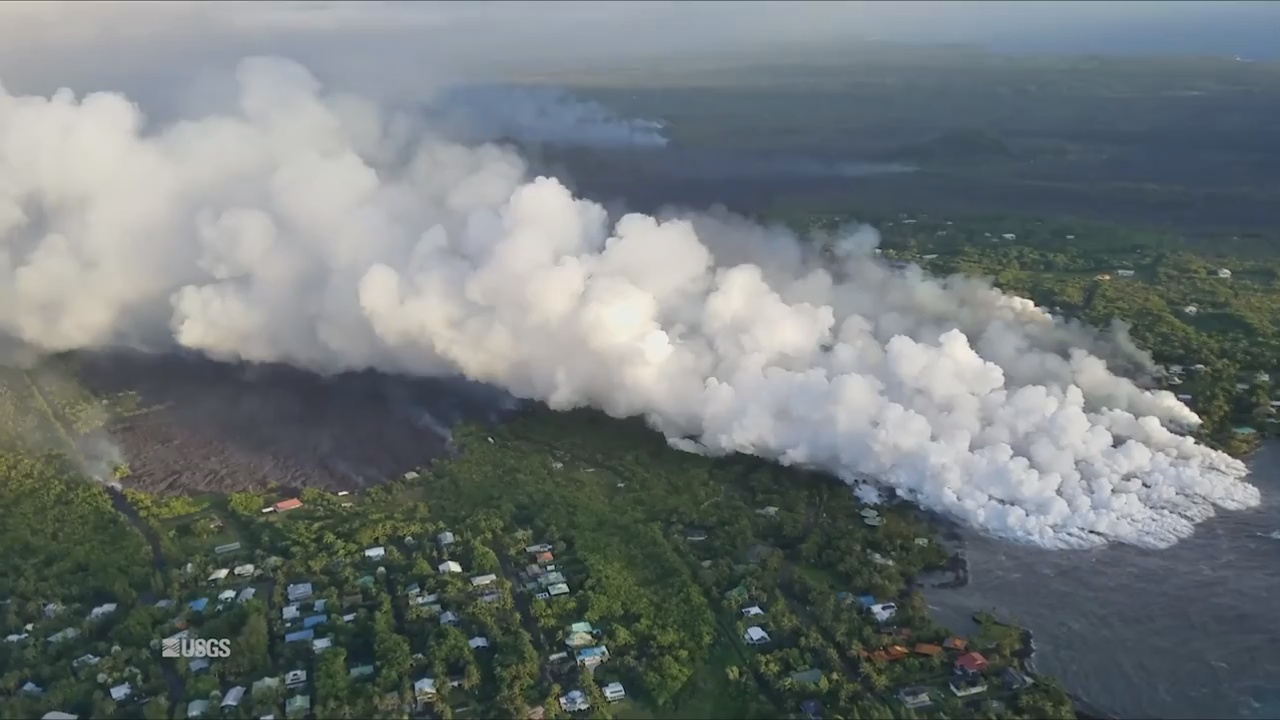 There is no access to the lower Puna area, Highway 132, and Highway 137 due to lava inundation, civil defense says. "Please contact Civil Defense if you confirm that someone you know is remaining in the isolated area," this morning's message repeats. "Call 935-0031."
Government Beach Road, between Kahakai Boulevard and Cinder Road, is open to Waa Waa and Papaya Farms Road residents only with official credentials. There is no curfew.
Fissure 8 Fountaining
"Fissure 8 fountaining persisted throughout the day to heights up to 220 feet, and the channelized flow continued to deliver lava northeast along Highway 132 to the Kapoho area," the USGS reported last night. The lava was advancing along a half mile-wide front towards the ocean at Kapoho Bay between Kapoho Beach Road and Kapoho Kai Drive, where it entered the sea last night.
Watching Uprift
Although all the other fissures were inactive Sunday, "observers on the late afternoon overflight noted abundant gas emission from Fissures 9 & 10 and incandescence without fountaining at fissures 16 & 18," USGS reported.
High Earthquake Activity At Summit
"Earthquake activity at the summit was high overnight and through the day," USGS stated. "A moderate earthquake (5.5 preliminary) resulting from a volcanic explosion and continued collapse around Halemaumau occurred at 15:50 HST. National Weather Service radar observations confirmed an ash column was produced and reached 8,000 ft. asl."
Volcanic gas emissions at the summit remain high, scientists say.
MORE: VIDEO: 500 Earthquakes In 24 Hours, Most Ever Recorded At Kilauea Summit
Chain Of Craters Punches Through Lava
Crews working to clear an emergency path through Chain of Craters Road through Hawaii Volcanoes National Park – in case the Kalapana-side of Puna becomes isolated – "ripped through" the hardened lava from the year-old 61g flow. "The lava has been cleared and pushed aside," said Hawaii Volcanoes National park spokesperson Jessica Ferracane, "but the workers down there still need to crush and roll out material to improve the surface."
"The road is not 'open'," Ferracane reminded media during a Sunday conference call, "the road has is being prepared for emergency evacuation so this is not a road that will be open to the public."
More Citations For "Lava Loiterers", State Says
8 more people were cited on Saturday – bringing the total number to 18 – reportedly found in closed areas, according to the State Department of Land and Natural Resources.
On Sunday morning, officers from the Hawai'i County Police Department were also issuing citations to people who are being rescued by air, also for loitering and refusal to vacate a disaster area. It's unknown at this time how many citations have been written, the state says.
Deputy DOCARE Enforcement Chief Jason Redulla said, "These people need to think. They are not only putting themselves into potentially life-threatening situations, but we can't completely lock gates or erect impassable barricades in areas where people have only one way out – these are the routes loiterers are using to gain up-close access."
Citations for loitering are petty misdemeanors but the penalties can be greater for loitering in a disaster area.
Malama Kī Forest Reserve Impacted
One-third to one-half of the total acreage of the Malama Kī Forest Reserve has been impacted by the month-long East Rift Zone volcanic eruption, the Hawaii Department of Land and Natural Resources says.
Malama Kī – a relatively small reserve at 1514 acres – is home to a young ʻohiʻa-dominated forest and a habitat to sub-populations of native forest birds, especially the Hawai'i 'amakihi which makes up 24-50% of the bird community. This unique subpopulation of Hawai'i 'amakihi "will be affected and/or lost by the lower Puna eruption," says Steve Bergfeld, DLNR Division of Forestry and Wildlife (DOFAW) Hawai'i island Branch Manager. Bergfeld said there are no plans catch wildlife and remove them.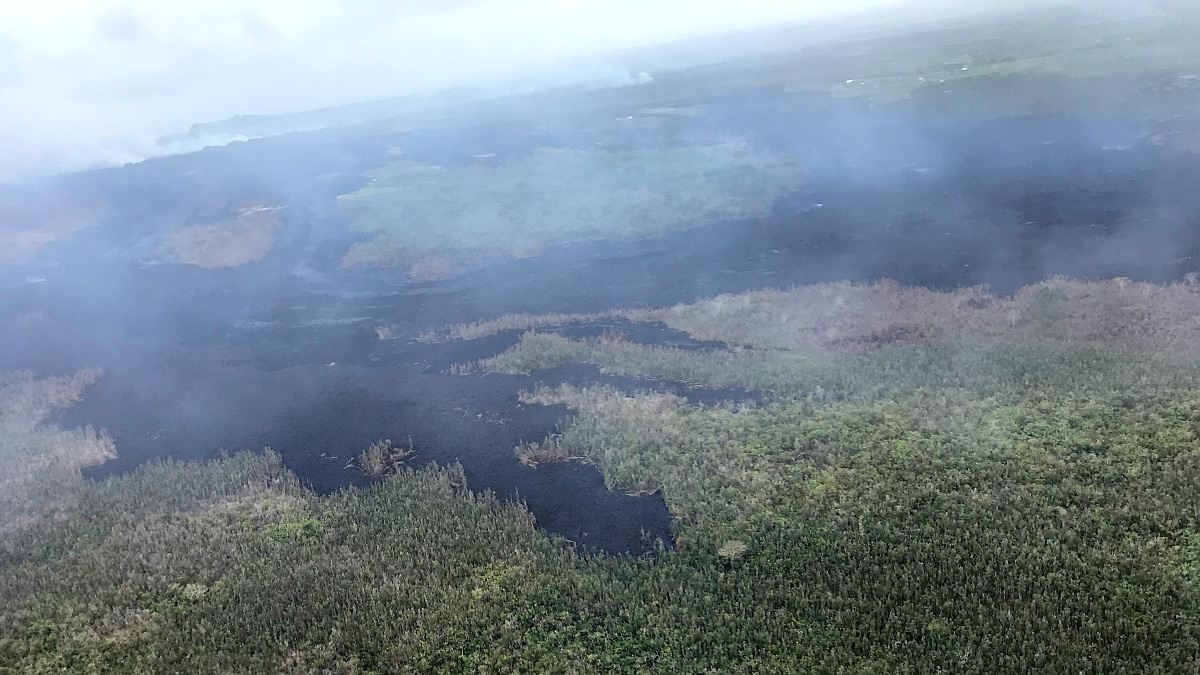 Site visits conducted so far show a lot of the vegetation downwind of the eruption plume is dead, DLNR says. More than 200 acres of Malama Kī Forest Reserve have also been damaged by wild land fires sparked by the lava flows.
"Due to current and further expected loss of this forest habitat due to lava inundation, and defoliation due to volcanic emissions in lower Puna, these remnant and sub-populations of wildlife may no longer persist, rapidly decline, or become further fragmented and/or contract in range," Bergfeld said. DLNR added:
Foresters also indicate there will be a loss in the continuity of research on disease tolerance, sub-population genetics, and the measurable effects of rapid ʻohiʻa death (ROD) to the forest bird community in the reserve and surrounding area. The reserve also serves, in part, as a public year-round hunting area, which may be greatly reduced due to the loss of forest and the effects to feral animals.