Summit, East Rift Zone Activity
"Lava fountaining at Fissure 8 continues unabated with fountain tops reported between 170-200 feet," USGS Hawaiian Volcano Observatory reported at 10:22 p.m. Thursday night. "This activity continues to feed a lava channel flowing east towards the ocean entry in the Kapoho Bay area. Bad weather and poor visibility grounded the late afternoon overflight but ground observers confirm lava continues to enter the sea as of early evening."
USGS says field crew observations "are being collected on a daily basis from cracks in the area of Highway 130; no changes in temperature, crack width, or gas emissions have been noted."
At 2:44 a.m. HST, a small explosion occurred from Kīlauea's summit. USGS reported the Pacific Tsunami Warning Center magnitude is 5.5, "but shaking was equivalent to a ~M4 event. No radar observations, but satellites suggest any plume is less than 10,000 feet ASL."
UPDATE: Vog and SO2 In Saddle Area
From Hawaii County Civil Defense:
The National Weather Service reports high levels of vog and sulfur dioxide from the fissure system are moving north and wedging in the Saddle area, creating poor visibility on the roads. Drive with caution. The Big Island interior and south are expected to have increased levels of vog until tonight.
The following guidance is given:
The Department of Health recommends limiting outside activities and stay indoors if you have breathing issues.
Stay alert and be ready to leave the area should conditions change.
N-95 masks that were distributed are for ash or vog particulate and will NOT protect from gasses or vapors, including SO2.
You can monitor sulfur dioxide and hydrogen sulfide on Hawaii Island by visiting the Civil Defense website or go directly to epa.gov/kilaueaairdata.
Governor Ige Releases $12 Million For Disaster
Gov. David Ige and Mayor Harry Kim signed a Letter of Agreement on Thursday, releasing $12 million to support the county's response to the active volcanic eruption.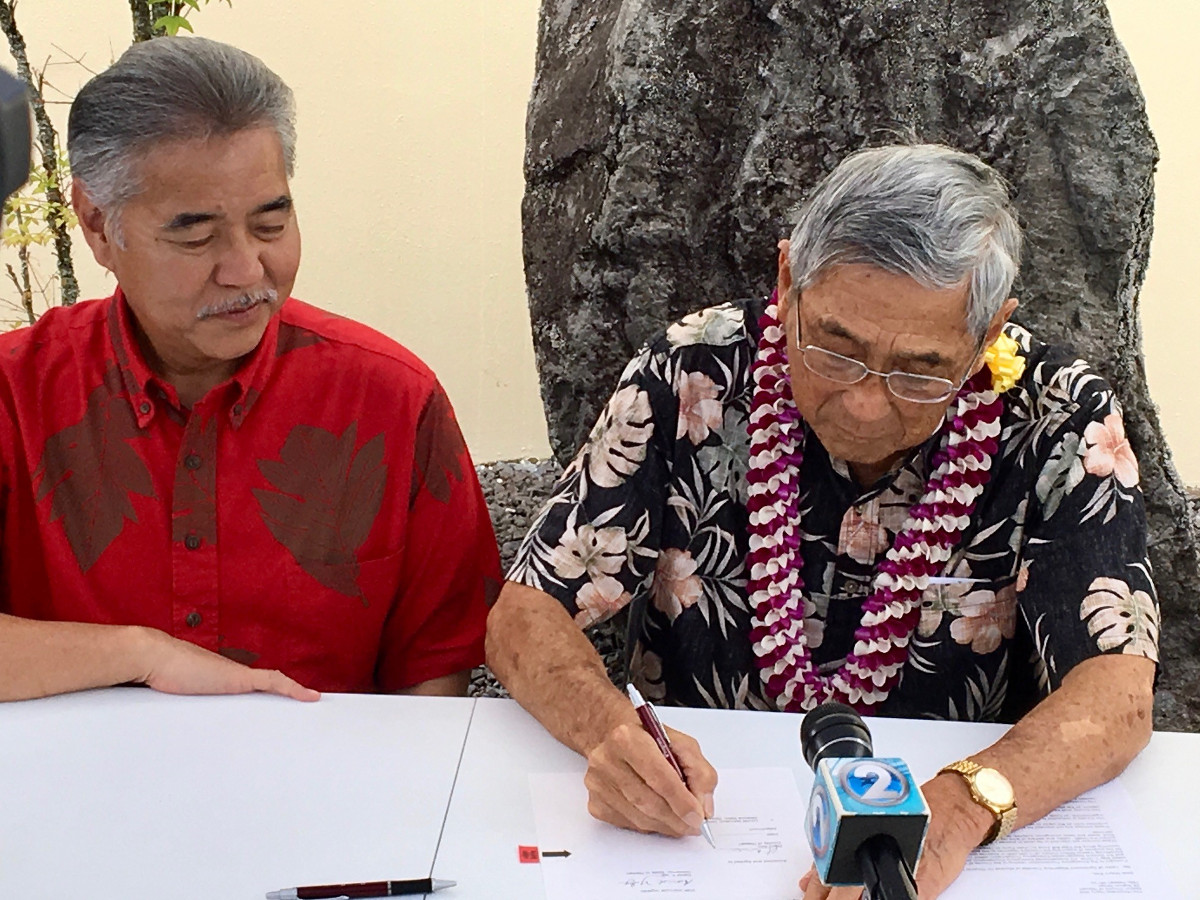 From a joint state and county media release:
"This is an ongoing emergency and we're in the early stages of damage assessment, but we do know that costs for overtime, equipment and materials are mounting. Police, fire, public works and civil defense employees have been working overtime, and some of the equipment and materials needed to keep evacuation routes open and safe have been costly. This funding will help the county continue to protect the health, safety and welfare of area residents," said Gov. Ige.

Mayor Kim expressed his appreciation for the State's expeditious assistance amid mounting needs as the emergency situation continues.

"We have had tremendous support from the governor and his departments from the get-go," Mayor Kim said. "This is helping us focus on the critical tasks of making life better for our people affected by the eruption."

While the funding could be used for emergency supplies and temporary shelter-related goods and services, the agreement specifies that the funds are not intended for long-term infrastructure repairs or for private purposes such as the repair or rebuilding of private dwellings.

"Today's agreement provides initial financial support, and I am committed to providing additional assistance to the County of Hawaiʻi as new needs and specific projects are identified," said Gov. Ige.
Insurance Forum Packed
On Thursday evening, hundreds of residents filled The Stables at Hawaiian Beaches to get information on insurance claims. (full video)
Preliminary Damage Assessment Report Due Today
According to Hawaii County, "if you are a business owner who has experienced financial loss or other negative impacts either directly or indirectly because of the current eruptive phase of Kilauea Volcano," you are urged to follow this link in order to fill out the Preliminary Damage Assessment Report – Business/Commercial form. The form must be completed by today – Friday, June 8.
More Loitering Citations Issued
Seven more people were cited Wednesday night by state law enforcement for loitering in an area that has been closed due to the volcani eruption, bringing the total number cited by Department of Land and Natural Resources officres to 25. From the DLNR:
Seven more people were cited Wednesday night by officers from the DLNR Division of Conservation and Resources Enforcement (DOCARE) for loitering in a closed area. Like eighteen people previously cited, the seven allegedly bypassed established check-points or were found in closed areas.

Two Puna residents were cited at Bryson Cinder Quarry, past the Papaya Farms Road checkpoint. Officers say the pair got past the checkpoint after a local resident vouched for them saying they were staying at the resident's home. The two were spotted standing on a puʻu with hot lava hardening around it about 15 yards away. Officers report 27-year-old Taylor Fankhouser and 33-year-old Jessica Devendorf rode bikes to where they were cited.

Five people were cited outside the gate at MacKenzie State Park which has been closed for the past month. They're identified as: 62-year-old Robert Chetley of Paradise Park, 30-year-old Jonathan Hensley of Pahoa, 30-year-old Jeremy Osuna of Kea'au, 38-year-old Daniel Alexander Records of Kapoho and 52-year-old Maryanne Torres of Opihikao.

All seven people were cited under Hawai'i County Code for loitering in a closed area. They not only put themselves at risk but potentially endanger the lives of emergency workers and law enforcement if they must be rescued.
Puna Polling Places Declared as Absentee Mail Precincts
The State Office of Elections made the move to all-mail voting official on Thursday with this declaration:
Due to the continuing volcanic eruption, the Office of Elections issued a proclamation today designating polling places 04-03, Pahoa Community Center, and 04-04, Pahoa High/Intermediate School, as absentee mail precincts for the 2018 Primary Election.

Election officials declared polling places 04-03 and 04-04 as mail precincts to ensure that voters affected by the volcanic activity are able to cast their ballot. Absentee ballots will be mailed to registered voters assigned to these polling places beginning June 25, 2018. Voters who do not receive their ballot should contact the Clerk's Office. Voted ballots must be received by the Clerk's Office before the close of polls, 6:00 p.m., on August 11, 2018.

Ballots will be sent to the mailing address indicated in each voter's record, unless the voter requests that their ballot be mailed to a different address. Because ballots are non-forwardable, election officials are reaching out to remind voters to update their voter registration if they have moved or are planning to move. To update their registration, voters need to complete a Voter Registration Affidavit or an Absentee Application. Completed applications should be submitted to the Clerk's Office at 25 Aupuni Street, Room 1502, Hilo, Hawaii 96720.

Voters may also vote at any of the four Early Walk In Voting locations in the County of Hawaii beginning July 30 through August 9.

For additional information about absentee voting, contact the Hawaii County Elections Division at (808) 961-8277.