(BIVN) – A large explosion at the lava ocean entry that reportedly injured passengers on a lava boat tour is under investigation.
UPDATE: "At least 13 people were treated at the Hilo Medical Center after an incident on a lava tour boat early this morning," reported the DLNR's Division of Conservation and Resources Enforcement in an updated media release this morning. The explosion sent lava through the roof of the passenger cabin on a Lava Ocean Tours boat, DLNR said, adding that "a 20 year old woman has major leg trauma. The other passengers suffered burns and scrapes. DOCARE and other authorities are investigating this incident."
DLNR Chair Suzanne Case said, "DLNR sends its wishes for full and speedy recovery to all of those involved."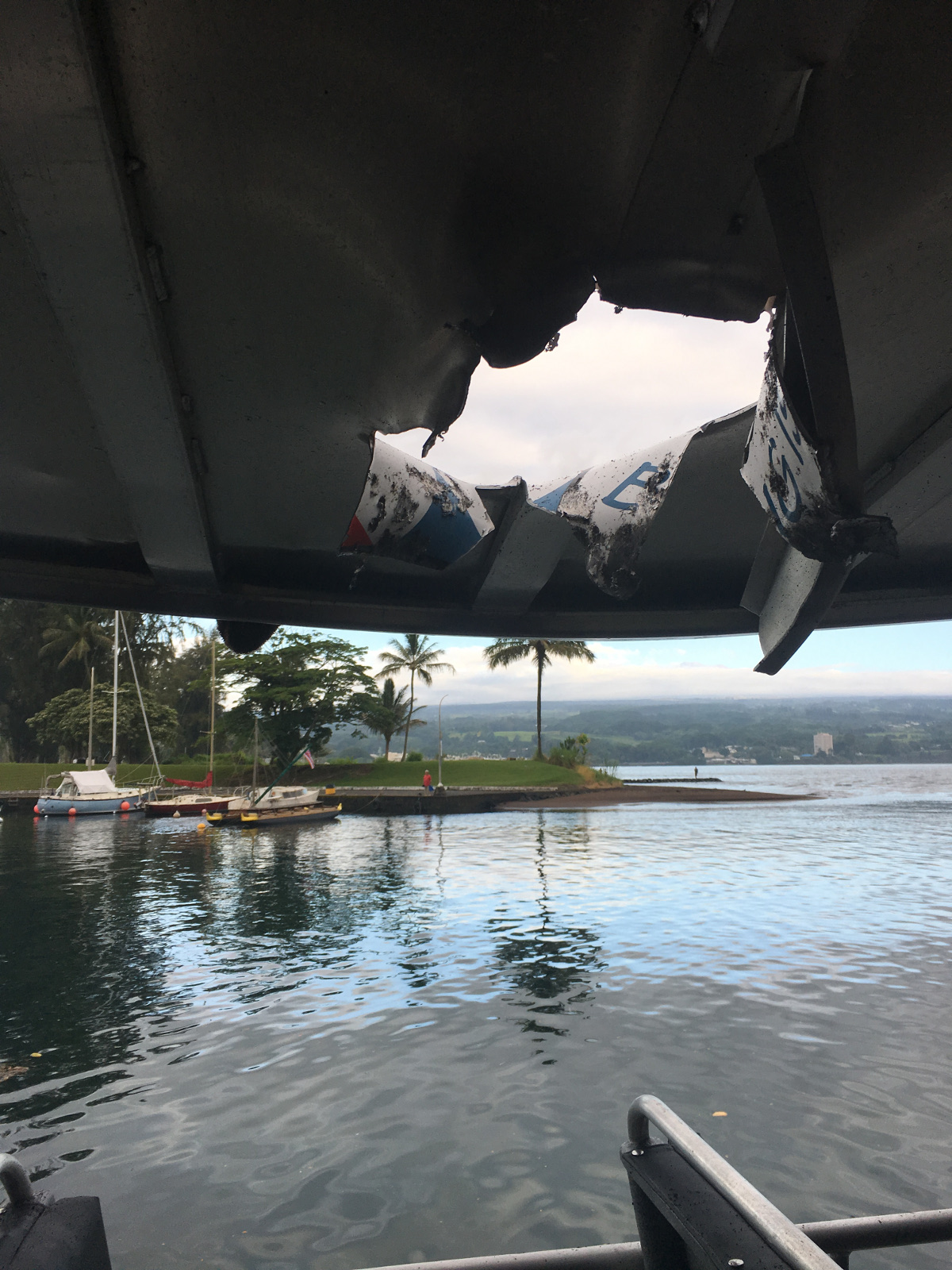 An image of Monday morning's explosion was captured on video and shared to social media by Kalapana Cultural Tours, which was a safe distance away at the time and was not the tour company impacted by the explosion.
UPDATE: According to a Hawaii County Fire Department dispatch:
Per Captain, Lava Boat arrived offshore Pohoiki Lava entry site appox. 500 yds. offshore then proceeded to get closer until approx. 200 yds. offshore. Turned out to sea when explosion occurred near shoreline hurling hot lava rocks towards boat and injuring several passengers. HFD, HPD and DLNR met lava tour boat "Hot Spot" as it docked. HFD medic units performed triage on all passengers; 3 were transported by medics, 9 went to HMC via personal vehicle and 10 were treated on scene for minor soft tissue injuries and burns
The USGS Hawaiian Volcano Observatory reminds the public daily in its eruption update that the ocean entry is a hazardous area. "Close to the ocean entry, flying debris from explosive interaction between lava and water is a primary hazard," USGS writes. "Additionally, submarine magma-water interaction can result in explosive activity beyond the visible lava delta, creating a hazard that extends offshore."
Only a few lava boat tours are permitted to offer trips to see the ocean entry, and the companies must adhere to Lava Entry Safety Zone regulations enforced by The U.S. Coast Guard. For mariners without prior limited entry approval, the safety zone encompasses all waters extending 300 meters (984 feet) in all directions around the entry of the lava flow into the ocean, USCG stated in May.
UPDATE: The U.S. Coast Guard issued a media release at 10:45 a.m., saying that a Coast Guard investigator from Sector Honolulu is en route to investigate the incident. "The safety zone currently stands at 300-meters (984 feet) with no exclusions," the Coast Guard said. A USCG public affairs officer clarified that means no tour boat operators are allowed to get any closer, as of now.
The U.S Coast Guard had just reduced the previous restriction for pre-approved mariners (as of July 12, 2018) from the previous 100 meters to 50 meters, allowing official boat tours to get closer.
The U.S. Coast Guard offered this summary of the temporary safety zone rules:
In response to increased lava activity in the area, the Coast Guard established a temporary safety zone March 2017. That zone was made permanent in May 2018 following a notice of proposed rulemaking. The zone was set with significant input and consultation from experts with the Hawaii Volcano Observatory, U.S. Geological Survey, National Oceanic and Atmospheric Administration and date from the University of Hawaii at Hilo Marine Science Department.

The safety zone surrounds the lava flow and extends out 300-meters, although certain commercial and research vessels with licensed captains demonstrating experience operating in the region and carrying all required safety equipment were given special permission to approach up to 50 meters. Tour vessels are known to operate the area going back at least 20 years.
"The tours depart from the Wailoa Small Boat Harbor in Hilo at 4 a.m. daily," DLNR reported. "Prior to the beginning of the East Rift Zone Eruption event, tours left from the Pohoiki Boat Ramp, which now is within ½ mile of the active ocean entrance."
"DOCARE officers are now in the process of interviewing injured passengers at the Hilo Medical Center," DLNR reported. "In initial reporting passengers say the vessel was outside of the U.S. Coast Guard-established safety zone. Along with first responders both state and county officers were at the Wailoa ramp when the boat returned after the incident. It's reported one passenger has a broken leg and the others were burned, though the full extent of their injuries is not known at this time. More information will be released as it becomes available."