(BIVN) – Littoral explosions at the lava ocean entry were discussed in detail during a USGS media conference call on Monday afternoon, just hours after one such powerful blast injured multiple passengers aboard a lava boat tour.
After a lull, the national media was again interested in the eruption on Kilauea Volcano's lower East Rift Zone, following the news that a huge explosion at the ocean entry near the former Ahalanui Beach Park area had impacted a local tour boat. According to the Hawaii Department of Land and Natural Resources:
Twenty-three people on a Lava Ocean Tours vessel were hurt shortly after 6 a.m. when what has been described as a "lava bomb" sent molten lava showering down on the metal roof of the vessel, leaving a significant hole in it. The Hawai'i County Fire Department reports four people were transported by medics to the Hilo Medical Center by ambulance, nine others went to the hospital in private vehicles and ten people were treated on the scene for minor soft tissue injuries and burns. The most serious injury was a traumatic leg injury suffered by a 20-year old woman. All other passengers who went to the hospital were treated for minor scrapes and burns.
While the scientists on the call declined to discuss the specifics of the situation, they provided plenty of general information on littoral explosions, and why some of the explosions in the present eruption appear to be larger than littoral explosions associated with previous events.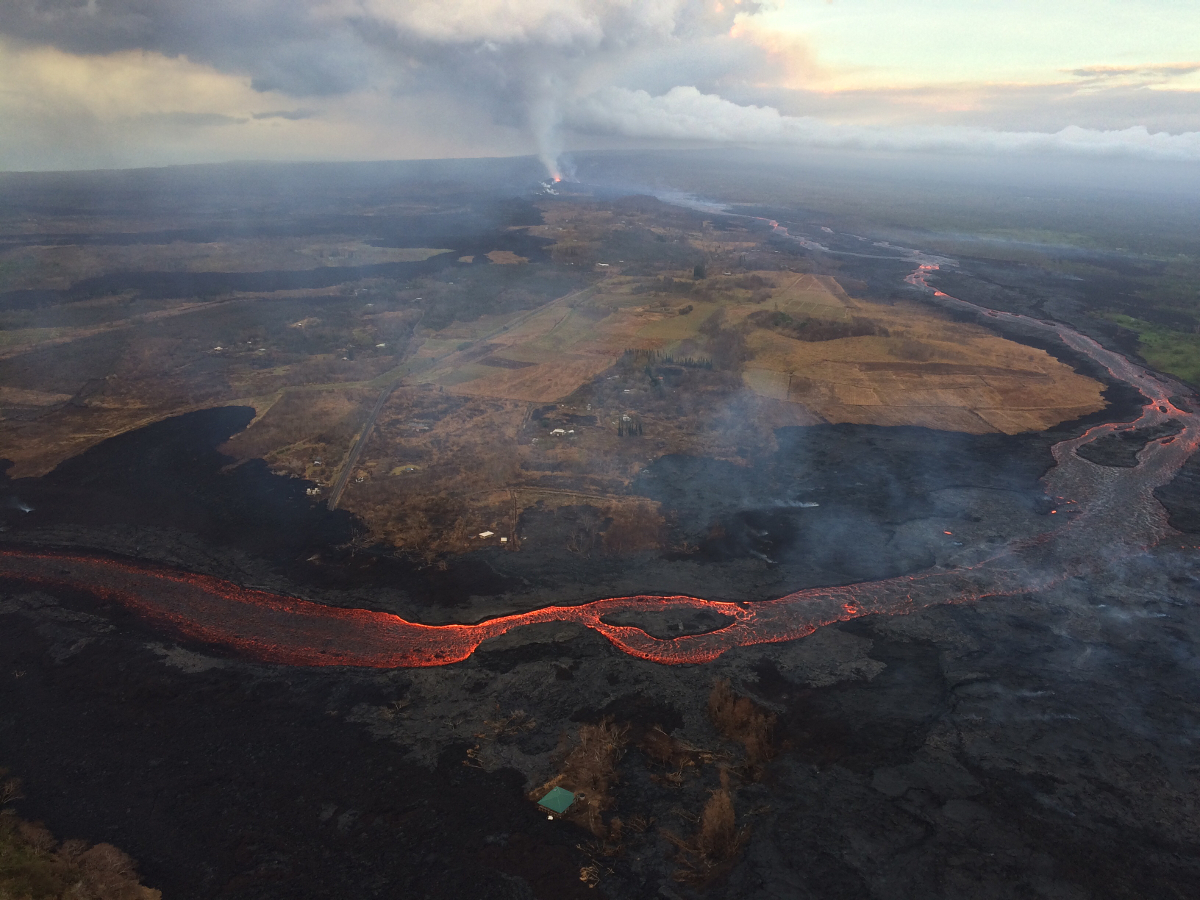 The USGS Hawaiian Volcano Observatory also provided some other updates. At 11:42 a.m. on July 16, a collapse explosion event occurred at Kīlauea's summit, scientists reported. The energy released by the event was equivalent to a Magnitude 5.3 earthquake. Such an event was expected at the summit, however following the collapse explosion, there was no significant response observed at Fissure 8. "Field crews have not reported any channel overflows," the USGS reported.
In recent days, summit collapse explosions have been followed by surges of lava at Fissure 8, sometimes resulting in lava spills over the channel walls.
The southern margin of the flow remained about 1 km, or 0.6 miles, from Isaac Hale Park this morning. Hawaii County Civil Defense reported this evening that the southern edge of the flow has stalled.
Thus far, 706 structures have been destroyed and 8,000 acres – or 12.5 square miles – of land have been covered with lava flows since the eruption onset, officials say.
"The next Pahoa community meeting is at 5:00 pm on Tuesday, July 17, at the Pahoa High School cafeteria," Hawaii County Civil Defense says. "Representatives form Hawaii County Civil Defense and the Hawaiian Volcano Observatory will be there to answer questions regarding the current eruption activity and response. Several other county and state resources agencies will be available as well."