(BIVN) – Hawaiʻi Island Police have released the names and photographs of four wanted individuals who police say "may have provided assistance" to 33-year old Justin Waiki, the man who police say shot and killed officer Bronson Kaimana Kaliloa on July 17, during a traffic stop in Mountain View. Waiki, after running from authorities for three tense days, was himself killed by police in a shootout that occurred in South Point on July 20.
Police issued a media release on Monday, saying that they are continuing the investigation into individuals who may have provided assistance to Waiki while he was on the run.
"Sought at this time are 31-year-old Joey Ikaka Camacho (no known address), 47-year-old Shaun Candaroma of Hilo, 26-year-old Pomaikai Martin of Kings Landing and 27-year-old Latoya Poepoe-Spalding also of Kings Landing," police stated. "Detectives with the Criminal Investigation Section are continuing this investigation."
Police ask anyone with information about the whereabouts of these individuals to contact Detective William Brown of the Area I Criminal Investigation Section at (808) 961-2384 or William.brown@hawaiicounty.gov.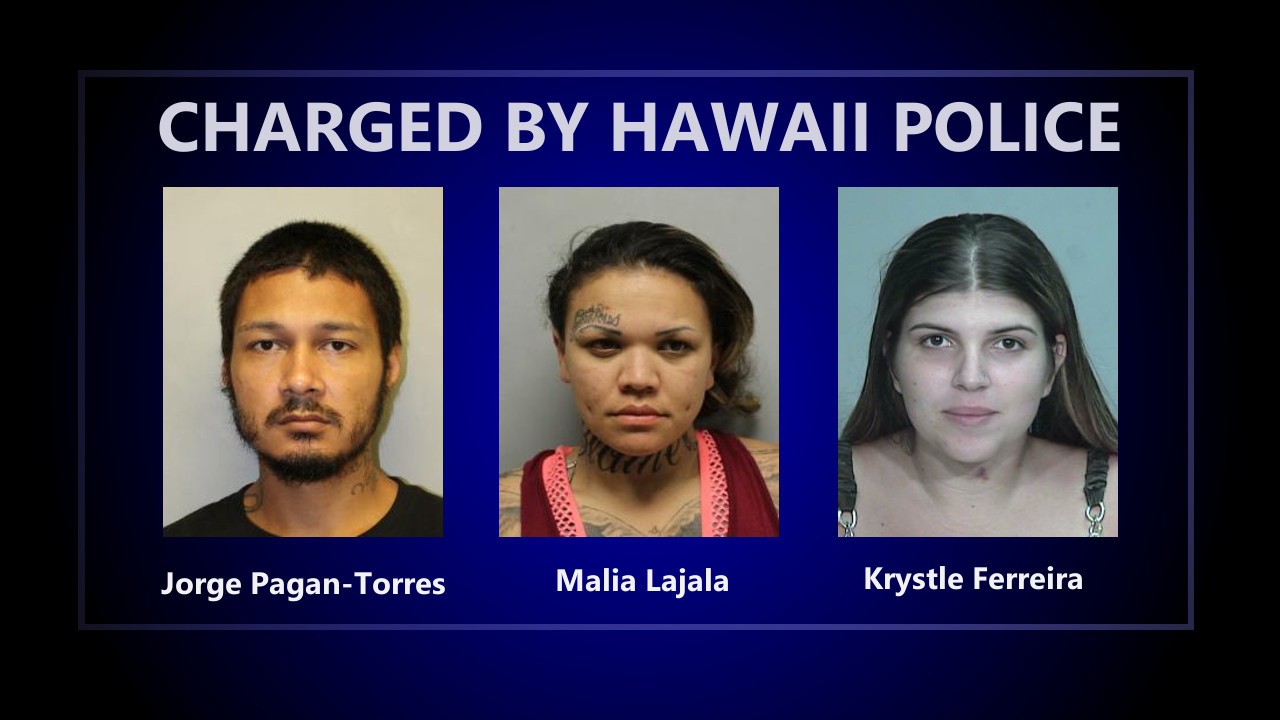 Police also released the photographs of the three individuals charged as accomplices to Attempted Murder in the First Degree, following the shootout in Kaʻū that killed Waiki and also that left another officer injured. Special Response Team Sergeant Bryan Tina is recovering nicely at Hilo Medical Center and presently is in stable condition, police reported.
A 35-year-old female party who was shot in the vehicle at the scene was still being treated at Hilo Medical Center for her injuries, police reported over the weekend. Other than receiving a gunshot wound to the leg area, the woman – who was not identified by police – had a broken femur.
Meanwhile, the Hawaiʻi Police Department has announced the funeral service for Fallen Officer Kaliloa, who is survived by his wife Casey and three children. A police release states:
The original venue has been changed to a larger one anticipating a large attendance. The service will be held on:

Date: August 4, 2018 (Saturday)
Location: Hilo Civic Auditorium
323 Manono Street,
Hilo, Hawaiʻi 96720

Family only Visitation: 7:30 a.m. to 8:30 a.m.

General Visitation: 8:30 a.m. to 10:00 a.m.

Service: 10:00 a.m. to 11:30 a.m.

The Kaliloa family has opened the event up to the public. Following the service there will be a funeral procession leaving the Civic Auditorium, traveling out to the Puna District passing the Pahoa Police Station, and then back into Hilo passing the Central Hilo Police Station and ending at Homelani Cemetery for the burial service to follow. The funeral procession will be limited to family members and first responders; however, the burial service will be open to the public as well.