(BIVN) – The Hawai'i Department of Land and Natural Resources issued a media release Tuesday in response to mounting criticism that it has failed to devote the manpower needed to rescue sea turtles in advance of lava entering the ocean where the honu live.
"Recent social media posts have shown photos and expressions of concern for sea turtles reportedly trapped or affected by the East Rift Zone Eruption on Hawai'i island, in the Kapoho and Pohoiki areas," the DLNR wrote, adding that they "are aware of these postings but so far there has been little actionable information."
As lava covers the area of Pohoiki, there are concerns that the inundation will take the lives of many sea turtles. Photos on social media area already documenting the heavy toll on marine life due to the volcanic activity. Photos showing hundreds of dead fish collecting along the shore near the ocean entry included pictures of dead sea turtles.
Earlier in the eruption, the Hawaii Lava Updates Facebook page posted one video showing a sea turtle frantically scrambling to escape the super-heated Champagne Ponds, as lava entered the water in the distance (frame grab below).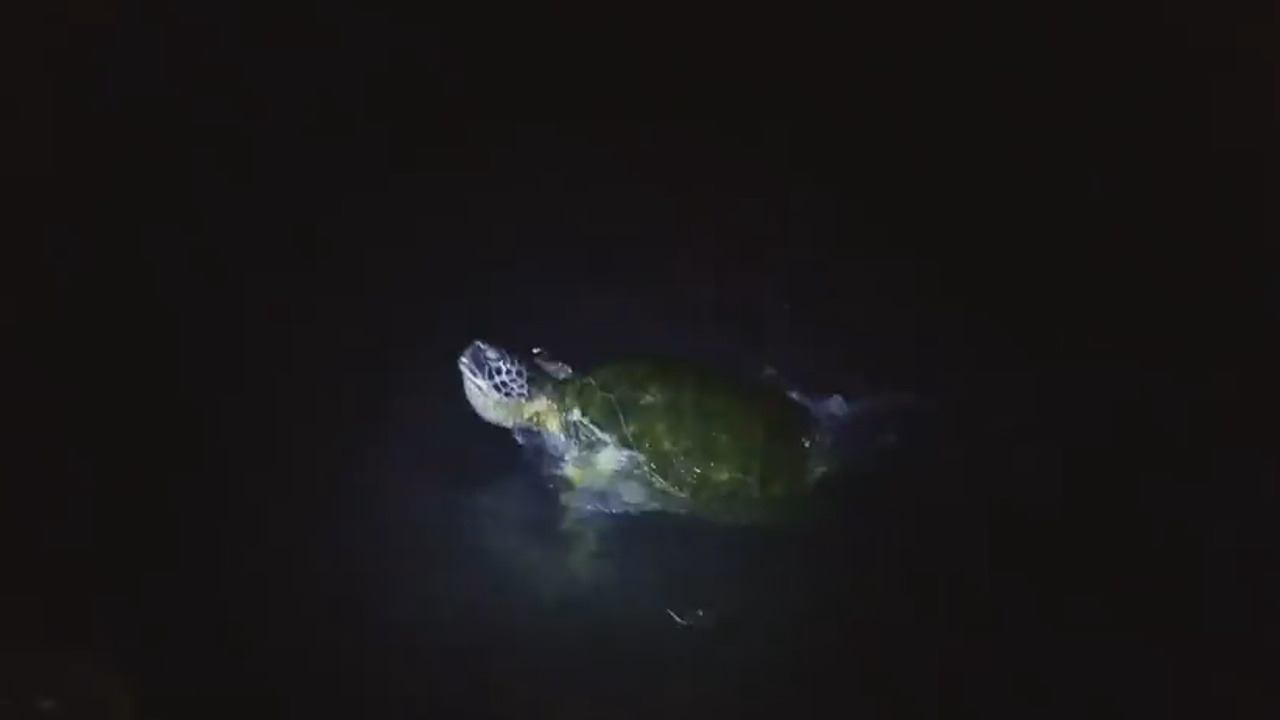 "Since authorities don`t take action to prevent that more turtles get boiled alive, we want to shed light on what`s happening at the lava ocean entries," the text of the Facebook post stated. "This is no happy video, but we believe important to share, to prevent that this keeps happening." The Facebook page said:
NOAA claims there are absolutely no turtles in the water and at the beaches near Pohoiki and all the reports from those that saw many turtles in the area are false. They went to check the beach last Sunday during the day and high tide and flew over the area. Honus were seen at the beaches at night though and from a helicopter, you don`t see them in the water, as it´s already difficult to see healthy Honus from the boat, as they swim usually not at the surface.
The video of the honu was taken by Travis Sanders, who "was one of the very few, that were in Kapoho bay to capture the historic moment when lava hit the ocean. He said, he didn`t see any turtles first, but when lava entered the water, Honus started to swim around frantically, fighting for their lives."
The Hawai'i DLNR media release took specific aim at Sanders' video. The state wrote:
One posted video posted depicting a single turtle swimming frantically in a pond in an area called Champagne Ponds in Kapoho. Unfortunately, that posting was forwarded to government agencies many days after the fact, after the area had already been covered by lava. At that time access to the entire Kapoho area had already been restricted for safety reasons and those restrictions remain in place currently.

Postings have also expressed concerns about turtles around the Pohoiki Boat Ramp being overtaken by molten lava as it enters the ocean. The Hawai'i County Fire Department did a fly-over shortly after the first reports and did not see any evidence of turtles in trouble. During a DLNR flight last Tuesday (July 17) again no turtles were spotted from the air or during a short land assessment around the boat ramp. Aerial surveys are a common monitoring technique employed by researchers world-wide, and green turtles are easily spotted from low flying helicopters.

Brian Neilson, acting administrator of the DLNR Division of Aquatic Resources said, "The video posted on social media of the turtle in Champagne Pond is indeed very sad, and we very much wish the circumstances had allowed for a safe and effective response. We have since received a report of one dead stranded turtle on the beach that may also have been a victim of lava, but its location is uncertain and likely also not accessible to responders since access to the entire area is restricted."

While it is unknown how many turtles may have lived in or around Kapoho or Pohoiki, it's believed most turtles had access to the open ocean via channels or open fish pond gates, and that they were able to swim away and save themselves before being harmed by the lava flow.

"That said," Neilson added, "we have learned some valuable lessons from recent events, and we have opened a discussion among relevant agencies regarding proactive measures for marine wildlife that may be possible going forward. We sympathize with people's concerns about sea turtles, however, human safety is of primary concern and everyone should follow official guidance regarding access in the area."
The release came a few hours after a previous DLNR release, announcing that an additional eight people have been cited for loitering in the East Rift Eruption Zone. That included a trio from Pahoa who was standing on hardened lava near Railroad Avenue and Papaya Farms Road last night (DLNR photo below), and four people who were located inside two barricaded areas in Nanawale Estates this morning.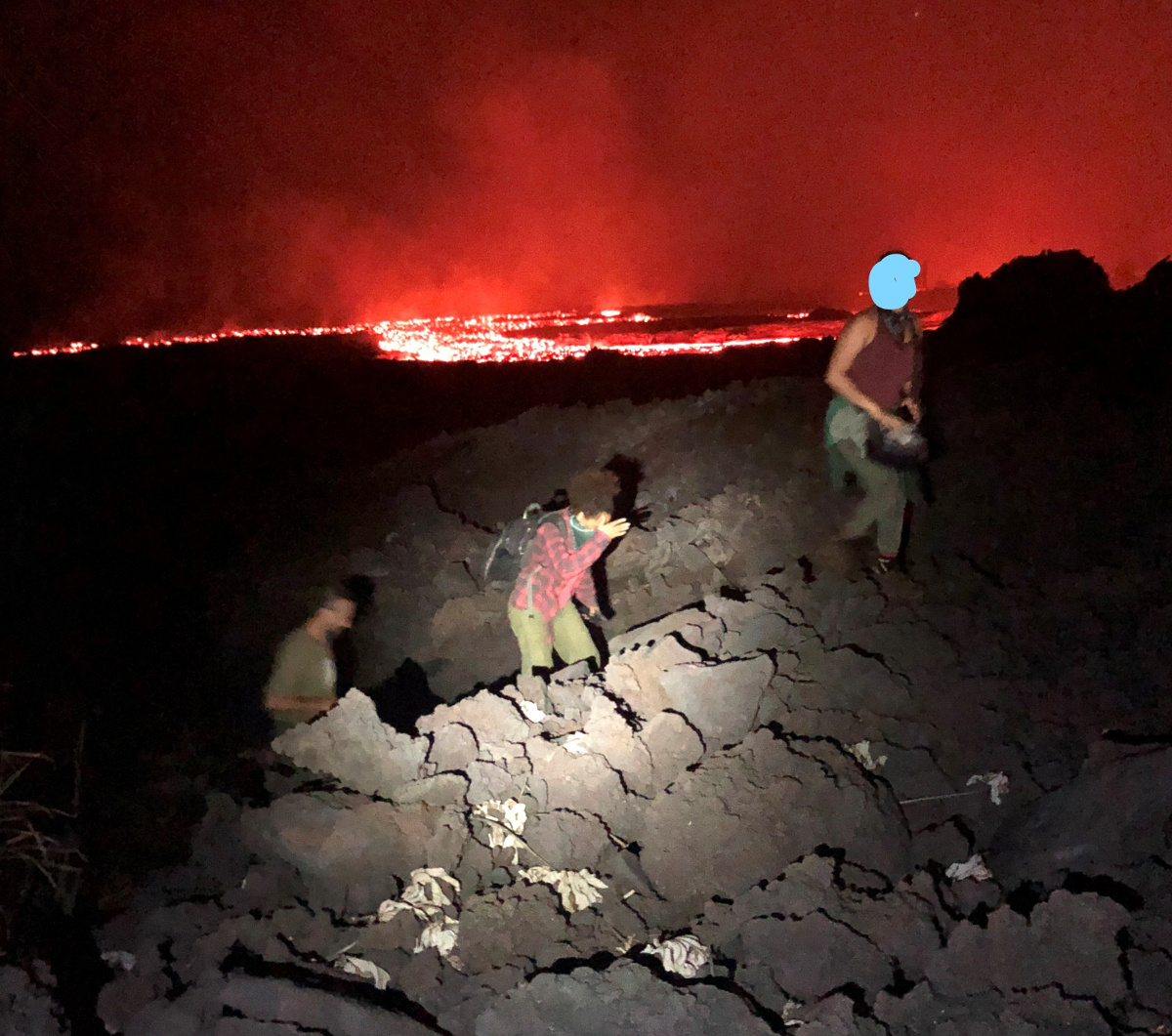 "Since the beginning of the current eruption in early May, nearly 90 people have been cited," DLNR wrote. "Under an emergency proclamation from Governor Ige, potential fines and jail time for anyone convicted of loitering in the eruption zone could be as high as $5,000 and one year in jail."
The timing of the media release about the citations did not sit well with Ryan Finlay, who moderates the popular Hawaii Tracker Facebook group. The group is devoted to following the Kilauea eruption and has over 41,000 members.
"Lava is inundating Pohoiki, the most beloved spot in all of Puna, probably more turtles died and you are busy trying to put feathers in your cap by shaming a couple lava viewers?" Finlay said in a Tuesday post, published before the DLNR response to the criticism. "Shame on you! You flaunt that 90 people have been cited. How many turtles have you saved during this entire eruption?"
DLNR did say that for stranding responders to be able to assist, "reports must be timely (ideally within a few hours), include photos, and involve a location that is accessible and safe for responders. NOAA's statewide marine animal stranding and reporting hotline is: 1-888-256-9840. Additional information that is not time-sensitive can be sent via email (with photos) to RespectWildlife@noaa.gov. You can also report resource violations or issues to the 24-hour DLNR hotline, 643-DLNR (3567) or via the free downloadable DLNRTip App," DLNR said.