(BIVN) – Far off in the Eastern Pacific (2,265 miles east southeast of Hilo) Tropical Storm Hector continues to become better organized as it moves towards the west.
Hector is forecast to strengthen into a hurricane, and although it is too early to know if the storm will pose any threat to Hawai'i, it is a reminder that it is hurricane season in the Central Pacific.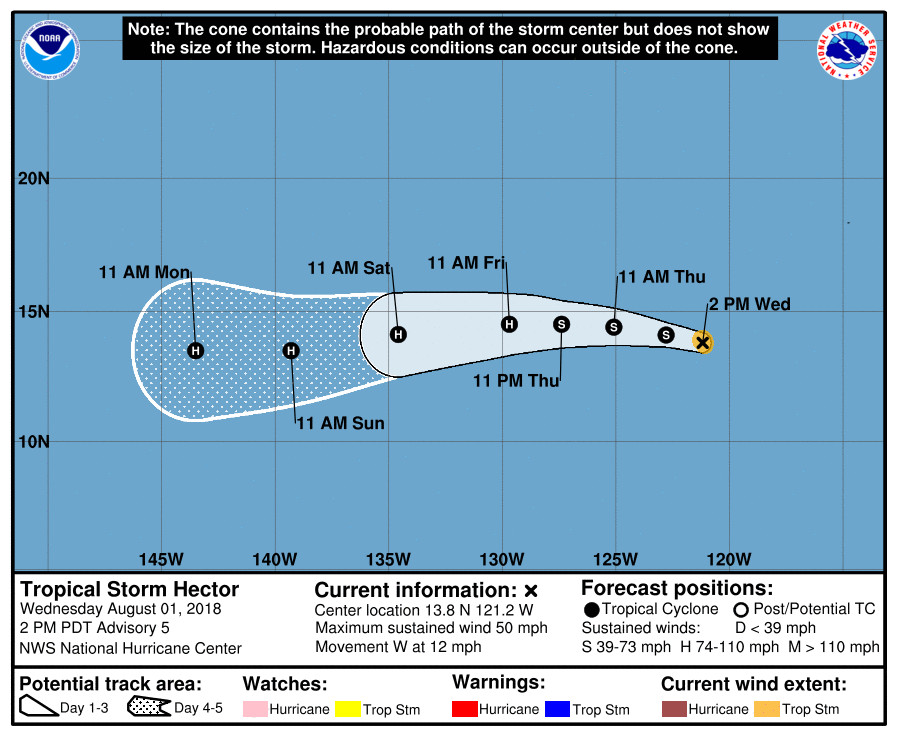 In May, NOAA's Central Pacific Hurricane Center announced there is an 80-percent chance of near- or above-normal tropical cyclone activity during the central Pacific hurricane season this year. "This outlook reflects the forecast for ENSO neutral conditions, with a possible transition to a weak El Niño during the hurricane season. Also, ocean temperatures in the main hurricane formation region are expected to remain above-average, and vertical wind shear is predicted to be near- or weaker-than-average," said Gerry Bell, Ph.D., NOAA's lead seasonal hurricane forecaster at the Climate Prediction Center, in a media release. Bell added, "If El Niño develops, the activity could be near the higher end of the predicted range."
El Niño decreases the vertical wind shear over the tropical central Pacific, which favors more and stronger tropical cyclones, NOAA says. El Niño also favors more westward-tracking storms from the eastern Pacific into the central Pacific.
"It is very important to remember that it only takes one landfalling tropical cyclone to bring major impacts to the State of Hawaii," said Chris Brenchley, director of NOAA's Central Pacific Hurricane Center, in the same media release from May. "As we begin this 2018 hurricane season, we advise all residents to make preparations now, by having and practicing an emergency plan and by having 14 days of emergency supplies on hand that will be needed if a hurricane strikes."
The 2017 hurricane season featured two tropical cyclones – Tropical Storm Fernanda and Tropical Depression
Greg – in the Central Pacific Hurricane Center area of responsibility, which is below the seasonal average. La Niña conditions, which developed by the end of the 2017 summer after equatorial steady cooling, are typically associated with below-normal tropical cyclone activity in the Central Pacific. However, La Niña has ended.