(BIVN) – Hurricane Hector is 1,590 miles east southeast of Hilo and moving toward the west near 12 mph as of 11 p.m. HST on Friday night. On the forecast track, Hector is expected to reach the Central Pacific basin early Monday, the National Hurricane Center says.
Hector's maximum sustained winds are near 120 mph (195 km/h) with higher gusts, making it a category 3 hurricane on the Saffir-Simpson Hurricane Wind Scale. "Short-term fluctuations in intensity are likely during the next few days, but Hector is expected to remain at or near major hurricane intensity through early next week."
Hurricane-force winds extend outward up to 15 miles (30 km) from the center and tropical-storm-force winds extend outward up to 80 miles (130 km), forecasters say.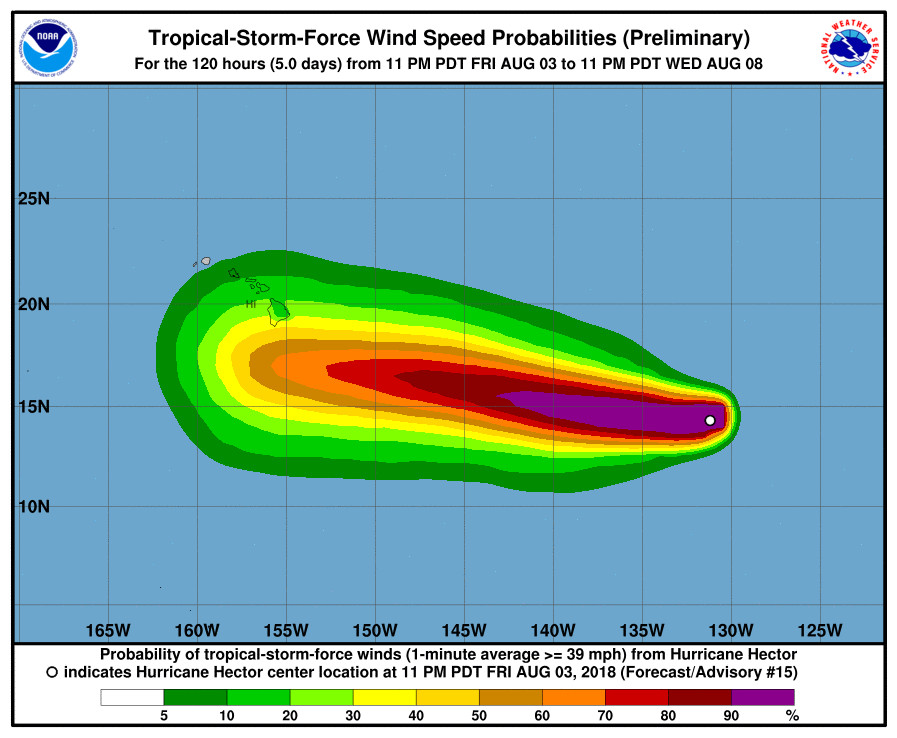 The current 5-day track has Hector passing just south of Hawaii Island on Wednesday, still as a hurricane.
According to the 11 p.m. discussion posted by the National Weather Service:
Hector has maintained an impressive satellite presentation so far this morning. The clear eye of the major hurricane is surrounded by a ring of cloud tops colder than -75 deg C and its outflow has become well established in all quadrants. Recent satellite intensity estimates from TAFB, SAB, and the UW-CIMSS ADT are in good agreement and support an initial intensity of 105 kt.

The hurricane will remain in a favorable environment for the next 48 to 72 h, so the NHC forecast keeps Hector as a fairly steady-state major hurricane, close to the HWRF model. In reality, while recent SSMIS and AMSU microwave data do not suggest that another eyewall replacement cycle is imminent, it would not be surprising if one did occur sometime in the next couple of days, causing the cyclone to at least briefly weaken. Hector's small size could also make it particularly prone to short-term fluctuations in intensity, up or down, like the one observed yesterday. By day 4, Hector is forecast to move over somewhat cooler SSTs, and into a drier environment, so gradual weakening is anticipated. Confidence in this portion of the forecast is fairly low since there large spread in the intensity guidance.

Hector has continued to move steadily westward, and the initial motion estimate is 270/10 kt. A large subtropical ridge to the north should steer the hurricane generally westward through the entire forecast period. There is still uncertainty as to how much latitude Hector will gain in the 2 to 4 day time frame due to a slight weakness in the ridge, however the spread of the track guidance has generally decreased since yesterday. The official track forecast has been nudged very slightly northward, in line with the latest consensus guidance, but overall is very similar to the previous advisory.

There is the potential for Hector to affect portions of the Hawaiian Islands by the middle of next week, but it is too soon to specify the magnitude of any impacts or where they could occur. This is a good time for everyone in the Hawaiian Islands to ensure they have their hurricane plan in place. For additional information on any potential local impacts from Hector in Hawaii, please refer to products issued by the NWS Weather Forecast Office in Honolulu at prh.noaa.gov/hnl.