(BIVN) – A Tropical Storm Watch has been issued for Hawaii County, as Hector – a strong Category 4 hurricane – continues to move westward across the Central Pacific.
On the forecast track, Hector is expected to pass roughly 150 miles south of the Big Island of Hawaii on Wednesday.
Hurricane Hector's maximum sustained winds are near 155 mph with higher gusts, with the hurricane-force winds extending outward up to 35 miles from the center, and tropical-storm-force winds extending outward up to 105 miles. Some weakening is forecast during the next 48 hours, the National Weather Service says.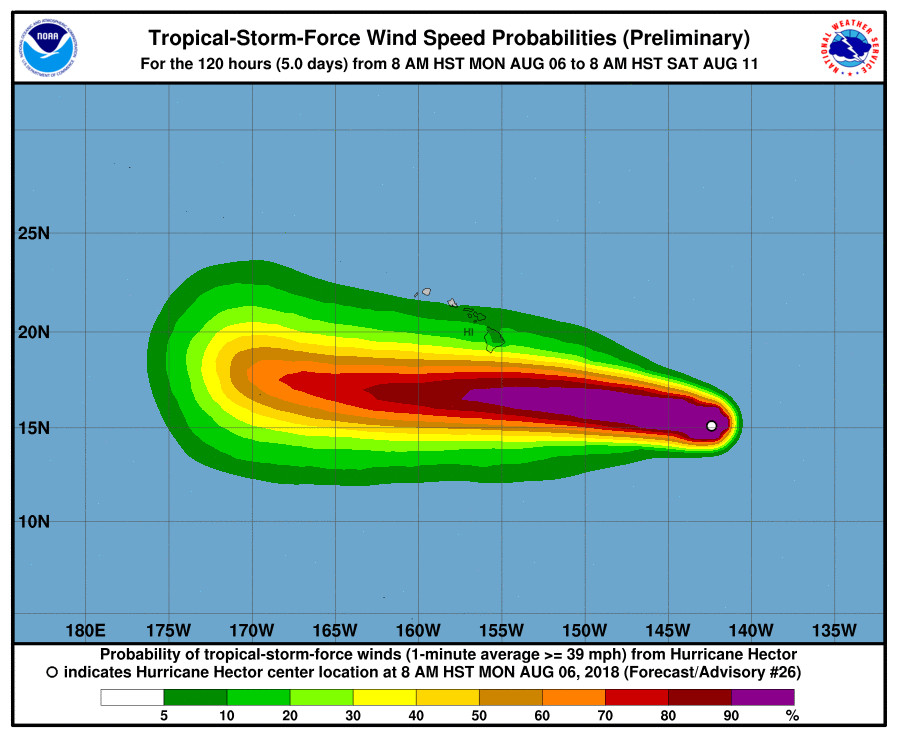 A Tropical Storm Watch means that tropical storm conditions (winds of at least 39 mph) are possible within the watch area within 48 hours.
"Swells generated by Hector are expected to reach southeast and east facing shores of the Big Island and eastern Maui during the next day, likely becoming large by late Tuesday and Wednesday," forecasters warn.
Hawaii County Civil Defense is already going ahead with some closures. "Whittington, Punaluu, and Milolii Beach Parks will be closed after tonight," an civil defense message stated. "All pavilion and camping permits for Tuesday-Friday are cancelled."
The Pahoa eruption information meeting, which had been scheduled for Tuesday, August 7, has been canceled as the County prepares for Hurricane Hector.
From the 11 a.m. discussion by the NWS Central Pacific Hurricane Center in Honolulu:
The satellite presentation of Hurricane Hector continues to be very impressive. Hurricane Hunter aircraft from the US Air Force 53rd Weather Reconnaissance Squadron embarked on their first mission into Hector and found the system to be stronger than anticipated, with surface winds from the SFMR up to 137 kt and only slightly weaker winds based on flight level data. Fixes from HFO, SAB, and JTWC all came in at 6.5/127 kt, and CIMSS ADT yielded 137 kt. Given these data, the initial intensity has been raised to 135 kt, making Hector a strong category four hurricane. Slight adjustments to the wind radii were incorporated based on input from the aircraft. Unfortunately, the Hurricane Hunter mission had to cut short due to mechanical concerns, and there will not be additional data for the afternoon. The next mission into Hector will be this evening.

The initial motion of Hector is slightly north of due west (280 degrees) at 14 kt. The track guidance continues to be very tightly clustered, showing Hector on a similar track during the next 36 hours. The hurricane is expected to take a turn toward due west (270 degrees) on Wednesday and Thursday as ridging to the north of the system strengthens. This is expected to take Hector just south of the Hawaiian Islands. A gradual turn toward the west-northwest is expected on days four and five as the mid to upper level ridge north of Hector weakens.

Although the intensity forecast remains challenging, Hector is expected to remain a major hurricane as it slowly weakens during the next couple of days. Hector will remain in a low vertical wind shear environment to the south of a strong ridge aloft for the next several days. However, sea surface temperature will lower slightly, and the system will be surrounded by dry mid level air, which should lead to gradual weakening. So far, this has not had much of an effect on Hector, and the intensity forecast has lower confidence. The forecast rate of weakening is line with the dynamical models, keeping Hector slightly stronger than SHIPS during the next 72 hours. Thereafter, little change in intensity is expected as sea surface temperatures increase.