(BIVN) – Lane has crossed into the Central North Pacific as a major hurricane; a category 4 hurricane on the Saffir-Simpson Hurricane Wind Scale.
Hurricane Lane is 1,260 miles east southeast of Hilo, and is moving toward the west near 16 mph. The motion between west and west-northwest with some decrease in forward speed is expected to continue over the next few days. "Lane is forecast to pass south of the main Hawaiian Islands Wednesday and Thursday, potentially causing local impacts as it tracks west northwestward," the Central Pacific Hurricane Center said at 5 p.m. HST. "Interests in those islands should watch the progress of Lane closely, since day 4 and 5 forecast track errors can be large."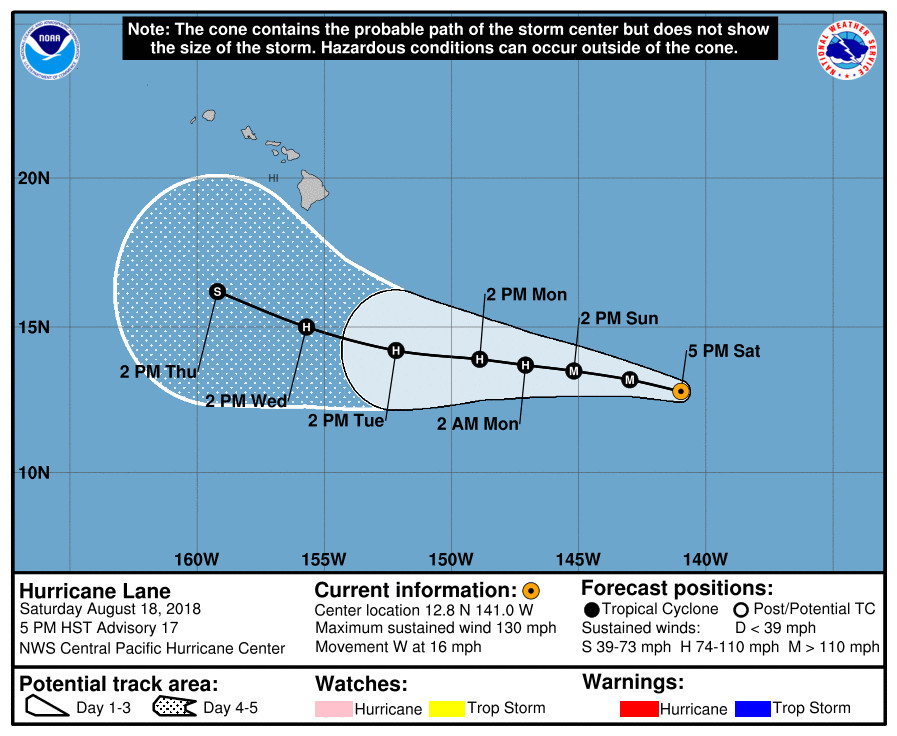 Maximum sustained winds have decreased to near 130 mph with higher gusts. "Lane's satellite presentation has degraded a bit over the past few hours, with the eye clouding over and cooling. The central convective ring has become a bit asymmetric, becoming elongated east-to west roughly along the axis of 15 to 18 kt vertical shear. Outflow seems more favorable now to the east-northeast than 6 to 12 hours ago. Nevertheless, Lane remains a powerful hurricane," the National Weather Service reported.
Hurricane Lane's forecasted strength and location in the next 5 days will be determined largely by a subtropical ridge to the north, and vertical shear. The 5 p.m. discussion explains:
Lane continues moving toward the west-northwest at about 14 kt, representing a slight increase in forward speed. This system should continue on this track through 24 hours, driven by a large subtropical ridge to its north. As the ridge builds westward, Lane should shift to a more westerly track from 24 through 72 hours. A shift back toward the west-northwest should occur from 96 through 120 hours as Lane approaches the western portion of the ridge. Track guidance remains rather tight, depicting a gradual decrease in forward speed through the forecast period. The first few forecast points were pushed forward slightly to account for the small bump in initial forward speed, but the overall forecast track closely resembles the previous one, neatly following TVCE consensus.

The intensity forecast roughly follows IVCN consensus guidance, depicting a gradual weakening through 120 hours. SSTs will remain in the 27 to 28 degree C range, but with 10 to 15 kt of vertical shear expected through the forecast period, a forecast for gradual weakening seems sound.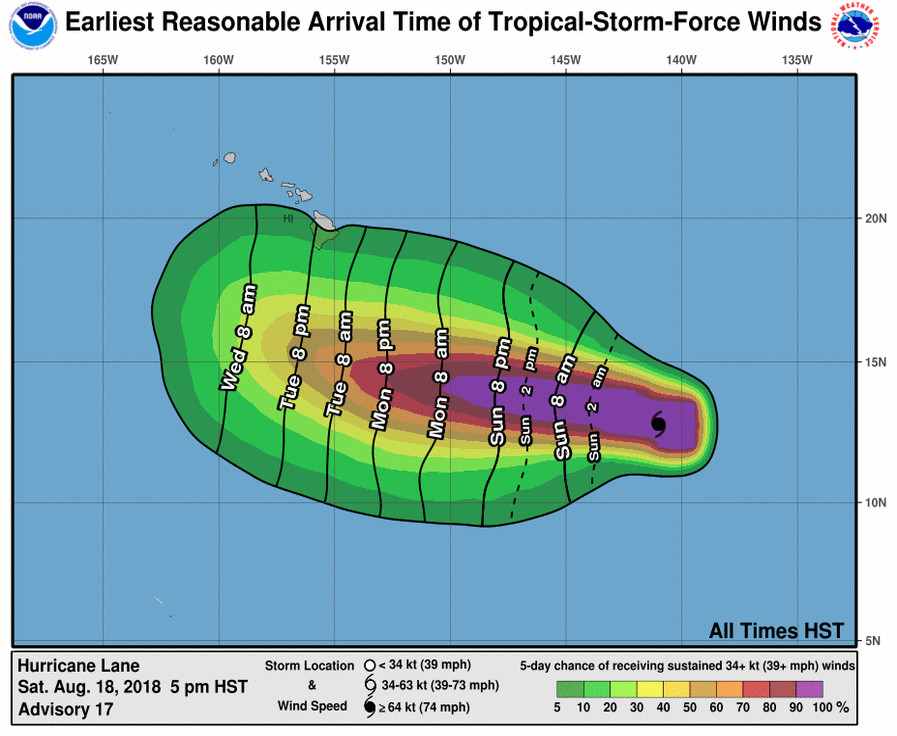 "Much higher moisture and humidity levels will move into the islands on Wednesday morning as deeper tropical moisture surrounding Hurricane Lane reaches the Hawaiian Islands," Honolulu-based forecasters said. "Expect warm and humid weather through the rest of the week as the Hurricane passes through the Hawaii region. Forecast uncertainty ramps up from Wednesday through Friday as the Hurricane passes near or just south of the islands. Hurricane Lane remains too far away to determine any local impacts to the Hawaiian Islands just yet. However, forecast confidence will steadily rise as Lane approaches the islands."