(BIVN) – The NWS Central Pacific Hurricane Center in Honolulu issued a special advisory at 6:30 p.m. in order to announce Hurricane Lane had gained strength and is now a Category 5 hurricane on the Saffir-Simpson Hurricane Wind Scale.
"Data from the NOAA P-3 aircraft indicate that Lane has strengthened to a category 5 hurricane, and this special advisory represents an update to the current intensity, and the forecast intensity through the first 36 hours," the forecasters reported. "No changes were made to the remainder of the forecast."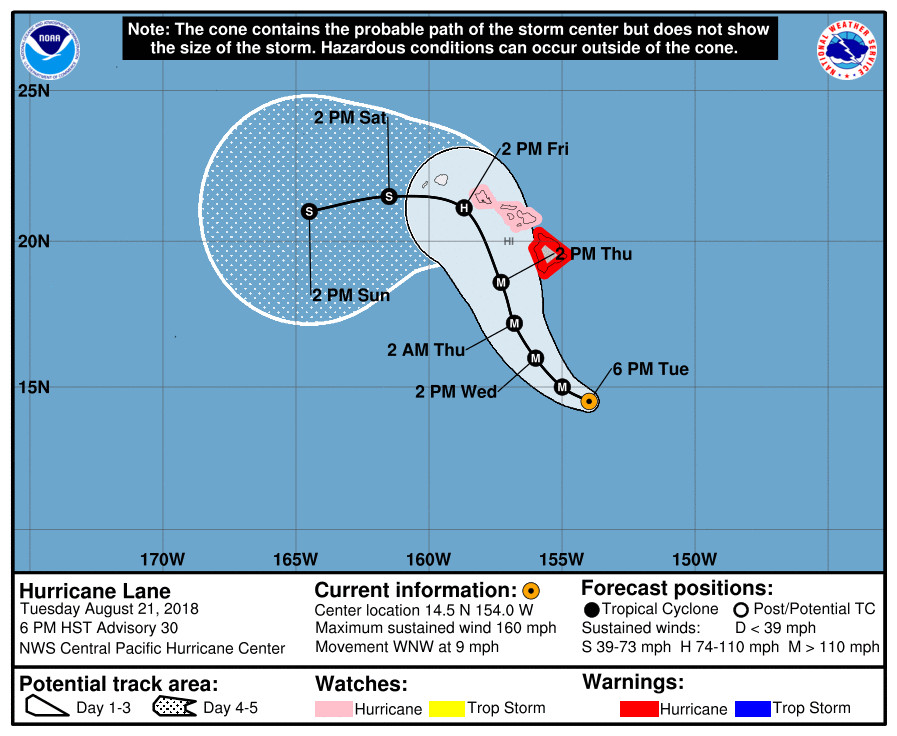 Hurricane Lane's maximum sustained winds have increased to near 160 mph with higher gusts. Slow weakening is forecast during the next 48 hours, but Lane is forecast to remain a dangerous hurricane as it draws closer to the Hawaiian Islands.
A Hurricane Warning remains in effect for Hawaii Island. Due to the Hurricane Warning, Hawaii County Civil Defense says the following closures remain in effect:
All public schools and the University of Hawaii campuses will be closed until further notice.
All beach parks, from South Point north to Kohala, will be closed until further notice. All pavilion and camping permits for these parks have been cancelled.
South Point Road from the Kamaoa Road junction to South Point is closed to all traffic.
The Department of Education, in coordination with the American Red Cross and Hawaii County Parks and Recreation, have identified shelters in all districts that will be opened if necessary, county officials say. "You will be notified if any of the shelters are opened," civil defense said.
The National Park Service says Pu'uhonua o Hōnaunau and Kaloko-Honokōhau National Historical Parks will be closed Wednesday and Thursday in anticipation of high surf, heavy winds, and rain. Park managers will assess conditions on Friday morning and re-open the parks once it is safe to do so.
The full list of closures is here.
According to the NWS CPHC, the key messages are:
1. Lane is forecast to move dangerously close to the main Hawaiian Islands as a hurricane later this week, potentially bringing damaging winds and life-threatening flash flooding from heavy rainfall anywhere in the state. As Lane is expected to be slow-moving as it nears the islands, it will produce large and damaging surf.

2. As Lane moves up from the southeast, the earliest potential threat to land will be for the Big Island, where a Hurricane Warning is now in effect. Preparations there should be rushed to completion as tropical-storm force winds are forecast to arrive in the warning area by late Wednesday or early Thursday. A Hurricane Watch remains in effect for Maui County, and is now posted for Oahu, with tropical-storm force winds possibly beginning Thursday or Thursday night.

3. Due to a continued high degree of uncertainty on the forecast track and intensity of Lane, hurricane impacts could be felt across any of the Hawaiian Islands. It is too early to predict which, if any, of the islands are directly impacted. Remember that life threatening weather conditions can extend well away from the center of the hurricane. Interests throughout Hawaii are urged to closely monitor the progress of Lane during the next few days.