(BIVN) – A Hurricane Watch has been issued for Hawaii County and Maui County, as category 4 Hurricane Lane churns 430 miles south southeast of Hilo with maximum sustained winds near 150 mph with higher gusts.
"Lane is moving toward the west near 12 mph," the Central Pacific Hurricane Center reported at 5 a.m., "and this motion is expected to continue through tonight, with a slight decrease in forward speed. A turn toward the northwest is expected Wednesday into Thursday. On the forecast track, the center of Lane will pass close to Hawaii and Maui counties on Thursday."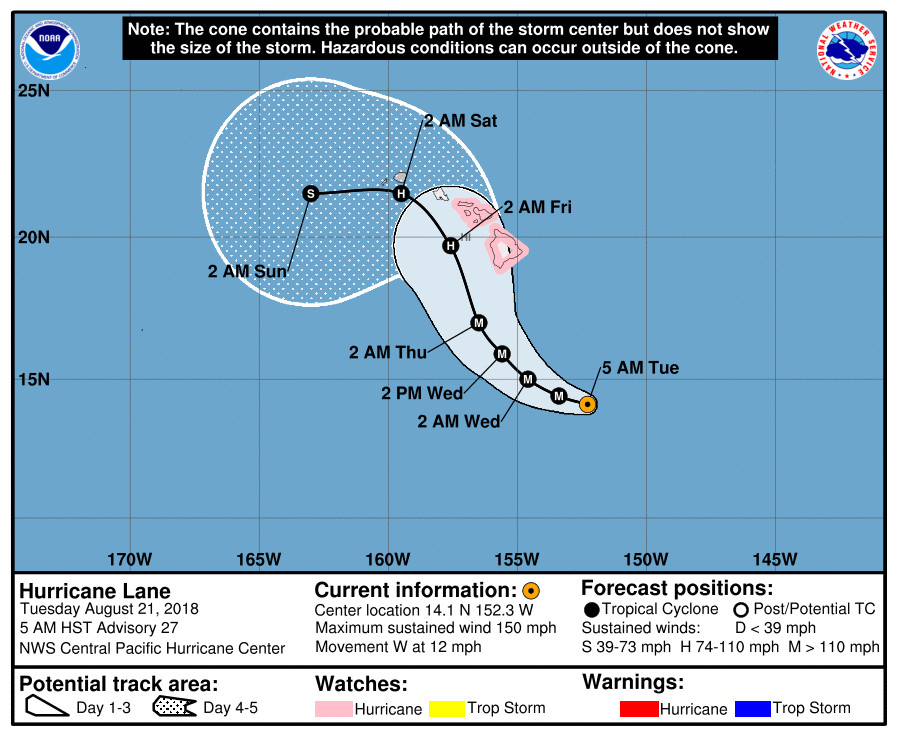 Hurricane conditions are possible within the Hurricane Watch area on Thursday, forecasters say.
"Excessive rainfall associated with Lane is expected to affect portions of the Hawaiian Islands from Wednesday into the weekend, leading to flash flooding and landslides," the National Weather Service says. "Lane is expected to produce total rain accumulations of 10 to 15 inches with isolated maximum amounts of 20 inches over the Hawaiian Islands."
A Flash Flood Watch will be in effect from Wednesday morning through Friday afternoon.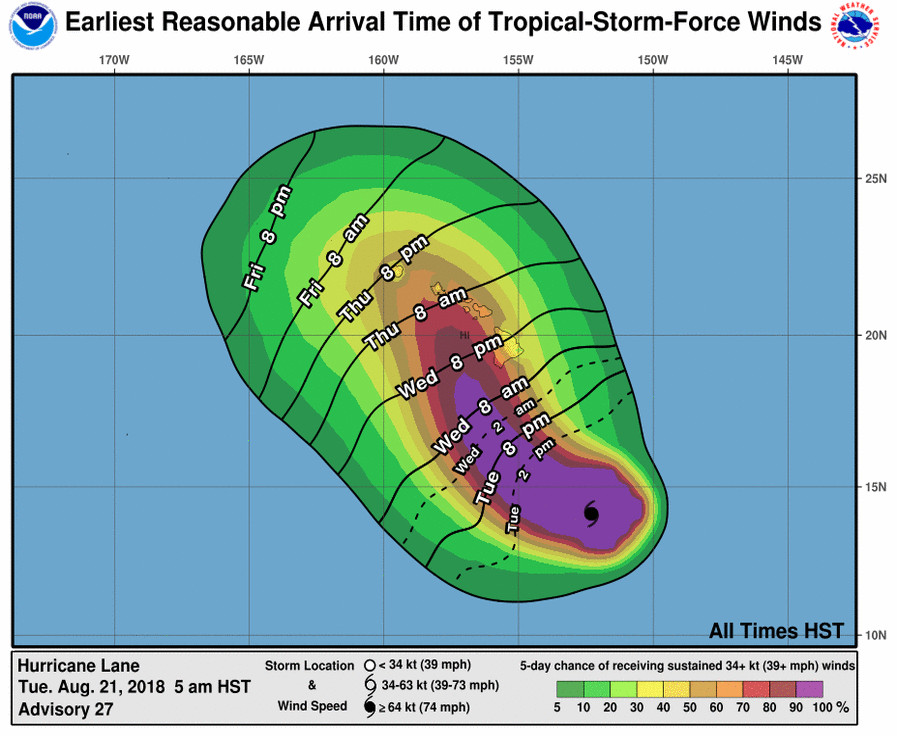 "Large swells generated by Lane will impact the Hawaiian Islands this week. These swells will produce large and potentially damaging surf along exposed south and west facing shorelines," forecasters say.
Whittington and Punaluu Beach Parks remain closed, according to Hawaii County Civil Defense. All pavilion and camping permits for these parks have been cancelled.
South Point Road from the Kamaoa Road junction to South Point is closed to all through traffic, the county says. The road is open to local residents only.
The Department of Education reports that all schools are open.
The National Weather Service provided this preparedness information:
Now is the time to check your emergency plan and emergency supplies kit and take necessary actions to protect your family and secure your home or business.
When making safety and preparedness decisions, do not focus on the exact forecast track since hazards such as flooding rain, damaging wind gusts, storm surge, and tornadoes extend well away from the center of the storm.
If in a place that is vulnerable to high wind, such as near large trees, a manufactured home, upper floors of a high-rise building, or on a boat, plan to move to safe shelter.
If you live in a place particularly vulnerable to flooding, such as near the ocean or a large inland lake, in a low-lying or poor drainage area, in a valley, or near an already swollen river, plan to move to safe shelter on higher ground.
Always heed the advice of local officials and comply with orders that are issued. Do not needlessly jeopardize your life or the lives of others.
When securing your property, outside preparations should be concluded as soon as possible before conditions deteriorate. The onset of strong gusty winds or flooding can cause certain preparedness activities to become unsafe.
Be sure to let friends and family members know of your intentions for weathering the storm and your whereabouts. Have someone located away from the threatened area serve as your point of contact. Share vital contact information with others. Keep cell phones handy and charged.
If you are a visitor, know the name of the county or parish in which you are located and where it is relative to current watches and warnings. If staying at a hotel, ask the management staff about their onsite disaster plan. Listen for evacuation orders, especially pertaining to area visitors.
Closely monitor weather.gov, NOAA Weather Radio and local news outlets for official storm information. Listen for possible changes to the forecast.
There is a threat from tornadoes with this storm. Have multiple ways to receive Tornado Warnings. Be ready to shelter quickly.
Central Pacific Hurricane Center posted this discussion at 5 a.m. HST:
Lane remains a powerful hurricane this morning, with a well- developed warm eye completely surrounded by persistent cold cloud tops. Subjective Dvorak current intensity estimates were a unanimous 6.5/127 kt while ADT was in relative agreement. The initial intensity for this advisory remains at 130 kt as Lane's satellite signature has changed little since last sampled by Hurricane Hunters and the NOAA P-3 Monday evening.

The initial motion for this advisory is 275/10 kt, with Lane continuing to be steered by a mid-level ridge to the north. Over the next day or two, Lane is expected to reach the western periphery of the ridge, and into an area of relatively light steering flow. This is expected to allow the cyclone to gain latitude as its forward speed diminishes. In this scenario, Lane will begin to make a gradual turn to the west-northwest on Wednesday, with a more decided turn toward the northwest on Thursday. After this point, the track and intensity forecast become increasingly uncertain, as a bulk of the model guidance is depicting interaction between Lane and the terrain of the islands. This interaction then leads to a weakened Lane increasingly being steered by the low-level trade wind flow. The updated track forecast is essentially an update of the previous official forecast, and lies very close to the multi-model consensus HCCA.

Water temperatures along the forecast track will be sufficiently warm to support a major hurricane, and thus any significant weakening before Lane draws closer to the Hawaiian Islands will likely be due to shear. In the short-term, shear is expected to remain light, and subtle intensity fluctuations associated with inner-core dynamics will likely lead to little overall change in intensity. By 72 hours, the forecast anticipates an increase in shear as Lane lies between the ridge to the east and a trough aloft to the northwest of the main Hawaiian Islands. The updated intensity forecast is close to the previous, and although it is on the higher end of the guidance envelope, it closely follows the trends presented by the multi-model consensus IVCN.

In addition to an increasing number of storm penetrations by the Hurricane Hunters of the 53rd Weather Reconnaissance, the NOAA G-IV will once again be sampling the larger scale environment to help forecast models better initialize. The NOAA P-3 mission slated for this morning has been scrapped as the aircraft needs to be examined after encountering strong turbulence last night.

KEY MESSAGES:

1. Lane is forecast to move dangerously close to the main Hawaiian Islands as a hurricane later this week, potentially bringing damaging winds and life-threatening flash flooding from heavy rainfall. As Lane is expected to be slow-moving as it nears the islands, it will produce large and damaging surf, mainly along exposed south and west facing shores. A Hurricane Watch has been issued for Hawaii and Maui counties, and additional Tropical Storm or Hurricane Watches may be required later today or tonight.

2. It is much too early to confidently determine which, if any, of the main Hawaiian Islands will be directly impacted by Lane. Even if the center of Lane were to remain offshore, it is important to remember that impacts from a hurricane can extend well away from the center. Interests throughout Hawaii are urged to closely monitor the progress of Lane the next couple of days.

FORECAST POSITIONS AND MAX WINDS

INIT 21/1500Z 14.1N 152.3W 130 KT 150 MPH
12H 22/0000Z 14.4N 153.4W 125 KT 145 MPH
24H 22/1200Z 15.0N 154.6W 120 KT 140 MPH
36H 23/0000Z 15.9N 155.6W 110 KT 125 MPH
48H 23/1200Z 17.0N 156.5W 100 KT 115 MPH
72H 24/1200Z 19.7N 157.6W 85 KT 100 MPH
96H 25/1200Z 21.5N 159.5W 65 KT 75 MPH
120H 26/1200Z 21.5N 163.0W 50 KT 60 MPH